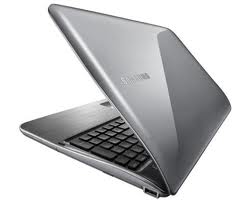 By Gadjo Cardenas Sevilla
The Samsung SF510 notebook seems to have features in abundance. A wavy new design, a sealed-in 6.5 hour battery and a powerful Intel Core i3-370M processor make it a sensible all-around work machine while its bright 15.6″ inch LED backlit screen, Gigabit LAN and built-in 4-in-one media reader and HDMI out port focus on the connectivity and entertainment aspect.
It is interesting to see Samsung  exploring its industrial design direction and and trying new things in the marketplace. the SF510's sealed battery enclosure and its look and feel make it feel more like a $800 work/leisure appliance than a business machine. Almost as if, this was designed to be the main home computer that can run Windows 7 smoothly, attend to all the business or school tasks and as well as provide on-the-go entertainment including movies and music.
To help improve the laptop audio experience, the SF510 notebook features Samsung's new True2Sound audio system, which delivers a more natural and realistic auditory experience by utilizing round speakers and a larger acoustic chamber.
Enhanced bass, crystal clear dialog and better definition control for maximum clarity is provided through SRS Premium Sound processing. The SF510 also offers the ultimate in convenience and connectivity the latest in Wi-Fi and USB Sleep & Charge technologies.
The SF510 is powered by an Intel Core i3 processor, capitalizing on Samsung's new lithium polymer batteries by offering up to an incredible 6.9 hours of battery life for users. The battery is sealed in, which means it  isn't user accessible and there is no option of adding a second battery.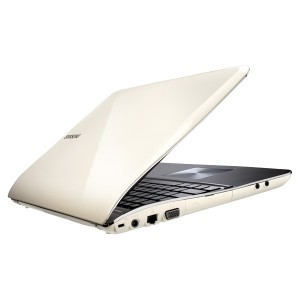 With Bluetooth 3.0 and a dedicated 512MB nVidia GeForce 310M Optimum graphics card, users can seamlessly and quickly get the job done. The SF510, at 5.3 pounds isn't the lightest thinnest or most portable 15-inch notebook we've seen but will travel reasonably well.
The SF510 can communicate with other Samsung devices with Easy File Share, a simple to use peer-to-peer networking feature that allows users to quickly and securely exchange files, images, movies, and music wirelessly with any other laptop, netbook or wireless-enabled PC.
Samsung's AllShare technology features an intuitive interface that makes it easy to broadcast content over a user's WiFi network to Digital Living Network Alliance (DLNA) enabled devices like HDTVs and even mobile phones. With the right Samsung HDTV or monitor, the SF510 can beam streaming web video or photos wirelessly which is extremely convenient.
The Samsung SF510 Notebook is a bit expensive for an Intel Core i3 notebook since you can Core i5 notebooks for $650. What Samsung has going for it this time around is above average battery life, better connectivity and style and build quality. Aside from the 2.4GHz processor, you get 4GB of RAM, a 500GB Hard Drive and camera.
The SF510 feels solid, the chiclet-type keyboard is well spaced and although it isn't backlit, it provides a great typing experience. The trackpad seems small in relation to the rest of the notebook but is responsive and works well.
The SF510 is a harbinger of Samsung's new design philosphy and their investment on functionality and we like where it is headed, if it were priced in the $650 range, it would be extremely compelling.
Rating: 3.5 out of 5
For more leading edge coverage of mobile computing, check out our PC/Mac category