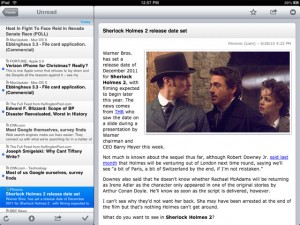 One of Google's most underrated services is their free  RSS news  feed aggregator Google Reader. We look at the most impressive tablet apps that interface with Google Reader. 
What started out as a web-based cloud client in 2005 has taken on a new life in the age of tablets which have natural news and eBook reading abilities. While traditional newspapers and news services are struggling to get their content behind applications and pay walls with the hope of exploiting the tablet form factor, there's still a surprising amount of news out there that's just as good and is perfectly free.
To use any of these apps on a tablet you simply need a Google Reader account (usually tied in to your GMail account) and you need to spend around 30 minutes listing down your favourite websites as well as RSS feeds, Google Reader does the rest. You can always access these on any browser but here are some apps that make things even better on a tablet.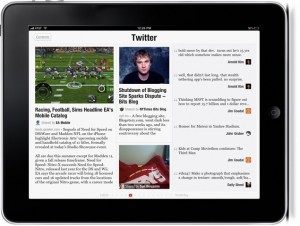 Flipboard for iPad
Flipboard is the gold standard for news, feed and social reading apps on the iPad and the best thing about it is it is free.
Flipboard can take your Google Reader feeds and gingerly reformats text and photos into a slick magazine format. For as long as you have feeds to read, Flipboard will create pages in what seems like an endless virtual magazine.
Users simply flip from page to page on the iPad, double-click to enlarge an image or want to read the articles on a browsers, you can also like, share and email any article right from the interface. Incredibly fun to use, Flipboard even reformats Facebook and Twitter feeds into a far more enjoyable layout. Flipboard recently received more funding so we expect to see it on more devices in the coming months.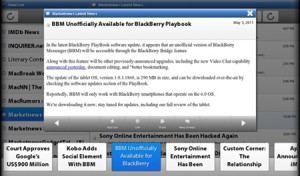 Research in Motion's PlayBook tablet is the newest gadget on the market but it already has a pretty dandy newsreader solution for Google Reader.
Called GeeReader, this free app is thin on frills but fast and smart. The PlayBook's smaller screen size doesn't lend itself well to a lot of graphics so GeeReader focuses on making text easily accessible and even emulates the PlayBook's interface by offering a row of story headlines below a main story.
GeeReader is for busy people who want a fast and efficient way to get through a lot of information, it seems almost like the antithesis of Flipboard for the iPad which puts design, layout and graphics over text content. It all works very well making GeeReader a free must-have for any new PlayBook owner.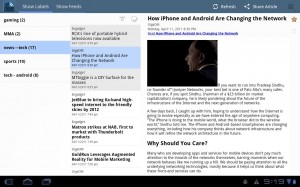 Newsr for Android Tablets
While there are dozens of notable Google Reader apps for Android smartphones (including the official Google Reader app for Android) there aren't that many yet available for the tablet version of Google's mobile OS.
Newsr is a quick and intuitive Google Reader app that we tried on our Motorola XOOM and it worked remarkably well. There's a drop down that takes you from topic to story headlines to an actual webpage of the feed. It is easy to scroll back and forth and get the information you require quickly.
The only problem we had with Newsr is that it is stuck in landscape mode which might put off some users. Otherwise Newsr is a great option for the Honeycomb OS, at least for now while better apps are being prepared to take advantage of this burgeoning new mobile OS.