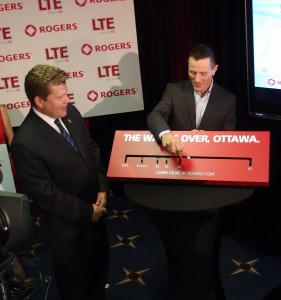 Ottawa is officially "Canada's fastest city" after Rogers uncorked its high-speed Long Term Evolution (LTE) mobile network in the nation's capital. The new LTE network will increase download speeds by up to 12Mbps to 25Mbps, more than double what consumers are using now on 3G.
Rogers' LTE network initially went through technical trials in Ottawa and the surrounding area, thanks in part to support from the federal government. The current rollout of the network covers an that encompasses Arnprior, Ontario to the west, Orleans, Ontario to the east and includes the Hull and Gatineau regions of Quebec.
At some point in the fall, the network will also roll out to Vancouver, Montreal and Toronto, with the next top 21 markets in Canada being covered by the end of 2012.
LTE is fast enough to stream 1080p high-definition content to smartphones, tablets and laptops using an LTE Rocket Stick. In a demo at the unveiling in Ottawa, a live Rogers Sportsnet broadcast was shown at 720p HD resolution with no lag or latency. The picture quality was easily equal to what HD content looks like on a cable television connection.
Unfortunately, the current crop of smartphones and tablets aren't optimized for LTE and wouldn't be able to take advantage of the new network. However, Rogers' communications president, Rob Bruce, announced that Samsung and HTC would be the first to manufacture LTE-ready smartphones that Rogers will carry in the fall.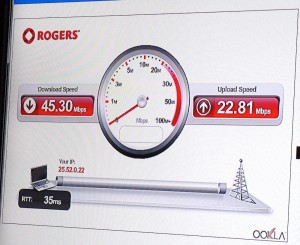 The Rocket Stick, which is available now through Rogers, is theoretically capable of a download speed as high as 75Mbps, but since this is unlikely in the field, the carrier is announcing a range between 12Mbps and 25Mbps. The theoretical download speed could potentially double to 150Mbps but this number is based on LTE technology using 2x20MHz spectrum blocks (the current one used is 2x10MHz).
What's particularly noteworthy about this network isn't just the faster download speeds, but the upload speeds as well. Under current rates, uploads are quite slow at an average of 800kb to 1.7Mbps. LTE is theoretically able to go higher than 20Mbps, a more than 10-fold increase in bandwidth. The implications of this for the cloud could be very significant, largely because cloud-based services are equally reliant on users uploading data as they are on downloading content.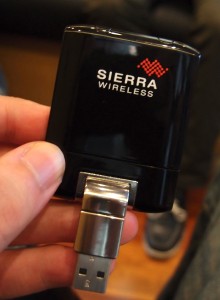 Though nothing has been set in stone, the long-term plan appears to be moving away from GSM and HSPA, but this is unlikely to happen in the foreseeable future so long as GSM remains the standard for most of the world.
Consumers in the Ottawa area can buy the new LTE Rocket Stick for $79 on a three-year contract. Toronto, Vancouver and Montreal residents can reserve their Rocket Sticks in advance before the network spreads to those areas this fall.
Pricing for data is incremental with a starter plan of just 1.5GB costing $45, with the largest data package coming in at $90 for 9GB. Each gigabyte a user goes over his or her limit is subjected to a fee of $10 per GB.