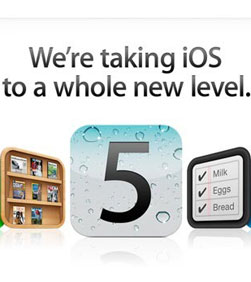 By Gadjo Cardenas Sevilla
With new iPhone and possibly iPod Touch models coming next month, the hardware will be designed to take advantage of  iOS 5, a huge update which Apple is just putting finishing touches on.
Boasting over 200 new features, iOS 5 was one of the three big announcements at this year's WWDC (Worldwide Developer's Conference). Current iOS users will need to re-learn some aspects of the OS and how they use it but the benefits are worth it.
iOS 5 is the biggest and most comprehensive revision to Apple's mobile operating system since it debuted on the original iPhone in 2007.
I've been testing the developer beta of iOS 5 on my iPhone 4 for three months. While not everything is working perfectly (a lot of the features are contingent upon the iCloud online service, which is still to come this Fall), I've been able to explore some of iOS's most outstanding features and improvements.
Notifications, front and centre
In iOS 5, notifications can be accessed at any time by simply swiping down from the date and status bar. This brings down local weather and stock ticker widgets, various notifications from apps, Mail and any social media apps you might be running. Click on any item and you're taken directly to the app.
This is similar to how Android deals with notifications that can be accessed from a window blind that brings down a list of recent alerts and notifications.
There are a lot of thoughtful touches with how notifications are implemented in iOS 5. When you receive an e-mail, for example, the unlock screen lights up while the mail icon pulses and the e-mail's header appears on screen.
It is an elegant and non-intrusive way to get alerts at any given time, and reminds me a bit of how the HP webOS platform (purchased and revamped from Palm) pushes alerts and notifications.
Post PC Mobile OS
One of the biggest frustrations with the buying a new iPhone or iPad is the need to initialize the devices through iTunes while tethered to a Mac or a PC. This is no longer the case with iOS 5, which has gone completely PC free.
Provided your information is backed up in iCloud, you can initialize a new iOS device just by getting on to a WiFi network and syncing all your personal data and applications.
PC Free also means wireless syncing with your iOS and iTunes accounts, as well as OTA (Over The Air) software and app updates that do not require tethering to your desktop. iOS finally feels and works like other modern mobile operating systems.
Twitter Integration, Reminders & Location
A new Reminders application allows for easily jotting down lists and to-do items. iOS 5 is also more location-aware than previous versions. You see this when pulling up the weather widget that shows a very specific location and not just the name of the city you're in.
One of the more surprising moves from Apple with regards to iOS 5 is the deep integration with Twitter.
The popular social media service is now rooted in the menu-level of  iOS 5, and is handy when you want to quickly share a photo you just took or a Website you are viewing.
Twitter is now part of the sharing selection, which includes E-mail, Bookmark, Add to reading list, Add to home screen and Print.
 Photos & Camera
The Camera App can now be accessed quickly by double-clicking the home button from the unlock screen. You can now also take photos by pressing on the volume up button, which feels more natural than clicking a software button on the screen.
The Camera App itself receives a bit of an upgrade, and now offers a grid view to better frame photos. Functionality and speed is also a bit snappier all around. In the Photos app, users can now access quick editing features such as Rotate, Auto Enhance, Red Eye Removal and Cropping right within the app.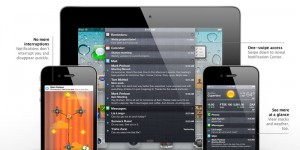 iMessage
iMessage, a new feature that offers real-time messaging between iOS devices, is one of the bigger features that iOS 5, in tandem with iCloud, will offer users. This is not yet available in the developer beta, but we look forward to trying this out as soon as it is enabled.
Potentially a game changer, iMessage will connect all iOS and Mac users through a unified and realtime messaging system that will be better than Facetime and compete with RIM's BBM (BlackBerry Messenger).
These features are just scratching the surface of what iOS 5 will offer when it is officially released to the public in a few weeks.