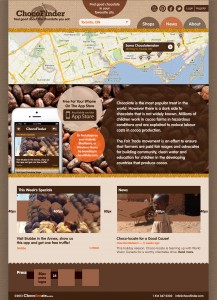 Valentine's Day is around the corner and if you're out to purchase the traditional gift of 'random' chocolates think twice;  you now have other chocolate alternatives.
A new app called ChocoFinder allows chocolate lovers to find "ethical" chocolate in their city. It's a way for chocolate lovers to satisfy that craving and also feel good about their chocolate choice as all stores in the app sell chocolates made from fairly traded cocoa beans. 
Recently launched, ChocoFinder already offers detailed listings of chocolate stores in the Greater Toronto area, Niagara Falls, Hamilton, Stratford, Vancouver, Calgary, Ottawa and Montreal.
How does it work? ChocoFinder  is location-based and allows you to find ethical chocolate in your area. You have the option to rate and review stores, and to receive alerts when you are within one (1) km of your favourite shops.
Its founder, Lalita Krishna, began this venture after producing a documentary called "Semisweet: Life in Chocolate"."My journey into chocolate started a few years ago," explains Krishna, "when I first heard that children were being exploited in the cocoa trade. I decided to investigate and produce a documentary on the subject. I realized that I couldn't just make a film to raise awareness about the issue: I had gathered enough information to actually provide resource information as well as ethical options."Some interesting facts about the chocolate category:
According to the KPMG Report, "The Chocolate of Tomorrow", over the past two years, global chocolate sales have reached over $100 billion dollars annually making it the most popular treat in the world.
In Canada, the average Canadian consumes 5.5 kg of chocolate each year.
Chocolate is considered "lipstick" recession-proof with sales trends that prove it's a luxury people can still afford in economic hard times.
But there is also a dark side regarding the production of chocolate:
Close to 14 million people, in over 30 countries, depend on cocoa production.
According to FairTrade.ca, 90% of the world's supply is grown and harvested on family-owned farms, generating an average annual income of US$30-100 per household member. Given the trading conditions, cocoa farmers aren't paid enough to cover the cost of production, and therefore cannot sustain a living. This has led to the rise of child labour in the cocoa industry.
Cocoa farms in Cote d'Ivoire and Ghana employ millions of children who work for paltry wages, and in hazardous conditions, to keep chocolate prices low for Western manufacturers.
As luxury chocolate becomes increasingly popular — with premium brands growing almost double-digits in the past decade –consumer demand for good chocolate will continue to place children at risk to meet demand while keeping costs low.This Valentine's Day, ChocoFinder is teaming up with World Vision, an international development agency that is sounding the alarm about children in 3D jobs (dirty, dangerous and degrading) in the cocoa industry. As part of its "End Child Slavery" campaign, World Vision is urging Canadians to consider ethical options when buying Valentine's Day chocolates this year. According to the agency, approximately 95% of chocolate sold today is not certified to be free from forced, child or trafficked labour.
Ms. Krishna is hopeful of change. "The chocolate industry has committed to having the Fair Trade symbol on products by the year 2020 so there is going to be a dramatic rise in the availability of chocolates made from fairly traded cocoa.""We want to expand our offerings in two ways: to add more cities and to create an online shopping experience to allow more remote customers the option to buy Fair Trade chocolate," says Krishna."The key is to build a strong community among Fair-Trade-minded individuals."
Chocofinder does just that. You can download Chocofinder free from iTunes.