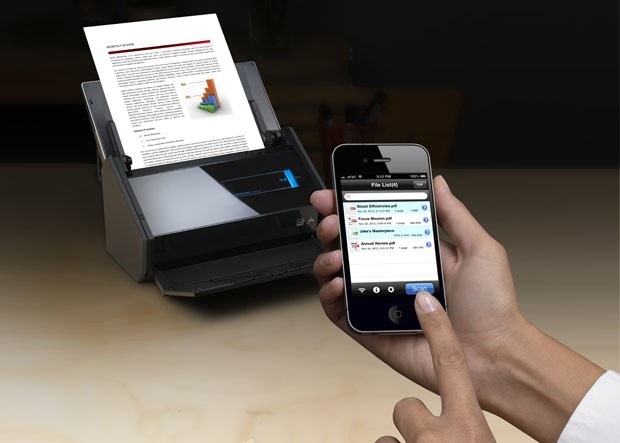 Scanning is really considered an old technology, but the speed in doing it is what can make a real difference in productivity. Fujitsu's ScanSnap iX500 is one of the fastest scanners available and finally makes it possible to scan directly to smartphones and tablets without the need for a computer.
Fujitsu came close to pulling this off last year with the ScanSnap S1300i, which offered some good scanning speed, and enough portability to work with two USB ports instead of having to plug into a wall outlet. The ScanSnap iX500 doesn't have the same form factor, but increases the speed to 25-30 pages per minute and makes it easy to view those scans on your iOS or Android device on the fly. The best part of this is that "on the fly" is an exact description. Documents will appear on the ScanSnap app on your mobile device or computer as they finish scanning, instead of having to wait until a whole workflow is done before gaining access to the files.
The big reason for this is a new, faster processor and the move to a Colour Image Sensor (CIS). The former makes the overall speed possible, but the latter does its part because it skimps out a bit on the saturation of the colours. High-res scans are naturally possible here, but that's not the primary focus. If you wanted to scan a really detailed photo or graphic, you would probably do that with a flatbed scanner that outputs at a very high resolution. The ScanSnap iX500 is about volume and flexibility. Other than loading the paper and pressing scan, there's not much else to do but watch the digital documents roll in.
This is really why you won't have any issues with the speeds and feeds of the unit because it does what it's supposed to. The other part that completes this story is the mobile connectivity. Download the ScanSnap Connect app on your iOS or Android device, go through the initial setup (which is painless) and you can be receiving scans in less than 10 minutes. Unfortunately, there is currently no support to get the ScanSnap iX500 to work with Windows Phone and BlackBerry 10 devices, but there's always a chance that might change later in the year.
What's most convenient about this is that you don't need a computer to act as the conduit between the scanner and mobile device. Previous models needed to send the scanned documents to a computer first before showing up on a tablet or smartphone. Since the iX500 has built-in Wi-Fi, the router acts as the go-between. You do need to use a PC or Mac to initially set up the connection the first time, but after that, you can start scanning directly from the app, where they'll show up in seconds in the list.
When it works, it's such a seamless process, that it would take just 10-12 minutes to scan 250 documents. And as was the case with the S1300i, you can open or back up the scanned document to a number of apps, including Dropbox, SkyDrive, Kindle, Evernote and more. This is huge for archiving, especially because it's unlikely you'll need to scan a document twice. The feeder on the iX500 is great at keeping documents properly centred and even smaller items, like receipts, invoices or brochures, for example, also roll through unimpeded. Digitizing tax write-offs has never been easier or faster.
Of course, all of this is equally relevant to scanning to a PC or Mac. If you prefer to keep workflows going to your computer, you can do so easily. All the relevant software add-ons are available for both platforms to get the job done, including a full version of Adobe Acrobat X that comes inside the box. For some odd reason, however, the version is PC-only, shutting out Mac users that might need the features that program offers, and rather not spend an extra $300 to get a copy. Just note that the iX500 doesn't have TWAIN/ISIS support, so if you prefer to use a different program than those already supported, you'll need to confirm that it will even work.
With that all that said, just keep in mind that the $499.99 price point means you shouldn't buy this if you plan to use it casually. This is clearly designed for those who go through a lot of documents and need to do the job in less time. Small or home-based businesses seem like the best fit, largely due to the speed, mobility and efficiency the iX500 offers for digitizing a lot in a little time.