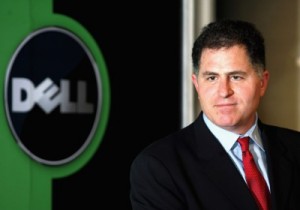 By Gadjo Cardenas Sevilla
The name Dell Computers is synonymous with the PC industry's explosion in the 80's and 90's and is one of the most prominent technology companies now undergoing massive change.
I remember being in university and studying a business case study on a young college drop-out named Michael Dell, whose eponymous computer manufacturing company, which he famously started in his dorm room,  took the world by storm. Dell was propelled to prominence by introducing an unprecedented build-to-order model.
Fast forward to 2013 and Dell is the third largest PC manufacturer behind HP and Lenovo and while it recently celebrated 25 years in Canada, but the Dell many of us know is undergoing a change.
The business climate for PC manufacturers right now is brutal. The competition from smartphones and tablets, plus the reliance on web-based software and services, has staggered the growth in the sector even if innovation and a variety of new form factors of ultraportable and convertible PCs are flooding the market.
Many prominent companies have looked beyond boxes and into the technology services solutions. Not unlike what IBM did  when it divested its PC line and sold it off to Lenovo.
A few years ago, Dell made almost everything. Aside from a wide selection of business and consumer notebooks, desktop and servers, Dell dabbled into the tablet space and even went so far as to create early smartphones under the Windows Phone banner. Dell even made an iPod competitor, the Dell DJ, in order to be represented in that emerging market.
All of that has changed in the past few years. Dell has stuck to what it knows best, PCs. And it has also pulled out of promising but competitive smartphone space to focus on an area where it has dominated, but the challenges are mounting.
Michael Dell recently pushed for a bid to buy back Dell's stock and make Dell into a private company. backed by  private-equity firm Silver Lake Partners, Michael Dell struck a deal to buy Dell for  (US) $24.4-billion, a move that's been challenged by its shareholders.
""I'll boil it down for you – we're going private!" Dell confirmed the move during a recent interview with the Globe and Mail  in Toronto. ""It is my belief that the kind of investments that the company needs to make are not likely to be attractive or well-liked by most public investors," Dell told the Globe and Mail during his interview.

Dell's been hit particularly hard by the downturn in the PC market. The company's stock price has nosedived by 48 per cent since 2007 and as per the latest quarterly earnings report ending on May 3rd, earnings are down almost 80 per cent compared to the year-ago period.
Opposition to the buyout is being led by corporate raider and real-life Gordon Gekko, Carl Icahn. As the Globe report states, " Icahn put forward an alternative proposal, which would pay $12 a share, but would allow shareholders to keep a stake in a publicly traded Dell. Mr. Icahn has also said that Mr. Dell "is not the guy" to lead the company into the future."
The Dell Committee looking into both options seems more inclined to go with Michael Dell's proposal rather than Icahn's, whose proposal is said to be short on funding.
The drop dead date for shareholders to vote on the deal is July 16th, and we can expect an epic showdown by both parties. It is a high stakes, high risk game that could end badly for Michael Dell's bid to continue leading the company he built.