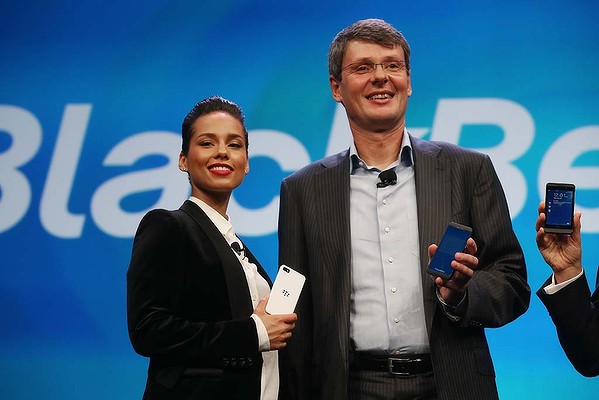 BlackBerry and musician Alicia Keys are making a final push together for the BlackBerry Scholars Program, an initiative offering four-year scholarships to women entering their first year of university or college this fall.
The program is open to women globally, so this isn't a Canadian-only initiative from Waterloo, ON-based BlackBerry.Up to ten (10) Awards will be granted by BlackBerry in accordance with the selection criteria. The focus is on science, technology, engineering and math (STEM), as well as those with an interest or aptitude in mobile computing.
There's also limited time to apply for one of the coveted spots. The submission deadline is June 26 (5 pm EST), and consists of a process that includes choosing your direction, writing an essay "on how you're going to make your mark in the world", facts about yourself and your financial situation and an official high school transcript and two recommendations. Submissions must be made in English (a key point for immigrant and French-Canadian applicants). Winners will be notified by mail on or before July 31st, 2013
Some of the fine print indicates that the scholarship doesn't cover room and board, books, or other fees not covered by tuition. BlackBerry employees and their immediate families are also disqualified. Applicants must also have a grade point average of 3.0 (or a 'B' average for provinces that don't use the GPA system). Winners will also be given a BlackBerry smartphone and must use it exclusively, plus make themselves available for the company's "Keep Moving" projects. In effect, the deal is that winners will be ambassadors for the company as well.
Keys' involvement stems from her role as BlackBerry's Global Creative Director, and she had made a point to "engage women at every step of their education", and emphasized it further at BlackBerry Live last month when she highlighted sobering facts and figures about women in tech. Just 5% of startups are founded by women, and they only head 11% of Fortune 500 companies.
While no favouratism will be shown to Canadian women who apply, it's a unique opportunity to get a full scholarship for a full four-year post-secondary education and into a variety of fields that play a role in shaping future technologies.
For more information on the program, eligibility and how to apply, you can go to the dedicated page on the BlackBerry website to find out more.