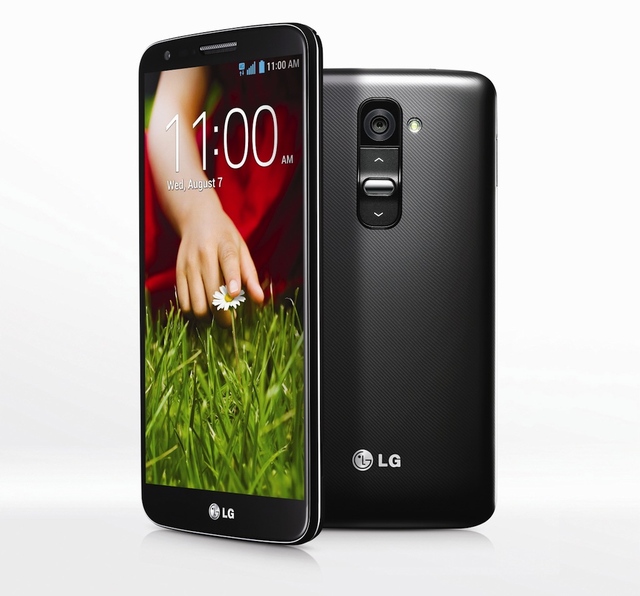 It wasn't that long ago that LG wasn't even in the race for a top-notch smartphone in the Android arena, but after moderate success with the Optimus G and Nexus 4, the G2 takes the best of those two handsets and adds some useful features and design tweaks that propel it amongst the best of the best.
Samsung is the current king of Android smartphones for a number of reasons, not least of which is variety of the product line, design, functionality and clever marketing. LG has stumbled in all of those facets, leading to some introspection a couple of years ago when it was clear the company wasn't playing in the same league as its Korean rival. The interesting contrast on the smartphone side between these two lies in their respective approaches. Samsung's phones are flashy toys that everyone recognizes, whereas LG has now produced a workhorse of a phone that innovates on the design almost on the sly.
The most obvious comparison would be with the Galaxy S4, the preeminent Android flagship that all competitors would like to take down a peg or two. On paper and in benchmark tests, the G2 is considerably faster than just about any Android competitor out there, including the Galaxy S4 and HTC One. But speed alone isn't enough of a reason to buy it. There's much more at work here that makes the case more compelling.
Having a 5.2-inch IPS LCD display on a body that is really no different in size than an S4 is a treat to look at. The screen runs almost all the way to the edges on both sides, and the reason all this is possible is because there are no buttons on the sides. Instead, LG placed them on the back, right under the camera lens. The thinking behind this is that your hands and fingers naturally correspond to the back of the phone, making it easier and more intuitive to press them when you need to.
Of course, it helps that the G2's knockON feature comes into play as well. Double tap the screen while it's asleep and it wakes up automatically. Double tap again and it goes back to sleep. The convenience of this isn't quite at the same level of, say, the Moto X and its Active Display screen that can show you the basics without even touching it. Even the S4 with its gesture-based control that allows you to view the lock screen by simply waving your hand over the sensor is right up there, too. Still, for those times where you're actually holding the phone and not peeking at something while it sits on a table, knockON proves undeniably convenient.
The combination of button placement and touch control lends itself credibly to handling the phone in a variety of situations. Incoming phone calls can be answered by simply moving the phone to your ear. Snapping self-portraits, or "selfies", can be done by holding down the volume down button to bring up the camera app and then pressing again to snap the photo. Having the buttons on the back makes taking these types of photos inherently easier because you're not contorting your fingers to hit buttons on the side or to tap the screen.
Speaking of the camera, the G2 takes impressive photos, seemingly helped by the optical image stabilization built into the lens. The 13-megapixel sensor is also adept at interpolating different conditions, presenting great shots both indoors and outdoors. When using the camera app, you will notice a grid showing nine focal points. Snap the pic and it tries to focus on as many as it can, presumably giving you a better shot. It's a neat concept, but is also relative to what you're actually doing. The camera nicely adjusts the focal points when it locks onto a subject, so we're talking about an automated process here. It's just that you may not really appreciate anything it's doing because you may not have experienced a major difference otherwise.
That said, low-light and nighttime shooting is challenging, as it tends to be with any smartphone camera. The good news is that you will get less noise and consistently better results than the Galaxy S4 and Moto X, but not the HTC One, which is still the best Android camera phone for low-light settings. Where the G2 gains an upper hand is in shooting moving objects or while you're shooting from a moving object, like a car. Video clips are noticeably better because of the image stabilization at work.
Actually, one unique feature LG touted when it first announced the phone was Audio Zoom, basically the ability to isolate sound from a subject by zooming in on it. Using three microphones, you could hone in on audio from one subject by tapping on the screen to focus on it, while the other two work to cancel out the residual noise. It's easy to imagine how good that could be at a concert, for example, but results will vary depending on where you are and what's happening around you. LG has released YouTube videos demonstrating the feature, which seems to work well enough, but misses a key point. To zoom in a subject means you're using the digital zoom to crop the image and point the microphone at said subject. That degrades image quality while enhancing audio quality — a trade-off that may not come out very well after all is said and done. It's a cool feature, but keep that in mind when shooting video this way.
Some quick notes about the other key features LG has pitched. Guest Mode allows you to show your phone to someone else and cut off access to your own apps and content. By setting the lock screen to a pattern lock and enabling Guest Mode, you can select which apps will be available to a guest user on a separate home screen. When you hand off your phone, you can perform the pattern lock or keep it simple for them to do themselves to open up this parallel home screen. If you have kids, this feature could be indispensable, not least of which because you're curating access from top to bottom.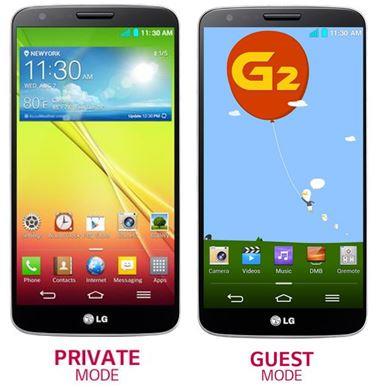 There is an IR blaster on the phone, so you do have the option to use it as a remote for your TV and other home theatre components. Nothing new there, since that's been a staple feature of other Android flagships.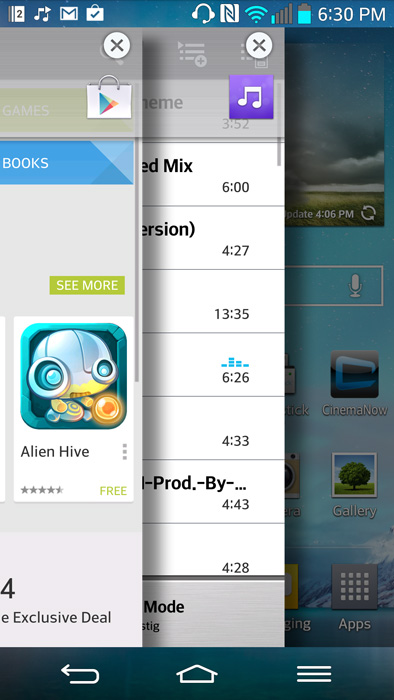 Slide Aside is an interesting idea in that you swipe three fingers from the right side of the screen to the left when an app is open. Do it with up to three apps, and those can easily be accessed when you swipe with three fingers in the opposite direction. It looks a little snazzy and can be useful for quick access to the last few apps you've been using, but isn't as amazing as you might think. It will almost certainly be an acquired taste for you.
Capture Plus is useful for taking a full screen grab of a Web page in the browser. The one caveat is that it only seems to work with the default browser, and not with Chrome or other third-party browsers.
QuickMemo is an easy way to take a screenshot and then write a note on it afterward. Your mileage out of this feature will depend on your needs at a given time, whatever they may be. QSlide can be useful for overlaying or placing apps together in a window-like format, similar to what's been featured in Windows PCs for years.
Plug & Pop is also a unique idea in that plugging in headphones or a USB cable pops up a set of apps the G2 thinks are most likely or appropriate for the action. This would be a dead-on-arrival feature if not for the fact you can customize it with third-party apps. So, if you prefer a different music app, or want a couple of streaming apps, like Songza or TuneIn, for example, then that's easily done by just tapping the Edit button when it pops up.
LG has played up the quality of the 5.2-inch display, claiming it's better than the Super AMOLEDs usually seen in Samsung's best devices. They're close, no doubt, but the final call is really up to you. You won't be disappointed in the screen LG has crammed in here.
Nor will you complain about the battery life, which is much, much better than not only the Galaxy S4, but almost any phone in its league. Going over a day with this is a certainty out of the box — even more if you're a really casual user. The 3,000mAh battery is a monster on this phone, and makes more of an impact on the user experience than any feature LG threw into the G2. Having a myriad of interesting features won't have the same impact if the battery doesn't last long enough for you to make the best use of them.
But the G2 is not without some shortcomings. The lack of a microSD card slot might be a big issue if you need a lot of storage (the G2 only has about 27GB internally after all the preloaded apps are taken into account). The amount of pre-loaded apps, or bloatware, is awful, though LG can't be singled out for this because competitors are just as bad. On our demo unit, Rogers had no less than seven apps, while LG had four of its own. Then there were all the others that were either irrelevant or simply not up to par with others you can find in Google Play. The most egregious problem with this is that you can't fully remove them from the phone, just disable them, so that they lay dormant yet still take up space on the internal storage.
The camera also has a bit of a lag to it that might be a little annoying. We didn't find it to be all that bad, but this is one of those kinks that is very subjective, so we'll let you decide that if you encounter it.
In closing, LG scored a major winner with the G2, a phone that not only competes but pushes the competition aside and stakes a claim as the best Android has to offer. We found it superior to the Galaxy S4 in a number of respects, and much preferred the less intrusive nature of LG's Android layout when compared to the Samsung-drenched TouchWiz interface.
The fact that the G2 wins on speed with its fast processor gets lost in the comparison because it's actually the user experience that is the bigger story here. The G2 is easy to pick up and use, and lasts considerably longer than most of the competition does on one charge.
The LG G2 is currently available from Rogers, Bell and Telus for $199.99 on a two-year contract or $599.99 outright. Wind Mobile, Videotron and SaskTel are also carrying the device.