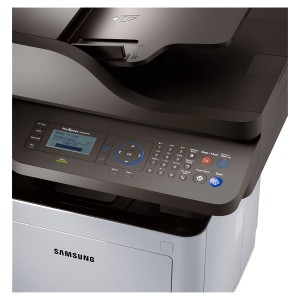 By Gadjo Cardenas Sevilla
Modern office printers have a lot of expectations to live up to in the age of mobile and BYOD. We check out how Samsung's ProXpress M3870FW measures up.
Printers may not be the sexiest technology segment, and office printers, well, they're are about as enthralling as a wood-burning fireplace, the way they look and function hasn't changed years. Or has it?
Samsung's ProXpress M3870FW is designed for medium to large offices. Not only is it capable of handling high-speed monochrome printing, it can also scan, copy and fax.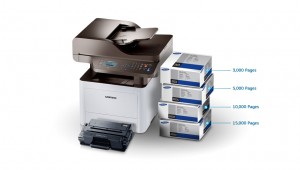 Priced under $600.00, the ProXpress M3870FW features print speeds of up to 40 pages per minute.
This impressive output is  due to the Cortex-A5 core processor and 256 MB of memory, it delivers unsurpassed performance for business applications.
Also on tap is a Duplexing Automatic Document Feeder (DADF) able to process pages at up to 24 ipm, scan and copy jobs are a breeze.
The printers' multipurpose tray supports media of up to 58 lbs. weight, which offers more printing choices for professional documents. Labels, cards, covers and envelopes can be printed using the multi-purpose tray with ease. This ability virtually eliminates the time it takes to feed sheets one at a time which is great for handling volume print jobs,
It also has Ethernet and WiFi connectivity on tap ready for networking and easy printing from wireless devices and smartphones.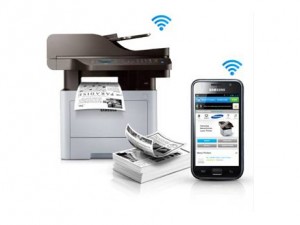 In terms of toner performance and costs, there are various options like Black Standard: 3,000 page toner yield (MLT-D203S) for around $92.00, Black High Yield: 5,000 page toner yield (MLT-D203L) for $105.00 and Black Extra High Yield: 10,000 page toner yield (MLT-D203E) for around $200.00 as per pricing on Amazon.com.
I found the ProXpress M3870FW reasonably easy to set-up, although I realized right away that it was way more printer than I would ever need in my home office, it is about the right size for an office of 20-60 people. Features I liked were the intuitive controls, the automatic duplex printer for quick and economical two-sided prints and the generally noise-free operation.