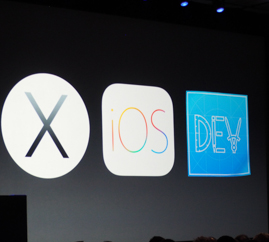 Text and photos by Gadjo Cardenas Sevilla
San Francisco, CA: Today marked the start of the 25th year for Apple's World Wide Developers Conference (WWDC). Apple CEO Tim Cook welcomed over 5,000 developers to the event here at San Francisco's Moscone Center. On tap for the week is the introduction of iOS 8 as well as OS X 10.10.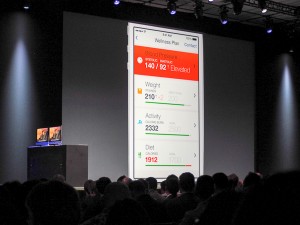 A developer-focused event, there were no new products unveiled here despite recent murmurings of wearables or even larger iPhones expected to be shown off.
Instead, the keynote focused on software and introduced various refinements to iOS and Mac OS. Most notable was the extension of iOS into new markets. namely the health sector via a new Health app that monitors various conditions as well as provisions for home automation and iOS in the car via CarPlay.
Apple sees the need to make its products and services relevant beyond the scope of mobile and desktop so they're betting big on health, motoring and the automated home as a way to extend the success of their devices.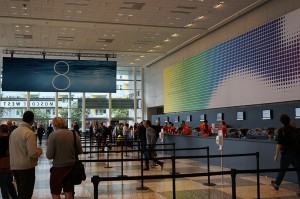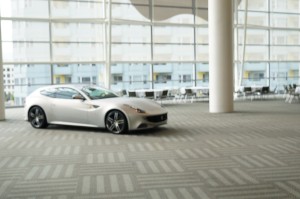 There was a lot of anticipation heading into the show today with the unveiling of iOS 8 as well as OS X 10.10, Apple's key software platforms for their popular iPhone and iPad as well as their notebooks and desktops.
Also visible at the Moscone Center grounds were various vehicles including a Ferrari which were used to demonstrate the new features of CarPlay, which is Apple's iOS to car integration.
CarPlay, which was demoed on a rare four-seater Ferrari FF coupe, transfers many of the functions of the iPhone straight into a compatible vehicle's in-dash stereo. Allowing the Siri voice assistant to call or send messages hands free, navigate to the nearest sushi bar or play any song in the iPhone's music library just by talking to it. Many third party developers hope to create CarPlay compatible apps.
The two and a half hour long presentation was heavy on demos and new features and was the most software focused keynote we've seen in years. It returned Apple true to form as a leading software company who just happens to make its own hardware.
For developers, Apple introduced a new programming language called Swift, which essentially replaces Objective C, the staple framework for OS X and for iOS. Apple also opened up a number of features previously off limits to developers, now they can access the Touch ID, functionality, use various other keyboards in their apps.
"iOS 8 offers simpler, faster and more intuitive ways to use your device with incredible new features like iCloud Photo Library, a new Messages app, the QuickType keyboard and an entirely new Health app," said Craig Federighi, Apple's senior vice president of Software Engineering. "We're also giving developers amazing new tools to make managing your health and your home from your devices an integrated, simple and secure experience."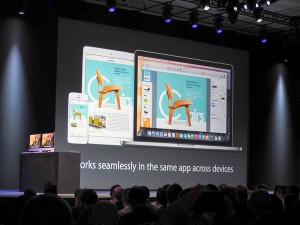 Another notable development is the blurring of lines between the desktop and mobile. A new feature to both operating systems is Handoff, which enables you to start a document on a desktop Mac and easily transport it to an iPad for completion.
iPhone is also more integrated with the Mac now as you can answer text messages from your phone on your desktop or even move a phone call from an iPhone to your MacBook or iMac, even if the iPhone is plugged somewhere else in the house.
Both iOS 8 and OS X 10.10 are available as betas to developers today and will come free to current Apple users with compatible devices this Fall.