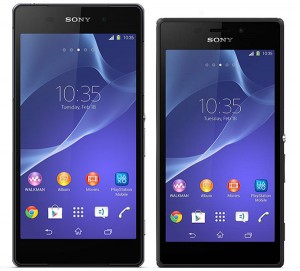 By Gadjo Cardenas Sevilla
Sony's Xperia line of smarpthones have eveolved in features, size and there are now various versions that appeal to different users. We take a look at the Xperia Z2 and M2.
The Xperia Z2 is the pinnacle of Sony's smartphone technology. It is replete with Sony exclusive technologies and this includes but is not limited to HDTV Bravia technology with the patented Triluminous technology, 4K video recording, Walkman audio technology and music playback, PlayStation certified games, amazing CyberShot camera and Exmor sensor technology.
That's basically Sony, the consumer electronics giant, in the palm of your hand. They managed to squeeze in all this technology into a sleek steel and glass enclosure that's also waterproofed, dust-resistance and quite the overachiever in the camera department with a whopping 20 million pixel sensor as well as the whole retinue of in-camera controls.
The Xperia Z2 may look a lot like its predecessor, and this is a good thing, but it improves on all the aspects that set Sony phones stand out. The changes are subtle but for fans of the Xperia Z1, will definitely be noticeable. 
Water resistance is improved as the Z2 has the world's best camera and camcorder in a waterproof smartphone, It can be kept under 1.5 metres of freshwater for up to 30 minutes.
Sony manages to do this without having to add a bunch of rubber stoppers to seal the water out. Sony's approach is done so seamlessly that you at no point feel you're using a rugged or water and dust-proof device.
My purple coloured demo unit feels solid and substantial in the hand. The melding of glass and aluminum on thissmartphone is precise to the nanometer and the result is a robust device that still manages to look and feel very impressive.
The high resolution 5.2″ Full HD display with Live Colour LED is bright and brings out the details when watching vide, playing games or looking at photos. Dual stereo speakers with Digital Noise Cancellation are great for hands free use and for enjoying music without headphones. These aren't as well executed as the HTC OneBoomSound speakers but better than most other smartphones.
The Xperia M2 is a smaller (relatively) device at 4.8 inches as opposed to the flagship Z2's 5.2 inch frame. It has a TFT screen while the Z2 has a stunning IPS HD display, it also has slower 1200 MHz quad-core processor while the Z2 has a scorching 2300 MHz quad-core processor.
In terms of camera sensors, the M2 has a more pedestrian 8 megapixel shooter that, while enough for most uses, is nowhere as resplendent as the 20 megapixel masterpiece the Xperia Z2 carries.
So, while the Zperia M2 seems like the more inferior device, it actually features a newer version of Google's Android OS version at 4.4.3 while the Xperia  Z2  ships with an older version.
So, while these are both exceptional smartphones with many similarities in look and feel, Sony has really differentiated the potential users by their needs and by budget. The M2 has none of the famed water, dust and dirt resistance of the Z-line, which is understandable since that is Sony's overarching feature for its flagship devices. It does share the look as well as many features unique to Sony and at a lower price, which makes it an ideal mid range device that's better in some aspects, than many 'mini' versions of competitor's devices.