A powerful combination of legal expertise and business acumen, coupled with a great sense of timing, meant that Shannon Rogers found herself at the head of a great company, and the middle of the nightly newscast.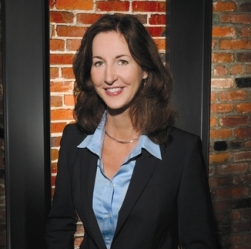 Her training, background and entrepreneurial spirit has led Rogers to a successful career as President & General Counsel at Global Relay Communications Inc., the Canadian financial e-services company, and to her being named as winner of the Canadian Women in Technology (CanWIT) Sara Kirke Award for Entrepreneurship and Innovation.
The award is presented as part of Canadian Advanced Technology Alliance's Annual Innovation Awards, and it's given to a Canadian woman who has shown outstanding technological innovation and corporate leadership – leadership that has significantly expanded the frontiers of Canada's advanced technology industry.
Shannon Rogers has certainly done that: she joined Global Relay as just its fourth employee, when it was a small tech start-up; today, it is a global enterprise with more than 325 employees, delivering financial compliance services and support to some 18,000 organizations in 90 countries.
She is responsible for Global Relay's overall business strategy and business development, and she's been a big part of its growing business relationships and global distribution network.
Rogers left a secure mainstream position at a large law firm to join Global Relay, and its dynamic founder Warren Roy. They worked togetherfor years to build the company, using cash flow and sweat equity as opposed to outside support from investors or venture capitalists.
Today, Global Relay is a $30 million dollar company, with offices in Vancouver, Chicago, New York, London and Singapore.
At the time they started, the world's financial markets were trying to recover from the dotcom crash, and they were facing fallout from financial fraud cases like Enron and WorldComm.
So regulators worldwide began writing and implementing new banking and financial sector rules and regulations. For Global Relay, that meant the opportunity to offer its pioneering cloud-based computing services for the preservation and tracking of financial records and related electronic communications to a global market.
Global Relay would go on to play a key role in important investigations into the so-called LIBOR scandal, for example, which looked at the machinations and manipulations surrounding the use of inter-bank lending rates known as London Interbank Offered Rate.
In the aftermath of such scandals, companies around the world must now follow more stringent rules for records-keeping and compliance archiving, as well as standards for electronic communications and mobile messaging.
Global Relay has proven itself well-positioned to provide those services on a global scale, using its own proprietary system and solutions.
"Global Relay is a strong Canadian tech company solving big global problems," noted CanWIT CEO Sandra Wear at the awards ceremony. "I am thrilled to name Shannon Rogers as this year's Sara Kirke award winner. Shannon's entrepreneurship and leadership are evident in Global Relay's worldwide success."
Rogers – and Global Relay itself – has received many other industry awards in the past, but she continues to pass the praise along, saying that not only is Global Relay driven by a "fun, innovative team", it is a company that is "good for Canada" with some 95 per cent of its revenue coming from international clientele.
Clearly, Rogers has been highly focused on her company and successful growth, but she still finds time for a life out side of work – almost anywhere outside, in fact: she loves walking and hiking, and the company is title sponsor for this year's (this week's, in fact) Global Relay Gastown Grand Prix, a one day street race and competition for male and female cycling enthusiasts.
Rogers was born in Calgary and raised in West Vancouver. She went on to study and receive degrees in political science, political economy and law. She went on to a corporate securities law specialty at McGill University and, later, worked with leading Canadian law firms McCarthy Tétrault and Borden Ladner Gervais.
Canadian Women in Technology, a Division of CATAAlliance, was founded in 2005 as a national community grassroots network for women to work together to advance their careers or succeed as entrepreneurs.
-30-
submitted by Lee Rickwood