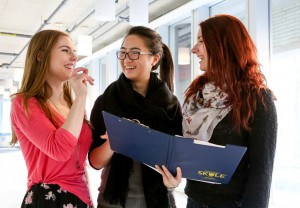 The University of Toronto (U of T) is well on its way to leading the province of Ontario when it comes to women in technology, with 30.6% of its first-year Engineering program students now women.
According to the university, 25.8% of its Engineering undergraduate population is female, compared to the provincial average of just 19.7%. Last year, 18.9% of engineering undergrads across Canada were women, and 19.9% in the U.S. U of T is now the only engineering school in Ontario with female first-year enrolment greater than 30%. And performance is on the rise, too – entrance grade averages for first-year students is 92.4%.
Dean Cristina Amon calls U of T Engineering a "rich environment for talented, bright women to become engineering leaders."
What's Attracting Budding Female Engineers to U of T?
The university and its faculty have held a number of targeted recruitment efforts to bring girls into the fold. This year, more than 560 women and 20 female instructors have already signed on to participate in the outreach programs, which range from hands-on science and engineering programs for girls in grades 3-8, to Girl Guides badge days, and GLEE (Girls' Leadership in Engineering Experience), a weekend for female high school students who have already been offered admission to U of T engineering.
"It's exhilarating to be part of such a diverse and talented student community," says Teresa Nguyen, a fourth-year civil engineering student and President of the Faculty's Engineering Society. "…it doesn't matter what your background is—it's about the ideas, expertise and reasoning you bring to the table."
The idea of mentorship, and a comfortable environment, is also leading females to want to pursue engineering at the Toronto-based academic institution. And a lot of that has to do with the large (and growing) female faculty. (We'll discuss female participation at the faculty level in a separate article.)
Not to mention, notes Dawn Britton, Associate Director of Engineering Outreach at U of T, that the school is one of the top-ranked engineering schools in the world. Canada's first female electrical engineer – Elsie Gregory MacGill – graduated from U of T, and also went on to become the first female aircraft designer. The first female architect in Canada – Esther Marjorie Hill – also hailed from U of T.
"We continue to attract diverse students by offering the most interdisciplinary engineering education in Canada," says Britton. "Courses are increasingly hands-on and collaborative, and new minors and certificates enable students to customize their degree—adding specializations like business and biomedical engineering. Our Entrepreneurship Hatchery also helps students to turn their dreams into new start-up companies."
More Work to Be Done
In 2013, women only accounted for 11.7% of all professional engineers in Canada.
Despite the successes that U of T has been experiencing in getting girls on board, Amon feels there's still plenty of work to be done.
"We have re-imagined engineering education by introducing program innovations, new resources for students and outreach activities to continue to attract an even more diverse range of applicants, including women," she says."
As the idea of engineering as a "man's profession" dwindles, and more women come down the pipeline with degrees and interest in working in the field, we'll hopefully see that number steadily rise beyond 11.7%.
"Since 2006," says Britton, "we've taken an even more targeted approach to enhancing diversity across the field—after all, the opportunities for a dynamic, meaningful career in engineering have never been greater."