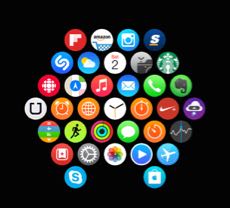 By Gadjo Cardenas Sevilla
The highly anticipated Apple Watch arrives in Canada with the support of over 3,500 apps, a bunch of which are Canadian.
Apple Watch is the latest product category under Tim Cook's Apple. It is the company's entry into the burgeoning wearables market, a device that fills the slot of the once-popular iPod, and an accessory that strengthens the appeal of the companion iPhone. Apple Watch has been named best smart watch by Consumer Reports.
Apple Watch is a tiny wearable computer, but it is also a fitness tracker, a messaging device that can use an iPhone's connection to make calls, it is a mobile payments platform, and it can also play music as well as be used as a remote control for Apple TV and connected home smart appliances.
While still unavailable in-stores (unless you pre-ordered online), the Watch is just starting to arrive at people's doorsteps, but it already has the benefit of having 3,500 companion apps that new users can enjoy right off the bat.
Unlike the iPhone and the iPad before it, the Apple Watch actually has the advantage of being released with an existing  ecosystem of compatible companion apps and widgets.
Apps for the Apple Watch aren't actually full-featured apps installed on the wearable.
They are widgets that can connect to corresponding iPhone apps and which take information and present it in bite-size and easy to glance versions.
Apple opened up the WatchKit developer kit for Apple Watch early, allowing existing iOS app developers to make their iPhone apps compatible with the new device.
Various Canadian companies have jumped right in to support Apple Watch and make their iOS applications more useful to new Watch users.
News services like the Globe and Mail and CBC News can send bite-sized bits of news to subscribers on their Apple Watch.  TheScore app allows users to select their favourite sports teams and players and pushes the latest scores and notifications as they happen.
Financial institutions like CIBC, TD, Tangerine Mobile Banking, Desjardins and Scotiabank are putting the power of people's finances securely on their wrist, giving customers quick access to account information and even allowing secure transfer of funds between accounts.
The Transit app, which was developed in Quebec, uses navigation and realtime updates to conjure up the fastest possible options for commuters riding TTC, Go Trains or even considering hailing an Uber car.
The Uber app, which makes it possible to call a car or a limo with a few button presses, is one of the more impressive examples of what the Watch can do.
Other Canadian apps include Realtor.ca, which can find real estate listing based on your location and even hook you up with a realtor.
Pizza Pizza's app makes it possible to order a pizza right from your Watch and you can also pay for your latte at Starbucks using the Watch and Apple's Passbook technology.
Of course, after ingesting all those calories, the Watch can guide you through a rigorous workout, check your heart rate as well as measure your level of activity throughout the day, which is one of its lynchpin features. All of these features users can already do on their iPhones
The advantage of Apple Watch is that it offers faster access to apps and services. While it has a tiny display, users can access apps using voice via Siri, tap on the corresponding icon with touch or scroll with the new Digital Crown.
Apple Watch has a stunning OLED display that has vibrant colours as well as deep blacks which makes viewing information  and interacting with it on such a small display possible. It also succeeds in giving users quick access to information during the times when pulling  out their iPhones might be distracting, rude, or inappropriate.
Battery last for 18 hours and the Watch charges wirelessly using an inductive charger.
The device is a good fit for consumers who rely heavily on their iPhones and who don't mind spending around $500 (base price) on a smart watch that is clearly a first-generation product yet has a lot to offer.