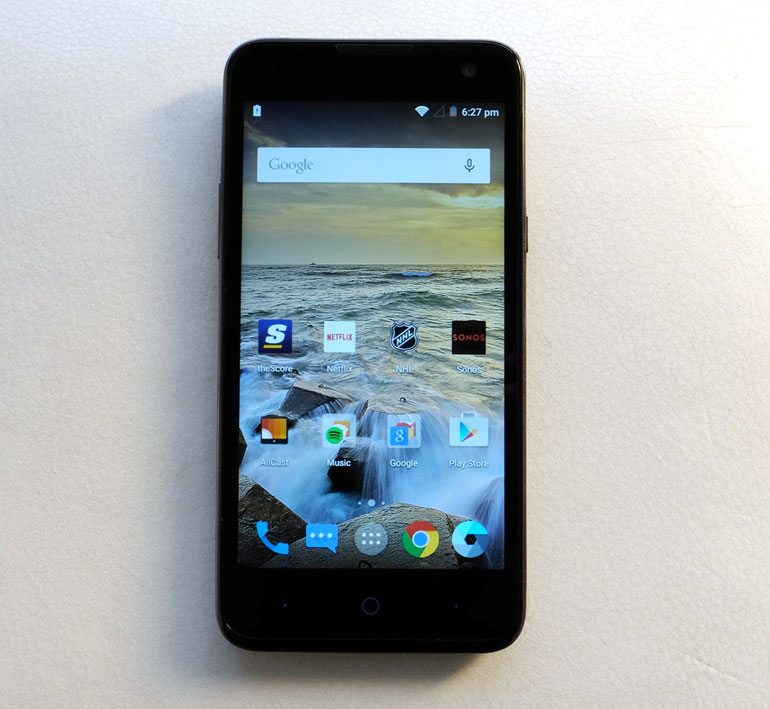 When a smartphone costs $150 outright, it can raise an eyebrow or two for any number of reasons. The ZTE Grand X 2 is an entry-level budget handset that offers some decent specs for the price, and aims to attract users who don't need or care to have the best. Competition in the race to zero is getting tighter, putting the Grand X 2 in a battle for relevance to those looking for something affordable.
It's hard to argue with the price, given that $150 doesn't even cover the two-year contract price for the most popular flagships. ZTE is at the lower end of the smartphone food chain, presenting an option for the cash-strapped and newcomers to get connected using a device that doesn't cost a fortune.
The Grand X 2 is LTE-enabled, running on Android 5.1 Lollipop. It sports a 5-inch 720p HD display, 1.2 GHz Qualcomm 64-bit quad-core processor, 2GB of RAM and 16GB of internal storage (expandable up to an extra 32GB). There is an 8-megapixel rear camera capable of shooting video at 1080p, with a 2-megapixel front-facing camera. The battery is reasonably-sized at 2480mAh.
Except for the lower-resolution display, these wouldn't be bad specs for a phone that costs $100 more. But as with anything that comes at the low end of the price spectrum, there are trade-offs that temper expectations for daily use.
The display is a good size, and is decent when looking at it head on, but viewing angles are awful the more you tilt it. We were able to see incoming notifications when viewing the Grand X 2 from an angle while it rested on a table next to us, but we had to position our head and eyes on a straighter angle to get a good read. To have 720p HD in a 5-inch display was perfectly acceptable even as late as two years ago for mid-range handsets, but much has changed since. Apps and games don't look quite as crisp or vibrant as they normally do on 1080p (or higher) displays.
The processor may be quad-core and 64-bit, but the pauses between tasks are obvious. Launching an app or game, sending a message, browsing the Web — all of the basics come through, but do so with a slight lag that compounds over time. There's a lack of fluidity here that we fully expected, having tested a number of smartphones in the same price range.
Still, we were able to use the apps we like. Streaming music wasn't really a problem, nor was streaming it via Bluetooth. Streaming video didn't look exceptional, but it managed to stay pretty consistent. Basic Web browsing was fairly smooth. Playing games was a bit of a mixed bag in that casual titles were smoother than larger and more demanding ones. If gaming is important to you, the Grand X 2 is probably not the device you're looking for.
Using the LTE speeds of Bell's network was also consistent, so connectivity isn't relegated to a snail's pace, like some might expect. The average user who only wants to keep up on social media, stream some media and message people will find little to whine about with the high speeds it's capable of reaching. We were able to hit high down and upstreams in downtown Toronto, similar to what we would have with devices hundreds of dollars more.
The lack of bloatware is also welcome. Android phones are notorious — some more than others, of course — for the pre-loaded apps that take up valuable space. ZTE smartly opted to limit that and barely touched the OS, making this a pretty vanilla version of Lollipop. Again, the average user who isn't in tune with these nuances may not notice, but those who do will appreciate it. The clean slate makes customization easier, too.
The camera is what we expected it would be: good by day, bad by night. Shooting in bright light and in daylight yields respectable results. Nothing that will blow anyone away, but certainly passable and usable images. Once the lights dim and night falls, however, the image sensor struggles to keep the noise at bay, creating blurry and grainy photos. Shooting video in 1080p is decent, though again, the same day-and-night, bright-and-dark trade-offs apply.
Battery life is OK, commensurate with what you're doing. Basic tasks don't eat away at it, whereas heavier usage will whittle it down faster. We averaged around eight hours per charge with regular mixed usage. Not bad at all for a phone at this price point.
The thing about an affordable budget phone is that it's designed to be more utilitarian than a toy to show off. The Grand X 2 is more a way for the budget-conscious consumer to have a smartphone that is functional and effective enough to do the basics consistently well. We admit we weren't overly excited in using it, but were also pleasantly surprised by its consistency. We'd hesitate to call it a workhorse but have no qualms in calling it a serviceable handset worth the $150 it costs outright.
Bell and Virgin Mobile also offer it for $0 on a two-year contract, but we would recommend you buy it outright and save money in the long run.