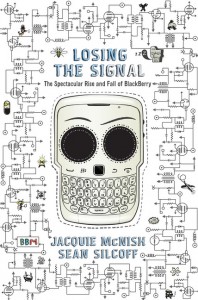 Losing the Signal: The Untold Story Behind the Extraordinary Rise and Spectacular Fall of Blackberry  is an engrossing and in-depth retelling of how Research In Motion (RIM), set the stage for the smartphone industry and the series of unfortunate events that caused it to spiral out of control.
A well-researched, honest and pragmatic look at Canadian business icon BlackBerry (formerly known as RIM) by authors Jacquie Mcnish and Sean Silcoff  is partly a joint biography of its founder Mike Lazaridis and his partner Jim Balsillie, as well as an insightful technology innovation odyssey that could very well rival the origin story of the Apple Computers being born in Steve Jobs' garage.
That Balsillie and Lazardis were both young Canadians from rural Ontario towns,and yet managed to team-up and persevere to create the most valuable Canadian company, makes this an even more engaging story and one that has enough drama to make a great feature film or made for TV movie.
After all, Jobs and Wozniak lived in the cradle of Silicon Valley, they grew up around giants like HP and Atari at a time when innovation was at its tipping point.
In stark contrast, we have an ambitious visionary Jim Balsillie who had a deep desire to succeed in business, and an engineering wunderkind in Mike Lazaridis who had a penchant not just for fixing things, but for finding creative solutions to problems. RIM grew into a powerful multinational corporation against all odds and facing constant challenges from partners, suppliers and carriers here and overseas.
The co-CEO's were vastly different in their interests and personalties, yet managed to coalesce and focus their strengths into growing a respected and global company, which is what makes their success story so compelling.
Losing the Signal, is both a historical tome and a cautionary tale. While it focuses on BlackBerry and its founders, it also does a laudable job of tracing the cellular and smartphone industry rise and the various innovations and discoveries that helped move the technology along. From the twilight of the two-way pager, the birth of the smartphone and the evolution of mobile e-mail, instant messaging via BBM. It is also a reminder of Canada's historical legacy in the areas of technology and innovation.
Losing the Signal: The Untold Story Behind the Extraordinary Rise and Spectacular Fall of Blackberry is a must read for anyone interested in technology, innovation, and the mobile industry. It should be required reading for starry-eyed startups as well as technologists who may have great innovations and ideas but who falter at understanding the greater impact of business.
In an almost Shakespearean fashion, Losing the Signal: The Untold Story Behind the Extraordinary Rise and Spectacular Fall of Blackberry, features heroic scenes of underdogs overcoming great odds, the excitement of launching game changing products and the thrill-ride of a company and its founder tasting sudden and overwhelming success.
There's also a great deal of intrigue, incalculable hubris, betrayal, and a retelling of the series of  missteps that caused the company's downturn.
There were a number of insights that I gained from reading this book.
I always believed that BBM (BlackBerry Messenger) should have been made cross platform and apparently Jim Balsillie rallied to make this happen at a time when competitors like Kik, WhatsApp and FaceBook Messenger were just coming into the market.
The book reveals that plans for making BBM a solution that could run on rival handsets had been shelved once Thorsten Heins took the reigns of the company. BBM was finally released to iOS and Android  last year, but competition had already snowballed.
There are also a lot of insider stories on the development and creation of some BlackBerry devices and technologies and as someone who has followed and covered the company for close to a decade, a lot of this information is brand new to me but still eye-opening.
Losing the Signal is not a eulogy, but a marker for a place in time. BlackBerrys story is still being written, the company, now under John Chen, has pivoted wisely towards creating secure solutions for businesses as well as laying the groundwork for their Internet of Things and connected car play.
BlackBerry many no longer be he handset behemoth it once was during the RIM heyday, but its still has a spark of that innovative spirit and penchant for pushing disruptive technology.
Losing the Signal: The Untold Story Behind the Extraordinary Rise and Spectacular Fall of Blackberry
By Jacquie Mcnish and Sean Silcoff
320 pp. HarperCollins Publishers Ltd, $ 24,73