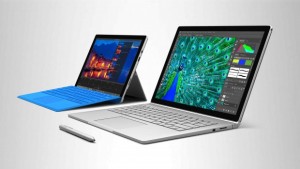 Tablets  with 2-in-1 functionality and straddle the line between the perfect touch-focused content consumption device and viable notebook replacements when mated with accessory keyboards and digital pen functionality.
The latest hardware comes with dazzling displays, pen input, 64-bit processors, more RAM, improved Bluetooth and wireless connectivity have helped tablets improve their PC-like tasks while accessories and add-ons can convert them into viable productivity tools.
Google Nexus 9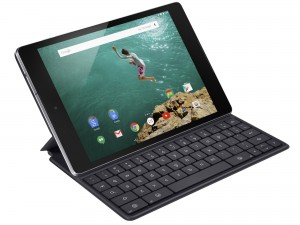 As a standalone tablet, there isn't much that sets the HTC-made Nexus 9 tablet apart from the rest. It's smaller than an iPad Air, has great stereo speakers and is supposed to get the latest versions of the Pure Android OS as soon as they're out (it hasn't).
When paired with the Folio Accessory Keyboard, however, the Nexus 9 suddenly transforms into a serious, Microsoft Office slinging, all-day notebook replacement.
While barely 9-inches in diameter, it is ideal for writing down notes, blogging, watching videos and thanks to the built-in SIM card slot in the 64GB model, it is a lightweight traveller which easily accesses information on Internet at any given time. Nexus 9 will likely be replaced by the higher-end Pixel C, another Google 2-in-1 with a 10-inch display and a magnetic keyboard/
The availability of Microsoft Office on Android is one of the reasons why the Nexus 9 continues to be relevant and can be an important device for years to come. It is powerful enough to run Android apps but it is also capable of using the productivity suite that most of the world already uses.
iPad Pro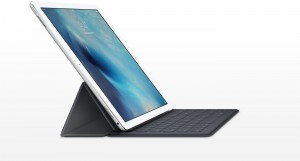 For once, it seems Apple is following a trend rather than defining it. With sales of the iPad line plummeting, the company who brought resurgence to the tablet line, now finds itself in a position where it needs to pull another rabbit out of its hat.
The rabbit, in this case, is a 12.9-inch variant of the iPad which is designed for artists and enterprise.
Artists and enterprise seem like far-fetched target markets, but there's long been a hunger for a powerful and intuitive mobile drawing tablet. The Surface Pro has filled this gap for a number of years with its stylus and various apps, but Apple feels it has something more to bring to the table. The iPad Pro is too big in size and prize for most users but, it does hit a target user demographic that's demonstrated a desire for a large and powerful iPad.
Microsoft and Adobe have jumped on board the iPad Pro bandwagon and are already preparing versions of their most popular applications to run on this device. Hundreds of app developers will likely hone in on the opportunity as well. Will iPad Pro fare better than Microsoft's Surface RT? It looks like the app support might help it gain traction, although the high pricing will be an issue for mass adoption in areas like education.
Of course, any existing  iPad Air with a sensible enough keyboard can probably do 60 per cent of what the iPad Pro promises (save for the Apple Pencil input and maybe 4K video editing). There's no shortage of great companion keyboard cases for the iPad Air and even the iPad mini for anyone who is serious about converting their tablets.  For the first time, Apple has created a complete productivity focused iPad (keyboard and pencil sold separately), so hopefully the apps will follow.
Surface Book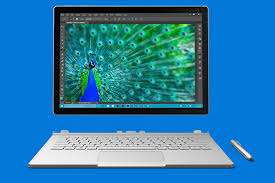 Microsoft's own Surface Book is many products in one. It is a tablet that also converts into a full-pledged notebook by way of a premium magnetic keyboard (which can also house an extra video processor). While it clipboard mode, it is an all-day Windows 10 device that's touch friendly and can take pen input for singing documents, drawing and painting.
Once joined to its keyboard, however, it becomes a powerful high-end notebook with all the latest specs and features. It is possibly the most insanely powerful notebook ever made and the fact that it isn't just a notebook makes it a real product worth celebrating for Microsoft.
Surface Book is the ultimate 2-in-1 device with no compromise. It has an awesome display (13.5-inches with 3000 x 2000 resolution), a killer keyboard, all the latest specs in abundance, and it also runs without any bloatware being a Microsoft certified device. As a proof of concept device, Surface Pro points to where 2-in-1's are headed in terms of power and portability. The trade-off, sadly, is price. A fully outfitted Surface Pro with all the trimmings is almost US $4,000.
Microsoft Surface 3 and Surface Pro 4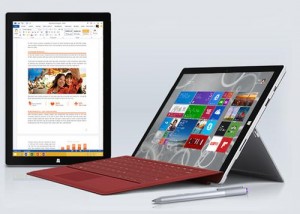 The entry level Surface now brings the same stellar build quality to a smaller, cheaper form factor. Surface 3 is ideal for students and general users who like the portability of a tablet and the functionality on a notebook. The Surface 3's kickstand isn't as versatile as the Surface Pro and while it conveniently uses microUSB to charge, it apparently takes a very long time to charge a Surface 3.
Microsoft also offers the Surface Pro 4, which is slightly thinner and lighter than the version it replaces and has an improved Type Keyboard, which Microsoft has refined and which feels and acts more like a notebook keyboard. The Surface Pro 4 is no longer the only device of its kind in the PC world as Windows OEMs like Lenovo and HP have come up with tablets that similarly offer notebook specs with a slim accessory keyboard. An example of this is the Lenovo Miix 700, which is the spitting image of the Surface style but with some interesting Lenovo touches.
These are some of the exciting 2-in-1 devices in the market right now. They're more expensive than simple tablets or notebooks in some cases, but they provide users unparalleled choice in terms of shifting between modes of use and sometimes that makes them worth it.