Late last year, companies upped the fashion ante withwearables, debuting plenty of options targeting the female market specifically, like the Polar Loop Crystal.  In 2016,that trend showed no signs of slowing down.
Here are 5 up-and-coming wearables that will have females itching to don one on their wrists.
This gorgeous timepiece (yes, it looks like a watch first and foremost) is the product of a collaboration between Huawei and Swarovski Gemstone. The rose gold-plated case is surrounded by 68 1.5mm Swarovski Zirconia. Powered by Android Wear, it will work with both Android and iOS devices, and displays alerts for calls, texts, instant messages, and e-mails. You can also control music playback and navigation directly from the watch, monitor your heart rate, and track activities. If you prefer a less flashy look, there's the Elegant, which you can outfit with one of 40 (or more) watch faces. Both will be available in March, though Huawei hasn't yet confirmed pricing details.
2.Misfit Flash with BaubleBar Helena Necklace and Bracelet
The actual tracker itself isn't new – the Misfit Flash has been on the market for some time. But this new package includes the device along with vintage-inspired jewelry in which you can wear it. This includes
the Helena Necklace with a 32" long chain, and the gorgeous 6" Bracelet, both via a partnership with BaubleBar. For the lady looking for a more formal way to wear her Flash, this is a perfect option to match a dressy outfit, and can be worn with your standard wristwatch. The Flash, as a reminder, tracks activities, calories burned, distance traveled, steps taken, and sleep quality and duration, and operates on a coin cell battery that lasts 5-6 months before it needs replacing. It works with both Android and iOS devices. The set will cost US$70. There's no word yet on when you can buy it in stores in Canada, but you should be able to order online now via the Misfit Website. Sadly, it doesn't appear as though existing Flash owners can purchase the accessories separately.
Fitbit has released its very first smartwatch, the Blaze, with a standard watch face versus the traditional activity-tracking band for which the company has become known. Available in March, it has a number of enhanced workout and activity tracking features, making it ideal for the particularly fitness-conscious woman. But it also looks great, with a colour touchscreen, variety of faces from which to choose, and interchangeable bands and frames to suit your particular style. It's made with genuine leather, stainless steel, and high-performance elastomer. In addition to activity tracking, the Blaze can also receive notifications, be used to accept and reject calls, control music playback, track sleep, and serve as a wake-up alarm through gentle vibrations. Another feature busy ladies will love: the battery lasts for a
full five days before it needs to be recharged. The Blaze works with Android, iOS, and Windows devices, and will sell for $250. Additional bands will range from $40 up to $180
As part of Fossil's full line of activity trackers, The Q Dreamer ("Q" meaning it can "cue" users to be active) is disguised like a bracelet, and can be worn in a variety of leather and silicone bands. A simpler device than the others in this roundup, it will vibrate when you have an incoming notification, and you can even set customized colour notifications for key contacts or apps: a blue flash means you have a new Facebook message, or green means it's your spouse calling. It sells for $155.
For those looking for something that more resembles a smartwatch, and woman who prefer to bulkier, more masculine look, there's the Q Grant ($215-$235), which resembles a standard wristwatch, but can track activity, receive notifications, and has the same customized colour notifications feature as the Dreamer.
Fossil, by the way, purchased Misfit late last year for US$260 million.And the company recently confirmed that, between the two brands, it plans to launch more than 100 wearables in 2016. So there will be plenty from which to choose if these don't fit your fancy.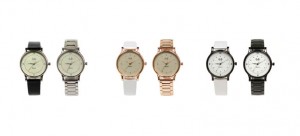 5.Martian Kindred Vip Collection
Geared specifically toward those of the female persuasion, this new line of smartwatches from Martian focuses on discreet notifications from the people most important to the wearer, like the spouse, office, kid's school, or babysitter. The Hybrid Smartwatch, in particular, features this new mVip feature, and has a 38mm face housed in a stainless steel casing that's ion-plated in rose gold, black, or polished stainless steel. A tiny, LED alert light is positioned right beside the 6 o'clock position, where she can view notifications from special VIP Groups, and determine who's calling or sending a message via a distinct vibration pattern and colour. These are set up through the partner smartphone app. Additionally, it functions like a standard activity tracker, monitoring steps, sleep, and other fitness data. It's water-resistant, and its lithium-ion battery will last two-to-three weeks before it requires recharging. She can swap the strap out for others, including Italian leather options.