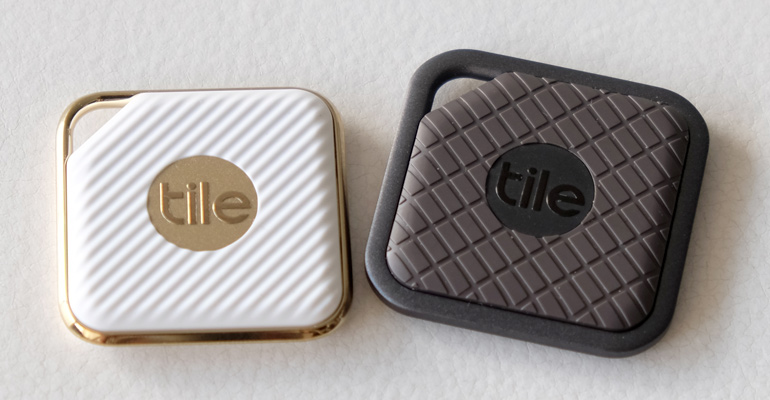 Losing something valuable or important is a harrowing feeling, and with so much technology available today, it should be possible to track items. The Tile Sport and Style are designed to offer that kind of peace of mind.
The simplicity of the Tile is easy to appreciate. It's about the size of a pack of matches and it uses Bluetooth to communicate with an app on your phone to literally call out where it is. Attach it to something you truly value, or tend to misplace, and you can keep tabs on where it is.
Tile isn't new to this, and the Sport and Style represent the latest iterations under what it calls its "Pro Series." The two are essentially the same, except that the Sport is more durable, with a slightly heavier and thicker build. The Style is more, well, stylish because of its white and gold body.
Each has an IP68 rating making them both waterproof and shockproof, so they can take a beating, but the Sport holds an edge for its rugged design that can withstand more punishment. They can stay submerged down to 1.5 metres of water for up to 30 minutes.
Each model has an open corner to make it easy to clip it onto keys or a handbag — basically anything you can run through it. The logo in the middle is also a button that initially turns the device on, but has a secondary use case in triggering the phone to ring. This way, if you misplace your phone, the Tile can at least make it audible to track it.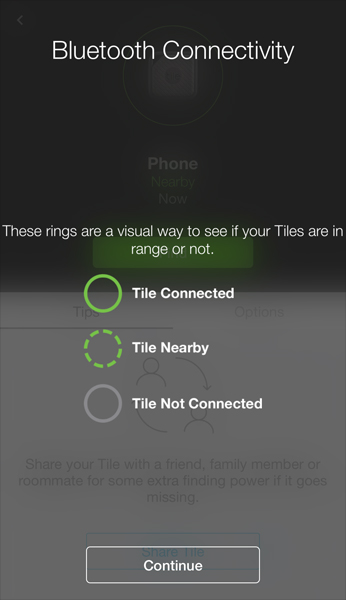 Everything the Tile does is routed through the free iOS or Android app. Setup is painless, spelling out which Tile you have and what it's attached to. Setting up an account to tie all this together does also mean the unit is locked to it, so it's not something that can be swapped with other users unless you provide them full access to the app.
Working on Bluetooth, range is also limited to 200 feet from your phone, so this isn't the type of scenario where an item kilometres away suddenly appears on the app. Instead, it records the last known position, and then uses a sonar-style proximity system where circles appear on screen to let you know if you're getting warmer or not.
Bluetooth's weakness is that it's susceptible to interference, so the stated range is a maximum, rather than an average. That could make a difference on whether the item it's attached to was left indoors or outdoors. It's hard to quantify how good it would be in any situation, but in my testing, it cracked 100 feet easily every single time.
Each Tile has an alarm built-in to help with any search, and I must say, it's far louder than I could've expected. At full volume, it's practically ear-piercing at really close range. Even in a crowded room, there is no way it wouldn't be audible over the noise. The proximity approach through the app acts as an alternative to sounding the alarm, in case you don't want to disturb or tip anyone off.
Interestingly, Tile has built-in a quasi-triangulation crowdsourcing method that uses other Tile users who may be in range to signal where yours is, in case you've lost it. I never had an opportunity to test out such a scenario, so have no idea how impactful or successful it might be.
I found the Sport particularly useful stored in my car, both as a parking aid, and somewhat of an anti-theft complement. Tile wouldn't have alerted me if the car was suddenly on the move, so it's not a proactive tracker. It doesn't have GPS inside, and thus, can't trigger an alarm when it has moved. Still, if parked within range, a quick peek always helps to ensure it's still where it's supposed to be.
Otherwise, keys and bags are the most common items the Tile would attach to. I wouldn't be surprised if helicopter parents placed one on their child in crowded places as a safety measure. There is some ingenuity to deploying either the Sport or Style, depending on what you're looking to keep tabs on. Luggage and safekeeping valuables in the home from others who live there come to mind.
Voice integration plays into both the Sport and Style, except availability appears to still be limited in Canada. They work fine with Amazon's Alexa digital assistant, though it's not officially launched in the country yet. Google Assistant works from phones and tablets, but not the Google Home, as of this review. I couldn't add Tile to my list of connected devices through the Home app, but I would expect compatibility to open up soon.
The one thing to remember through all this is that the Tiles aren't everlasting. The battery inside is non-removable, with a lifespan of about 12 months, so you would need to replace them once they die out. Tile does offer a "retile" program that slashes the price for replacements up to 40%. Referring two friends to buy Tiles also earns you a free one.
They come in a two-pack together for $80, or you can buy them separately for $45.