Portable Bluetooth speakers come in all shapes, sizes, and designs, and can be used for everything from background music, to tunes on-the-go, or even by the pool.
With that said, there's a type to fit pretty much anyone on your list. Here are 6 in particular across various styles and price points to consider for that special someone.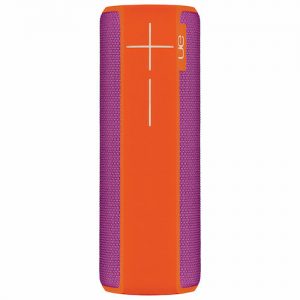 Ultimate Ears BOOM 2
This rugged and waterproof speaker is ideal for adventurers, or for someone looking for a speaker they can use outside by the pool, take with them to the beach, or simply don't have to worry about getting tossed about a bit. It's fully waterproof, with an IPX-7 rating (not just water-resistant), which means they don't have to worry about it getting damaged if it gets wet – it can be fully submerged in up to a metre of water for up to 30 minutes. The tall, cylindrical speaker comes in a variety of fun or subdued colours, from basic black to vibrant red with purple grills on either side, and can run for up to 15 hours on a charge. Using the Block Party feature of the UE app, up to three people can connect to a single speaker to rotate among their playlists. Pair two together for double the sound during a pool party. About $200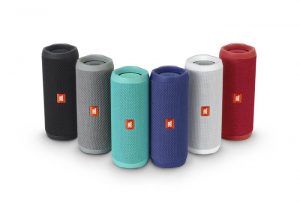 JBL Flip 4
For someone looking at an affordable way to get music all around the house that they can also take with them outdoors, there's the JBL Flip 4, which is also waterproof. You can pair two together for left and right channels for stereo sound, or connect multiple ones together to fill a large room or area with music. Stream music from up to two devices, and it runs for up to 12 hours per charge – more than enough for your backyard party, camping trip, or day lounging on the deck at the cottage. Plus, it works with Siri and Google Now. Like the BOOM 2, it comes in a number of fun colours. About $120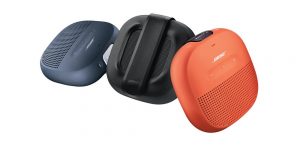 Bose SoundLink Micro
For the adventurer or active person, grab something like the Bose SoundLink Micro. It's only about 4" tall and about the size of a hockey puck, and comes with a tear-free silicone strap that can be used for attaching it to a backpack, belt loop, or even bicycle handlebars for listening to tunes as you ride a bike, hike in the woods, or enjoy other outdoor activities. Like the others, it is waterproof with an IPX7 rating, can pair with up to two devices at once using the Bose Connect app, and you can use two in Party Mode. $140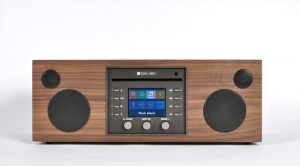 Como Audio Musica
For someone who just wants a simple way to get tunes at home, there's the Musica portable radio from new brand Como Audio, a start-up by the former head designer at Tivoli Audio. The Musica desktop radio incorporates Bluetooth, and can access Internet radio stations, Spotify Connect, Tidal, Deezer, and Napster in addition to traditional FM radio. It also comes with a slot-load CD player, USB input that can also charge a smartphone, two aux inputs, stereo headphone and line outputs, and Ethernet or Wi-Fi connectivity. Control playback using the remote, eight preset buttons, or the Como Control app. $850 for the walnut finish, or $900 for hickory, piano black or white.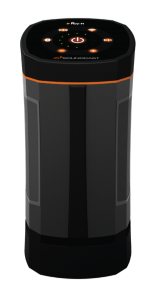 Soundcast VG10
For a versatile, indoor/outdoor solution for the audiophile who appreciates high-res files, there's the Soundcast VG10. It works with DTS Play-Fi, allowing you to pair it with other Play-Fi speakers or receivers to enjoy high-quality audio, both inside and out.  The tall, floor-standing unit offers up to 15 hours of play, and has a weatherproof housing. $1,000
Google Home
Yes, it is, first and foremost, a smart speaker. But the Google Home is, indeed, a speaker that can be used to play back music from a variety of sources. Connect it with a Spotify or Google Music account and stream your tunes to this speaker, controlling playback by voice, or "cast" music to other Cast-enabled speakers in the home via voice. Simply say "OK, Google, play '90s music," and it will pull up a playlist from Spotify or whatever service you have connected.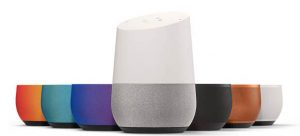 The added benefit is that you can also do so much more with this speaker than just listen to tunes: control smart devices in the home, like lights and security cameras, have it read the news and daily weather reports, or ask it everyday queries, or even to tell you a joke. For the person looking to step up his smart home game, and have a decent speaker for background music at the same time, the Google Home might just fit the bill. Buy one for $180, and consider gifting extra bases as well so the person can easily move the speaker from room-to-room in the home.