Christmas is all about the kids, right? But the last thing you want to do is get them yet another toy that they'll play with for five minutes then chuck aside. Or, for older kids, an impersonal gift card (even though you know they'll love it).
If you'd rather find something fun and useful, here are some great tech gift ideas for kids of all ages on your list, from little ones to teens and tweens.
Case-Mate Balloon Dogs Stand Ups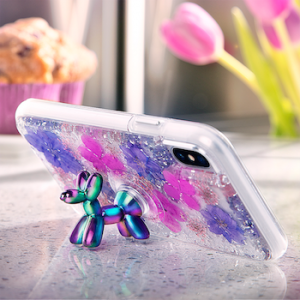 You really can't get any cuter than these accessories for smartphones, which suction to the back of the device (or its protective case) and can be used as a kickstand, or for extra grip when holding it (for selfies, perhaps?) They come in a funky iridescent finish, or less flashy, but equally cute, blush pink. $13
Puro Sound Labs BT2220 Headphones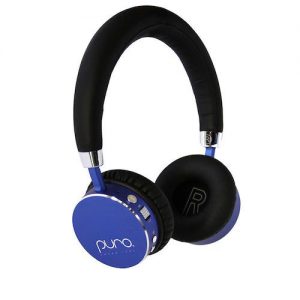 Rather than worry that a child is cranking up the sound too loud on his headphones, potentially damaging his ears, get him a pair that are designed specifically for kids. These studio-grade Bluetooth headphones for kids offer volume-limiting technology that doesn't allow sound to be cranked higher than 85 decibals, the level recommended to be safe for kids. They offer noise isolation, and a comfortable fit via soft cushioning material and lightweight aluminum, so kids can wear them for an entire car or plane ride. They come in hot pink, cool gray, blue, and purple, for about $125.
Spicebox Professor Maxwell's 4D Kitchen Kit and Augmented Reality Cookbook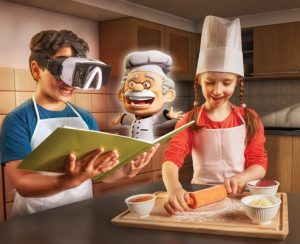 Kids who love to cook can take the experience to another level with this kit that includes an augmented reality cookbook that works with a viewer to offer up recipes in 4D, featuring the 4D Professor Maxwell character. The Professor doesn't just help walk kids through how to make a selection of 18 interactive recipes, from homemade pizza to chocolate chip cookies, but also explains the science behind the foods, and about nutrition. The kit also includes kid-sized utensils and the required viewer to see things in 4D. $30
Fisher Price Think & Learn Count & Add Math Center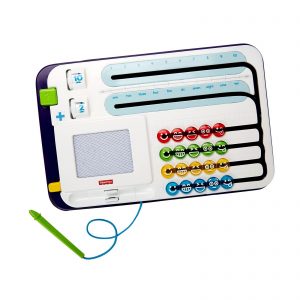 It's great when a toy can combine fun with learning. And this one focuses on math, offering simple addition and subtraction equations for preschoolers, allowing them to slide coloured tokens back and forth to find the right answers to posed problems. Once they think they have it right, they can use the magnetic, erasable pad to write down the answer, practicing their writing as well. Use the challenge button to generate new problems, and even learn about sorting by organizing the tokens in the storage area by either colour or facial expression. The stylus pen, which helps kids develop fine motor skills, is tethered to the unitto prevent it from getting lost. About $30
Garmin vivofit jr. 2 Fitness Tracker for Kids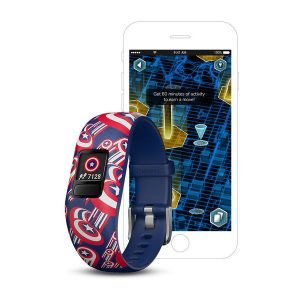 Help kids have fun with fitness with one of these activity trackers, which provides insight into how much activity they partake in daily, and encourages them to work towards achieving goals and maintaining healthy habits. There are a number of kid-sized and kid-friendly designs featuring everyone from superheroes to princesses. Used with the app, which mom and dad can manage, kids can unlock adventures as they achieve goals. Mom and dad can use it to present more incentives by rewarding kids with virtual coins, received on the band, whenever they complete chores, for example. The battery lasts for up to a year, so no recharging is required, which the parents will appreciate. $100.
Beats by Dr. Dre Mickey Mouse Disney-Themed Headphones
When it comes to headphones for older kids, Beats is the band to which they often gravitate. And these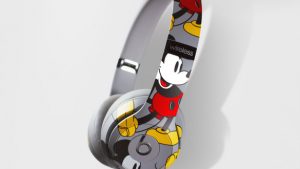 cute limited edition ones, developed in celebration of Mickey Mouse's 90th anniversary, offer a fun design twist. A version of the popular Beats Solo3 wireless headphones, they are finished in grey, and come with a custom felt case inspired by the materials used in Mickey Mouse ear hats, along with a collectible 90th anniversary pin and decal sticker. Get up to 40 hours of play time per charge, and the adjustable earcups offer a good fit for kids of different ages and head sizes. $399.95.
Play Shifu Orboot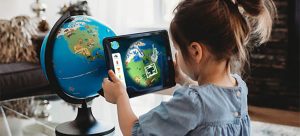 Help kids learn more about other countries and cultures with this interactive globe that uses augmented reality (AR) technology alongside an iOS or Android tablet. Hold the tablet up to a specific region on the globe, and it will call up educational information about it, like what foods are often eaten or made there, what languages they speak, typical weather patterns, native animals, and more. Position the tablet by things like bodies of water as well, in order to identify them and learn more useful facts. $50
Related:  Gift Guides