Once your bellies are full of Christmas turkey and hearts filled with cheer, you might be looking to get out and do some shopping in the New Year. Whether it's for updating appliances in the home, smart home devices to use with your newly-gifted smart devices, or accessories to accompany tech you found under the tree, there are lots of apps that can help.
Here are some useful apps for your holiday shopping and beyond.
Stocard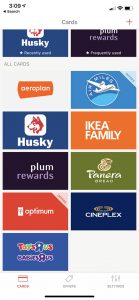 If you love loyalty programs, and want to empty your wallet of the growing number of loyalty cards that are taking up valuable space, look to this app. Search for a loyalty program, from gas to retail stores and groceries, scan your card, and it will instantly upload the information so you can use a digital version. With some cards, you can log in to an account to view things like points balances. It works with a long list of popular loyalty programs, including PC Optimum Points, Cineplex SCENE, IKEA Family, Air Miles, TJX+ Style, David's Tea, and more. Once your cards are uploaded, check the Offers tabs to see relevant offers from partner retailers.
Checkout 51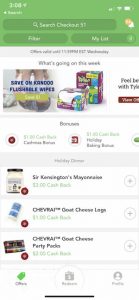 Scan your shopping receipts and earn cash back with this app for select items you purchase. As soon as you reach $20 cash back, you can "cash out" and the company will send a cheque in the mail for the amount. Seriously. It's super-simple, and new offers are uploaded every week, ranging from grocery items to household products to dog treats, with eligible purchases at select retailers or grocers. Some items might be ones you had already planned to buy anyway, so you're earning money for simply taking a photo of and uploading your receipts. Then, just sit back and watch the money accumulate.
Aeroplan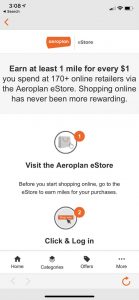 Did you know you can shop through sites like Amazon.ca through the Aeroplan eStore and earn extra points? All you need to do is log into your Aeroplan account and click into Amazon.ca, or whatever retailer you wish to shop through, and do it there. Shop as you normally would, and earn points towards your travel, or that can be redeemed for purchases from the Aeroplan estore. If you buy something from the HP Store, for example, you can earn one Mile for every dollar spent. With Lululemon, it's two Miles per dollar. Apple Music? You'll earn a cool 10 Miles per dollar. There are lots of other retail partners. Use the app to scroll through the list of more than 170 retail partners to find one near you that will help you earn more points.
Encounter
Rather than offer deals or help you rack up points, this app, developed by a Canadian start-up, helps you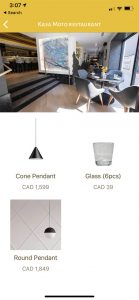 shop in a different way. If you see an item you like in a cafe, restaurant, or other venue, like a lamp, barstool, or piece of decor, you can search and shop for it for your own home or business using the app. There are results from more than 400 locations around the world, and they pop up based on your location, or run a manually search for a particular venue to see if it's listed, and what items are available for purchase. Maybe you like the Cone Pendant from Kasa Moto Restaurant in Yorkville, for example? It's $1,599 for purchase. Or grab a set of six of the same stylish glasses they use in that restaurant for $39.
Ebates Canada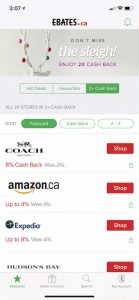 Use this app to save on tons of items from various retailers, including Amazon.ca, Hudson's Bay, Indigo, Joe Fresh, and more, via cash back offers. In addition to earning cash back you can later redeem, there are special codes for free offers or discounts at specific retailers. At the time of this writing, for example, a special offer at Coach provides a free leather zip case for orders of $250 or more with a code, along with 8% cash back. That would be $20 on a $250 purchase. Cash Back is sent every three months as long as you earn more than $5.01, or else it is carried over to the next cheque. You can receive the cash back by cheque, PayPal deposit, or, if you're in the giving mood, you can have it sent to your favourite charity, organization, or family member.
Flipp
This app compiles and presents deals from various retailers so you can see them all in one place instead of comparison shopping through several apps, going through paper flyers, or visiting stores to price match. It searches for your location, then displays local weekly ads and deals. Select your favourite stores to streamline things, then check back any time to see what's on offer so you can save money, and take advantage of the best deals before they expire. As you scroll through the digital flyers, tap on a specific item to "clip" it and save it to a shopping list. It's a modern-day way to clip coupons without the manua work, not to mention holding up the line as you price match.