"She started dancin' to that fine fine music
You know her life was saved by rock 'n' roll…"

Lou Reed, The Velvet Underground
My buddy's mom was 94 when she was moved into a elder care facility.
In her final days there, she was encouraged by staff to join their music listening program, held in the main social gathering space. Donning a pair of oversized headphones connected to a tiny MP3 player, she looked kind of goofy at first – but the big smile that soon stretched across her face conveyed a much more serious side of this story. Music first heard in her younger days helped bring alive thoughts, memories and recollections that brought pleasure in her final days.
Even if they can't actually save lives, digital music players and focussed musical therapy programs can improve physical health and mental well-being.
Caregivers, physicians and cognitive researchers, neurologists and geneticists and of course music fans everywhere all understand that songs associated with important personal events can trigger memories and bring back emotions connected with those events. Familiar music can also be used to help calm uncontrolled brain activity and enable the listener to focus on the here-and-now.
So music is medicine for folks affected by dementia or a related disease like Alzheimer's. It is used as part of their care and treatment, conveniently delivered via popular digital gadgets like MP3 players, smartphones and online playlists.
The Alzheimer Society here in Canada is running a Music Project to reconnect people with the soundtrack of their lives by providing them with MP3 devices loaded with personalized music; it says more than 5,700 players have been given out, along with advice on memory-building exercises and activities.
The Canadian jazz radio station Jazz FM supports the Society's Music For Memory Project by sharing on its website a number of stories by artists and musicians about their personal experiences with the positive effects of music for people with dementia.
The community approach to music therapy comes alive at events staged by grassroots groups like the Purple Angel and its recent global awareness campaign The World Rocks Against Dementia, during which storytelling, music-sharing, group singing and other activities were held in locations worldwide, demonstrating the beneficial effects of music and social stimulation on people with dementia.
Research into the evidence for specific mechanisms involved in the effectiveness of music therapy helps explain why the 'iPod project' approach works: music hits us at the core.
The most obvious is the learned cognitive response. That "they're playing our song" phenomenon is something we learn, a lesson probably (if AM radio is any indication) oft-times repeated and connected with emotions felt in a social or cultural context.
Then there are the documented mechanisms of neural circuitry being activated (or re-routed) by music and memory. If someone loses control of language after a stroke, song can activate different circuits in the brain as a way of rehabilitating the language function.
And the impact of music at the genetic level is a fascinating and revealing area of research.
A unique study into the effects of listening to music, conducted by a group of medical geneticists, showed that listening to classical music for just 20 minutes can have results seen in our genes! Researchers monitored test subject-listeners with nearly one hundred "differentially expressed genes with 75 up-regulated and 22 down regulated…. Among the up-regulated genes were ones related to dopamine secretion."
(Dopamine is one of the chemicals produced by the human body; it's the so-called feel good hormone often connected with pleasure and reward centres in the brain. It can be associated with periods of increased concentration and surely with listening to fine fine music!).
The complex interactions between the human brain and musical experience are being brought into clearer focus. Health and well-being gains are being realized through music therapy and the use of MP3 players, but there's obviously a problem with putting headphones on a person with dementia and leaving them alone.
That's not what music therapy and memory programs are about.
The best music listening activities are those that are well-considered and carefully planned. Even picking the right music can be a challenge, so activity and therapy guidelines have been developed by experienced music therapists for use in group and individual music therapy situations.
In a comprehensive paper that surveys many of the mechanisms behind music therapy for older adults struggling with Alzheimer's, Parkinson's disease or stroke, Dr. Amy Clements-Cortes reviews and assesses the value of personalized music listening projects as a way to reduce negative impacts of dementia and to aid in boosting memory. She's part of the Music Therapy team at the Baycrest Centre, a senior's care facility and an academic health sciences centre affiliated with the University of Toronto.
Clements-Cortes and the team at Baycrest have published a downloadable brochure about successful music listening activities in a therapeutic context, with helpful tips on how to use digital devices, how to create effective playlists and how to respond when listening to music triggers powerful emotions.
Or the urge to get up and start dancin'!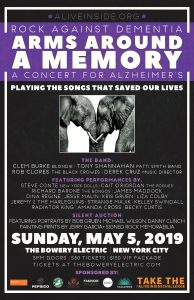 30-