In order to make your home "smart" you can actually continue to use the same devices you always have. But how? That's where smart switches and plugs come in. They plug into a traditional AC outlet with prongs on the opposite end. Plug a device like a fan or coffeemaker into it and voila! It's smart.
It's a great way to experiment with the concept of smart devices before going all-in with a new Wi-Fi-enabled smart coffee maker or set of smart light bulbs. Once set up, enjoy being able to control the gear you already have, including not only coffeemakers and fans as noted but also items like lamps and multicookers, both while you are home and even when you're away.
So which smart plugs and switches are worth getting? Here's a look at some of the latest and greatest.
Belkin Wemo WiFi Smart Plug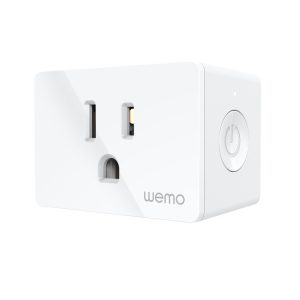 Introduced at CES 2020, the newest Wemo WiFi smart plug is dubbed the company's smallest to date. In addition to allowing you to transform everyday gadgets into smart ones that can be controlled from an app on your phone, they are also compatible with popular voice assistants. Once a device is connected, use Amazon Alexa, Google Assistant, and/or Apple Siri HomeKit voice commands to control it, like turning it off and on. It works with the Wemo app and devices like lamps, heaters, ad fans. No subscription or separate hub is required so it truly is just plug and play. And the compact design allows you to plug it into a wall outlet without blocking the other sockets so you can still use them for other devices. Set for availability in the Spring, they will sell for US$25 ea.; Canadian pricing is not yet available, but they will likely be under $40.

Amazon Smart Plug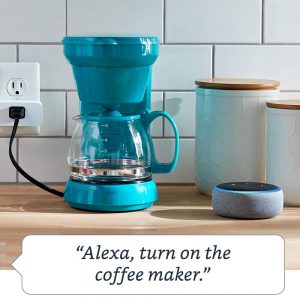 Not surprisingly, the Amazon Smart Plug works with Alexa for voice control. Plug it into an outlet, connect a device like a light, fan, or small appliance, then use the app to control it remotely, like set a pot of coffee to brew so it's ready when you're out of the shower in the morning. You can also use the Alexa app to schedule devices, so the lights will go off automatically at midnight, or every morning at 9 a.m. after you leave the house in case you forget to manually turn them off. Like the Wemo model, it employs a compact design that keeps the other outlet free to use for something else. $35 ea.
TP-Link Smart Wi-Fi Plug Mini HS105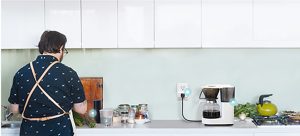 This tiny smart plug works like the others, plugging into a standard AC outlet to turn any traditional device into a smart one. Compatible with Amazon Alexa for voice control, you can even assign a name to each plug and communicate with each individually, calling them by name. Create a group from multiple smart devices and control them with a single command as well. It works with the free Kasa app and your home Wi-Fi network, and you can keep track of an unlimited number of smart plugs connected to an unlimited number of devices. $38
iDevices Instinct smart light switch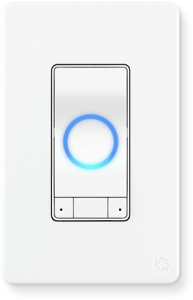 Unlike smart plugs. Smart switches seamlessly blend into your wall, allowing you to manually control lights. But hidden inside is tons of smarts. The Instinct by iDevices functions like any voice-enabled device, which means you can talk to it just like you would a smart speaker to control connected devices, initiate the playback of music, get traffic or weather reports, and more. It can be installed to replace a standard switch and comes with a screwless faceplate. On the face is an integrated light ring and customizable night light. Sound is provided by SOEN Audio technology and it listens using two microphones that can pick up sound from across the room. It starts at US$100 but note that you might need help with installation.
Lutron Caseta Wireless smart switches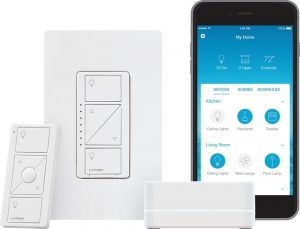 I use Lutron switches in my own smart home, and they are great for seamless lighting control and more. Replacing existing switches, you can schedule lights to go on and off, add lighting to different scenes using a multitude of smart home platforms, set a Smart Away feature to randomly turn your lights on and off while you're away on vacation, and more. Each kit comes with the faceplates, Smart Bridge, dimmer, and Pico Smart Remote. Pricing for the Smart Start Kit is $120. Like with iDevices, you might need to hire someone to help with installation depending on your capabilities.
Legrand Radiant Collection Home Smart Lighting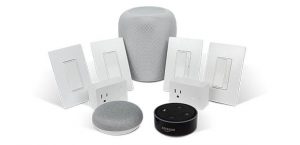 Designed specifically for use with Apple HomeKit-enabled devices, this kit includes smart switches, dimmers, and plug-ins that connect to a Wi-Fi network and allow homeowners to use their iOS devices, including iPhone and iPad, to control lighting both while at home and away. Also use your voice via Siri, Alexa, or Google Assistant. Set up the Smart Tru-Universal Dimmer or Smart Plug-in Tru-Universal Dimmer to control a 120V dimmable light bulb and add the companion Remote Switch or Remote Dimmer for multi-location needs, like if you want more than one device to control the same light. Pricing varies depending on the specific device and retailer/custom integrator.
Related:  Smart Home