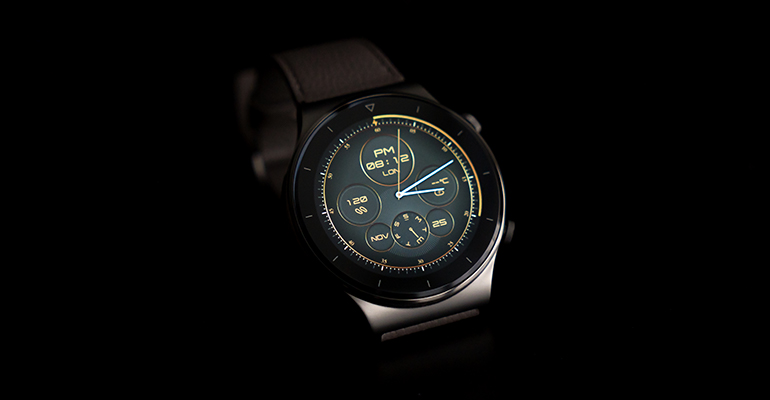 Huawei has proven it can make an attractive smartwatch, but the real question is whether the Watch GT 2 Pro can be one of the best options for your wrist.
It's a challenge Huawei and other manufacturers have been trying to tackle in order to give Android users something viable. The Apple Watch is an iPhone-only proposition, leaving the field wide open for others to capture what they can.
Except Huawei faces an uphill battle to convince people it has the goods. The company's phones — at least it's more recent P40 and Mate 30 handsets — are hindered by ongoing restrictions from the U.S. government. The Watch GT 2 Pro is in a different boat, yet a similar challenge still rears its head.
Looking at the watch
Huawei has been here before, at least as it relates to this particular watch's line. The standard Watch GT 2 and sporty GT 2e came before this Pro version, and so, the three models do share various similarities. I'll touch on which one might be right for you later, but in the case of the GT 2 Pro, there are some features specific to it.
Starting with its outer appearance, the watch is certainly attractive for a full-on smartwatch. Hybrid smartwatches generally get the aesthetics right in more cases, only it's easier when you don't have to put a full display into the watch. I liked how the GT 2 Pro looked and felt, though to be fair, I felt the same way about Huawei's other two variants.
There are a few manufacturing standouts with the Pro. It has tougher sapphire glass, a titanium body and ceramic back. The combination makes for one of best available on any smartwatch. Now, whether the beauty is only skin deep depends on how you look at the other elements involved.
Functionally speaking with the design, there's a lot to like. The included leather strap is very nice, with a soft feel to the skin. You get standard lugs, making it easy to swap out for another strap of your choice, regardless of who made it. If you want to put on a sporty, rubberized strap to exercise in, you can definitely do that.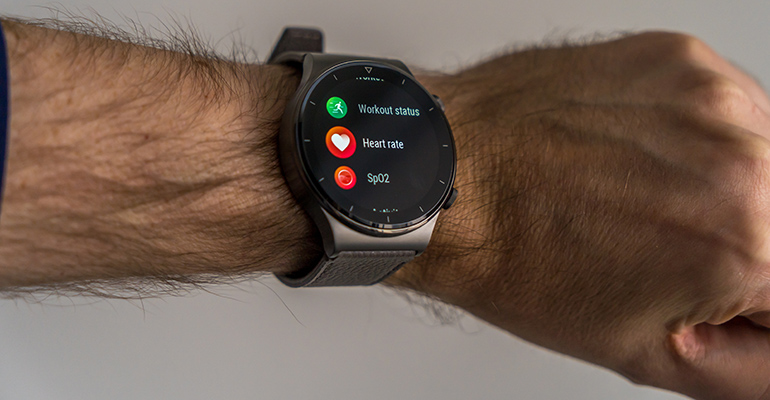 Running with the onboard software
Huawei had already abandoned Google's WearOS in favour of its own operating system called LiteOS. It was a bold move at the time, especially because it would mean having to start from scratch with third-party app support. Sound familiar? It's analogous to the company's phones lacking Google Play Services support, where a combination of its AppGallery and Petal Search platforms try to fill the void.
There's no such recourse here. Huawei doesn't have its own app store for its LiteOS smartwatches, so the company chose to improvise by opening up useful pathways that make sense in day-to-day use.
For example, you no longer have to keep using Huawei's Health app to keep track of your data. In the app, go to Me>Settings>Data sharing and you can pick from Google Fit or MyFitnessPal to sync your data so that it's reflected there, too. On an iPhone, you'll see Apple Health appear as an option.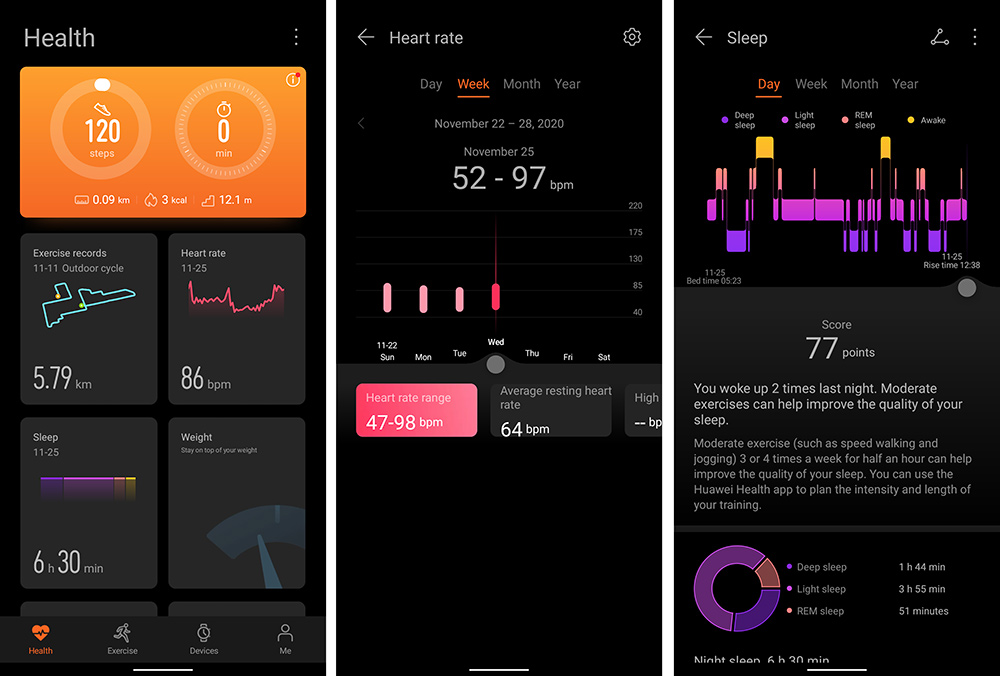 Phone calls can route through the watch as well, even letting you talk through the watch instead of using a phone or headphones. You can also run through your contacts and initiate calls directly from the watch when your paired phone is nearby. It's a two-way process that is among the finest I've experienced on a smartwatch to date.
Other notifications, like messages, will come through, but you can't take any real action with them. Those from certain other apps may not come through properly, but when you first set up the watch in the Health app, you get to choose which ones you at least want to show up.
One part I really missed while using the watch was music playback control. While I could do it with tracks stored on the watch itself, it was no dice for streaming apps. I would be listening to Spotify, and have no way of skipping or repeating a song.
It's an even bigger bummer when taking into account the watch supports Wi-Fi on its own. To pair Bluetooth headphones with it is also easy, except it feels like something is missing when music integration isn't seamless.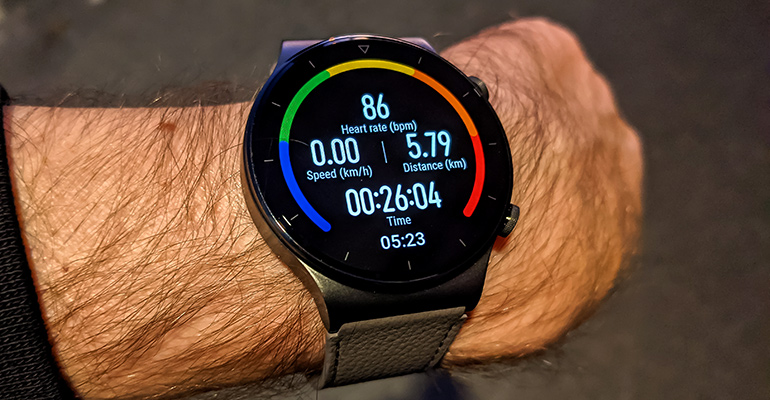 Exercise and tracking
Here, too, Huawei improvises in more effective ways to offset what's missing from the start. Since third-party fitness apps aren't available, Huawei has to make up lost ground, and it's done an admirable job here. There are a dizzying number of exercises you can track through the watch — number a good 100 when counting them all.
With GPS on board, plus improved tracking, overall, the Watch GT 2 Pro proves to be good at one of its main focuses. With 5ATM waterproofing on top of that, the watch also works just fine in a lake, pool or shower. There are even dedicated modes for skiing and golf, plus exercise tracking for things as varied as billiards, darts, latin dancing and tai chi.
General activity tracking is fine, and the GPS tracking was spot-on in my testing. I also appreciated that the other tracking features were equally consistent. Sleep tracking is better on the Pro version than I experienced on the previous GT 2 watches. The SpO2 blood oxygen sensor does its job when you want a reading. And the heart rate monitor is steady and consistent.
This was all a pleasant surprise for the simple fact that Huawei has stumbled in one way or another with its wearables up to now. The intent was always good, only the execution didn't measure up. That's far less the case with this device.
The only problem, really, is the same one permeating its very functionality, and that's third-party app support. If there was a specific app you like to use for tracking any sort of activity, you have no way to do it, unless Huawei pulls another rabbit out of its hat.
Battery life
One thing Huawei does have going for it is battery life. Where others can die out in a mere 48 hours, this thing chugged along for more than a week. In the month I used it, I only placed it on its charger four times. With minimal tracking, it could easily go for two weeks on one charge.
Not only is that good, but so is the wireless charging support. The previous Watch GT 2 models used metal brackets as contact points to match their respective chargers, whereas the Pro doesn't. You can lay it down on any Qi-enabled wireless charger, or even on the back of a phone that offers reverse wireless charging.
Trying one on for size
Like any Huawei smartwatch, the Watch GT 2 Pro is an improvisation asking for your patience in compromising. That's easier to do if you don't care as much about third-party apps, but will matter in the longer run if that issue isn't addressed somehow. Huawei succeeded in making an attractive smartwatch that can do good things, and it now has to make a convincing case that the software will continue its upward trajectory.
At $400, it's not cheap, but it's still a comparable price to others. It's also easier to find now, with a number of retailers, including Amazon, Staples, Newegg, Canada Computers, Visions Electronics, Memory Express and Today's Shopping Choice all carrying it. You'll also have your choice between nebula grey and graphite black.