Santa is so plugged in this year.
Oh, wait – that headline's more than a decade old. In fact, Santa Claus has been high-tech for more than half a century!
So today, jolly Ol' St. Nick is way more than just plugged in – he's got space-based surveillance tools at his disposal; he has mind-reading radar systems and mind-bending technological control over time and the speed of light.
What's more, he's COVID-aware and he's been declared an "essential worker" by Canada's top doc.

NORAD Tracks Santa from Ground, Air, and Space
As it has been doing since 1955, the North American Aerospace Defense Command, or NORAD, has been tracking everything that flies in and around North America, particularly RPDs — reindeer-propelled vehicles.
(I have to say: for a fictional fellow and his flying friends starring in a story loosely based on cultural appropriation, religious symbolism, military propaganda, economic necessities and some very tall family tales, all the expense and effort and hard work put into propagating this colourful and fantastic story deserves, well, a holiday of some sort.)
Anyway, again this year, real-time reports of Santa's whereabouts will be found on the NORAD Tracks Santa website or by using one of the new mobile apps for Apple or Android devices.
NORAD consists of nearly 50 land-based early-warning installations, networked along Canada's coastline; it also uses the U.S. military's Space-Based Infrared System, or SBIRS. That's a constellation of sensing devices orbiting high above the Earth, looking down for signs of various activities, including powered flight and its infrared engine signature.
The state-of-the-art tracking system combines satellites in geosynchronous Earth orbit (GEO) and highly elliptical orbits (HEO), as well as ground-based hardware and software.
SBIRS birds have powerful sensors to provide tons of gathered data to SBIRS HQ, the somewhat ominously-named Overhead Persistent Infrared Battlespace Awareness Center in Colorado. The data are analyzed for purposes of surveillance and reconnaissance, situational intelligence and tactical messaging. Identifying rotund red-suited travellers too, apparently.
Of course, Canada contributes to NORAD: we have responsibility for the surveillance and control of Canadian airspace, and the Royal Canadian Air Force provides military support and assets to NORAD, with headquarters in Manitoba and bases across the country.

We provide tracking data, sensor status and aircraft alerts on what are called "air-breathing threats" to North America.

Canadian squadrons assigned to NORAD have flown the McDonnell Douglas CF-18 Hornet, but Canada continues to review its fighter jet posture. Our government is looking at a very expensive acquisition of other military technologies and aerial platforms to boost our capabilities, be it for December tracking purposes or other duties as assigned.
Popular Service Brings Publicity and Outreach Benefits
Not only due to the technical sophistication of the technology deployed, but also thanks to corporate contributions for related services and resources, the NORAD Tracks Santa program has become one of the U.S. Department of Defense's largest community outreach activities of the year. The Canadian Armed Forces also provide publicity and outreach services for the program.
Sure, a generous, jovial man with a hearty laugh can bring good PR and positive brand alignment; the fact many of us lose our belief in him by age eight or nine or so can limit the target audience.

Nevertheless, his Net Promoter score is very high: each holiday season the NORAD Tracks Santa website welcomes millions of unique visitors from countries and territories worldwide. NORAD Santa Tracker volunteers take in hundreds of thousands of emails and phone calls, asking about his well-being and whereabouts.
But due to the coronavirus pandemic and an increasing COVID-19 caseload, fewer volunteers will be working Christmas Eve this year.
"Despite the challenges presented by COVID-19 … NORAD will track Santa on December 24, as we have done every year since 1955," reported a U.S. program spokesperson. "NORAD is committed to tracking Santa while keeping our military, their families, and our dedicated call center volunteers safe."
Callers who cannot reach one of the volunteers at the 1-877-Hi-NORAD toll-free number will hear a recorded message updating Santa's current location, he added.
How Santa Knows if We're Naughty or Nice; How We Can Know Santa
So callers will get the message, no matter what. But how does Santa get the message? How does he know our wants and wishes, and which presents are for whom?
Technology, of course.
"How does Santa know what the children want for Christmas? Whether they've been good or bad and all of this," Larry Silverberg, director of the Mars Mission Research Center at North Carolina State University, asks rhetorically.
In a recent episode of a science-based podcast called Pulse of the Planet, he shared the conceptual underpinning for a way to read children's minds to determine what kinds of presents they should receive.
He described a giant antenna system branching out from the North Pole. It picks up the electromagnetic signals naturally emitted by the human brain. Those waves are analyzed by computer algorithms and filtered to determine which wish comes from which child.
"[Y]ou can look at the signals themselves and see what the kids are thinking," he said, perhaps forgetting to mention informed consent and the protection of children's personally-identifying information. "Whether they've been good or bad, what kinds of presents they want and this kind of thing."
Some technologies needed for his system are in use today: there are brain scanners like CT (computed tomography) or MRI (magnetic resonance imaging) devices. There are giant radio antenna systems that look into deep space and radio-frequency transmission systems used in global telephony networks. But Dr. Silverberg acknowledges the mind-reading platform as described is not yet in place.
So the entire Santa story, what with its important technological undercurrents, cannot yet be told.
But by looking at Santa through the lens of the modern era, so to speak, we can bring the age-old legend into our technological times and possibly help explain his travel methodology on Christmas Eve.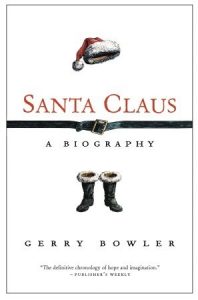 Gerry Bowler, a history professor at the University of Manitoba, brings that approach and more to his respectful portrait of the man in Santa Claus: A Biography.
But in The Trouble with Christmas, author Tom Flynn takes controversy to a whole other level by taking down one of our most endearing cultural icons.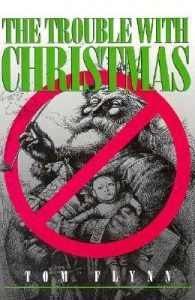 So, spoiler alert:
Santa is variously described as the embodiment of charity and generosity, a creation of mythology, a tool of clever capitalists. Yet each of us will still have our own take on just who Santa is and we'll think about what he represents in our own special way.
Thankfully, there's technology to keep track of all that.
# # #