Gamers love getting the latest and greatest. And chances are, if you're a serious gamer, you're aware of everything you can do with your console of choice. Those who aren't really into gaming, however, and have a machine for the kids or occasional gameplay, might not realize that there are actually a ton of things beyond just gaming that you can do with the top consoles.
If you have a gaming console like a Microsoft Xbox or PlayStation sitting in your living or games room, idle whenever the kids aren't using it, it can actually serve a purpose beyond gaming. If you just upgraded to a new console and you're wondering what to do with the old one, save for selling or giving it away, keep in mind that it can be used for other purposes and might be worth moving to another room.
Watch Movies & TV Shows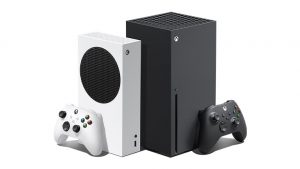 There's a reason the latest video game consoles are called entertainment consoles: you can do more than just gaming with them. This includes being able to watch movies and TV shows. There are several ways you can do this. With a Microsoft Xbox One, for example, you can insert a Blu-ray disc right into it and play it just like you would a game, effectively having the unit function as a Blu-ray player. You can also visit the Microsoft Store from the console's menu, find the streaming service of your choice like Netflix or Disney+, download the app, enter your log-in details, and watch just as you would using any other media streaming device like a streaming box or stick. This includes content in full 4K with the appropriate subscription and display. You can also buy/rent movies or TV shows directly from the Microsoft Store.
The process works much the same way with a console like the Sony PlayStation 4. Sony's PlayStation Store even has its own curated Plex app, which will give you access to the media server stored on a Mac, PC, or NAS drive to play your own home media collection of movies and shows, right from the console.
Listen to Music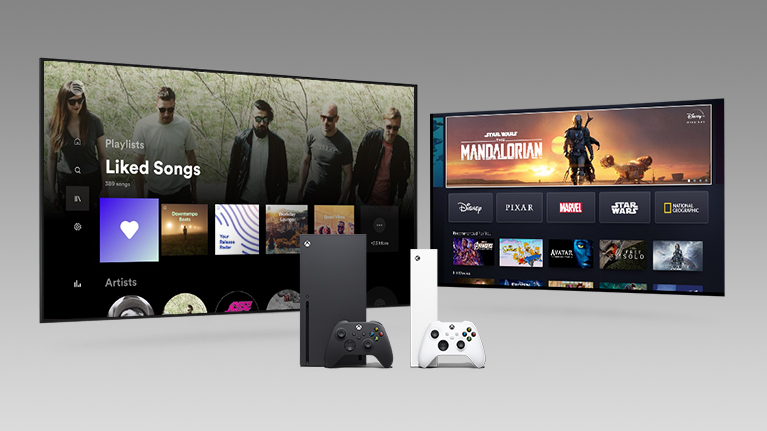 Visit the platform store, download an app for listening to music, and away you go!
The Xbox One affords access to music apps like Spotify and iHeartRadio, even allowing you to play the music while gaming so you can make your own special soundtrack if desired.
With a console like the Sony PS4, you can insert a USB stick or other device to the unit and play music that way, both on its own or while playing a game. The PS4 and its PlayStation Store is also compatible with music apps like Spotify.
Browse Social Media
Since the consoles have robust stores where you can download a myriad of apps just like you could download to a smartphone, tablet, computer, or smart TV, this also includes access to social media. With Xbox One and PS4, just link your social network account, including Facebook, Twitter, and YouTube, to your Xbox account, and browse your feeds to see what's going on.
View A Photo Slideshow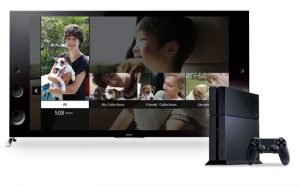 With the Sony PS4 and the PlayMemories online app and cloud service, which is also owned by Sony, you can display photos you've saved from a compatible Android or iOS device, as well as from a Sony camera or Xperia smartphone. Download the PlayMemories Home app for a Windows or Mac computer to better manage all of the photos, then use the PS4 as a conduit to display these images on the big screen.
Read more  articles on Gaming