The Association of Nova Scotia Museums ("ANSM") has endeavoured to digitize historic watercolour paintings for dozens of its members in an effort to preserve and share them with the public.
The non-profit group pursued the task as a cooperative project, whereby it would train staff at member museums to scan watercolours using a Fujitsu contactless overhead scanner. Once scanned and processed, the digital images are provided to The Watercolour World, a Britain-based charity that has created and posted a database of hundreds of thousands of images to date. While The Watercolour World focuses on pre-1900 paintings, all artworks scanned are also available on NovaMuse.ca and ANSM's advisory service is hoping to make a digital record of all the painted works the museums hold.
The project, particularly with a global pandemic in full swing, proved to be a challenge, as it required careful coordination of staff while minimizing transporting the works as much as possible. Rather than scanning at one central location, ANSM would go to the museums, so all required equipment had to be portable.
"They're all community museums with stretched resources. We provide assistance with documenting and preserving their collections, managing their database, and sharing information online," says Karin Kierstead, ANSM's Museum Evaluation Program Manager. "We go out to the sites, helping them do the scanning, and teaching them about digitization and preservation in the process. The hope is that it sparks a bit of interest for them to carry on in some capacity on their own after the initial training."
Tutelage and preservation
These "hub training sessions" weren't as plentiful under coronavirus restrictions, and with movement limited, Kierstead says six member locations were chosen in 2020 to conduct the training, using each host museum's collection as a means to demonstrate how the scanner worked.
Members are a varied set of museums that can be thematic or geographically-focused, including the provincial sports Hall of Fame, Acadian heritage, art galleries, and other community facilities that tell the story of a town or county, among others.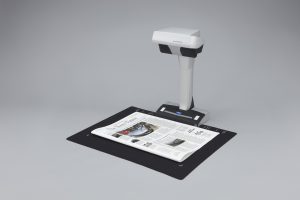 Fujitsu loaned one of its ScanSnap SV600 scanners for a six-week period. The SV600's overhead design eliminates any contact or friction with the item being scanned. It proved to be the ideal device for such an exercise because of the delicate condition and age of some of the works. It was also a technological leap compared to previous efforts, which used a combination of flatbed and wand scanners, along with stitching together photos from digital cameras.
"The fact you could set it up very quickly, hit a couple buttons and get this amazing professional quality scan really made the work a lot easier," she says.
Committing to a plan
Since 2012, museums in the province have contributed works on NovaMuse as a means to share them with the public. Kierstead says scanned paintings are among them, adding to a database that now holds 240,000 images among the over 300,000 artifacts indexed on the site. The faster scanning method means curators no longer have to be as selective about what to digitize.
But to get through all the material will take more than the six weeks ANSM had for the scanner. Though Kierstead wouldn't couch it as a "trial run," she says partnership projects like this are an integral part of digitization plans and services for members.
"We hold these collections in the public trust. They are not our personal collections, so we're going to throw open the doors and show them what we have," she says. "This was a great opportunity for us to highlight and showcase the artworks that have been sitting on shelves and hadn't really been looked at in a long time. That's just part of our long-term plan of continuously building our knowledge of the past and to preserve history for everyone."
If your museum has artwork it would like to safely digitize, let Fujitsu's technology come to you.