Chromebooks are all the rage these days thanks to their portability, security, ease of use, and affordability. A choice for young students and educational institutions, business travellers, and as secondary computers at home, Chromebooks are attractive because everything is stored remotely in the cloud – the computer merely serves as an access device to apps, software, programs, and more. A Chromebook would make a great gift for a young student, business traveler, or other person on your holiday list this year.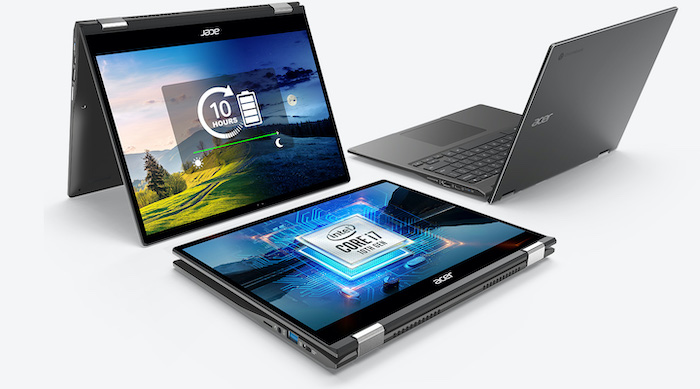 But how do you choose? Some Chromebooks take the design concept a step further with literal twists that allow for them to be used in different modes, including tablet. This makes them not only more attractive for travel but also more versatile for using at work, play, and for everything in between. These Chromebooks are effectively full-functioning laptops and touchscreen tablets in one, offering more bang for the buck.
Asus Flip CX 3 Chromebook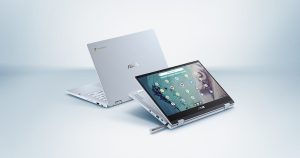 Asus is known for its complete line of laptop computers, including many Chromebooks. One of the newest models to join the line-up is the Asus Flip CX3, which has a 14-inch screen and 360° ErgoLift hinge for flipping the screen back entirely behind the full-sized, backlit keyboard to use it in tablet mode. As a touchscreen device, it also comes with a stylus, and offers access to Google Play, Google Assistant, Google Workspace, and other Google productivity apps; it even comes with a one-year subscription to Google One, which includes 100GB of cloud storage. Boasting military-grade durability and an up to 11-hour battery life, which makes it particularly fitting for travel or young kids taking it to school, the CX 3 runs on an 11th Gen Intel Core i7 processor and includes built-in virus protection with automatic updates. The computer employs a fanless design, Wi-Fi 6, two cameras, up to 16GB of memory and 512GB storage, and two reversible USB-C 3.2 Gen 1 ports, two USB Type-A ports, and a microSD slot. Completing the look are V-shaped edges, an 80% screen-to-body ratio with 178° viewing angles, and a cool, modern AI blue finish. Set to be available in Canada in Q4, the CX 3 will sell for an MSRP of $999.
Acer Chromebook Spin 713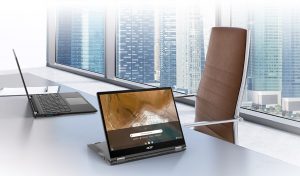 This model isn't new, but the Acer Chromebook Spin 713 remains a great option in the space as a 2-in-1 device that allows you to use it in various set-ups by flipping the computer 360°, from traditional laptop mode to tented and as a tablet. With built-in virus protection, your precious contents and web surfing are protected. Powered by a 10th Gen Intel Core i7 processor, it can run for up to 10 hours per charge, getting you through a full work or school day. It's also built to last with a metal chassis, reinforced design, and military-grade durability. At $749, if you're looking to save a few bucks and don't need the latest and greatest, it's a viable option you might even be able to find on sale.
Lenovo Chromebook Duet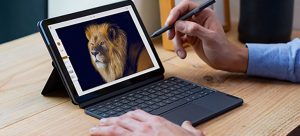 Equipped with a 10.1-inch screen, the Lenovo  Chromebook Duet also has that versatile 2-in-1 design so you can use it with a keyboard as a laptop, tent it, or, unlike the others that flip, lets you remove the keyboard altogether for tablet form. Starting at $415 with various available configurations, it is powered by a MediaTek Helio P60T processor with 4GB memory, 64GB storage. While this Chromebook might not be as powerful as some of the other more expensive ones on this list, it might be all you need as a travel computer for business or for a grade-school child to complete their homework via services like Google Classroom.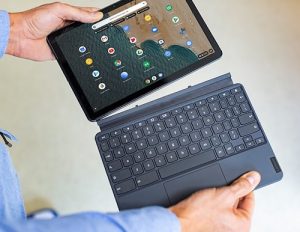 And the ability for the screen to easily detach from the keyboard using the five-point pogo pin and magnet design is a plus since you can simply leave the keyboard at home and use only the screen portion for road trips or play time.
Acer Chromebook Spin 514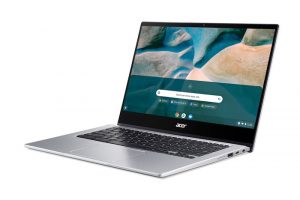 Another option from Acer, the Acer Chromebook Spin 514 is the first from the company to feature AMD Ryzen mobile processors and AMD Radeon Graphics. Designed for business users or higher-level students, it has a 14-inch HD screen and comes in a Chrome Enterprise version for using the business features of Chrome OS. As with the others, it employs a full 360° hinge so you can use it as a laptop, for viewing videos or doing presentations, collaborating with others, or as a tablet. It comes equipped with a backlit keyboard and a generous 10-hour battery life. And you can grab one for about $500.
Asus Chromebook Flip CM5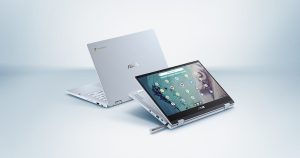 Another option from Asus is the Chromebook Flip CM5, which comes equipped with an AMD Ryzen 5 processor, 16GB memory, and up to WiFi 6. With a durable, military-grade design, gamers will appreciate the colour-blocked WASD keycaps. Along with the Chrome browser and support for Google Play, it runs for up to 10 hours per charge. The 360° ErgoLift hinge means you can adjust it to any angle, including laying it entirely flat. At $699, it has the largest display of the bunch at 15.6 inches making this Chromebook the best option for business or older students, as well as for mobile gaming. With USB and HDMI ports, you can even connect it to a separate display. Meanwhile, Asus' WiFi Stabilizer technology helps filter out wireless interference, resulting in faster speeds and more stable connections, says Asus.
More articles on Chromebooks