With just a quarter, I could see for miles.
Slipping a twenty-five-cent piece into the circular slot, fully turning the handle clockwise, I knew the old coin-operated viewer would open its eyes for me. Once I heard the internal shutter fall aside, I could peer through the glass binoculars at the (amazingly) far-off, yet (seemingly) within-arm's-reach buildings of Lower Manhattan.
Standing on the Observation Deck of the Empire State Building, I felt very far away from the city; looking through the viewer, I thought it was right in my face.
Tower-mounted binoculars (or viewing machines, or telescopic viewfinders – they have many names) are familiar to most of us, often found at popular tourist sites and "scenic vistas" around the world.
Not as well-known is the fact many are made in a small town here in Canada – and that new technologies are now being incorporated into machines that have remained basically unchanged since the 1930s.
Pinnacle Scopes, located in Cobourg, Ontario, made its first viewer some 30 years ago; it now develops and manufactures various product models under the brand name Hi-Spy Viewing Machines, which have been installed in Canada, the U.S. and some 40 other countries.
Designed for easy access in public locations (as well as full-height versions, there are ADA-compliant, wheelchair-accessible tower viewers), of course the viewfinders (binocular and telescope versions with magnification up to 35 X) are heavy-duty products built to sustain intense usage, extreme weather and vandalism.
Some machines are equipped with audio playback capabilities and internally mounted speakers that enable listeners to hear audio descriptions of the attractions they are looking at, and multiple language options can be offered.
And in case you don't have any spare change or coins in your pocket, there are, of course, credit card readers attached to the tower viewers, with the necessary cell or data connections for instant payment.
Now, Pinnacle Scopes has announced a new partnership with a California-based company, EnChroma, to have its Colourblind Corrective Lenses available as options on all Hi-Spy models.
EnChroma makes eyewear for people with colour blindness and low vision, and its patented products for correcting or mitigating colour vision deficiency combine advancements in colour perception, neuroscience and lens technology.
Combining EnChroma's technology into Hi-Spy viewers means that people with red-green colour blindness can more fully experience the beauty of colours at national parks, scenic overlooks, nature preserves, viewing towers, zoos, boardwalks and other settings.
"There is already pent-up demand for these special viewers," Rod MacKenzie, founder and President of Pinnacle Scopes, said when announcing the partnership. "[W]e look forward to literally being able to introduce millions of people to a whole new world of colour while helping organizations meet their goals for accessibility in the process."
It's been estimated that one in every ten or 12 men is colour blind – some three or four million people in Canada – although the phrase itself is often misused. Very few people are completely unable to see colour, but what's called CVD, for Colour Vision Deficiency, is more common, especially in men.
It is relatively rare but nevertheless impactful in women, affecting one in 200.
The human eye generally has three types of colour-sensing cones, one each for red, green, and blue. These colours, or light frequencies, can overlap, and if the visual perception system cannot discriminate or separate them, colour deficient vision can result. The EnChroma glasses use a filter to separate or cut out these overlapping wavelengths, something along the lines of a polarizing filter, allowing for a clearer distinction between colours, especially red and green.
Glass technology scientist Don McPherson, who was trying to design protective eye wear for doctors performing laser surgeries, and mathematician and computer scientist Andrew Schmeder, co-founded EnChroma in 2010, and the first pair of glasses was released in 2012.
EnChroma's website makes it clear that its glasses will not cure colour blindness, but for some people the dramatic effects and expanded range of colours they see are more than worth the price (ranging $250 to $350 and more) and an on-going debate over their ultimate efficacy.
When looking through the outfitted viewers, even those with normal colour vision will experience more vivid colour, the companies report, based on a study of the effectiveness of EnChroma's lens technology by the University of California, Davis, and France's INSERM Stem Cell and Brain Research Institute.
# # #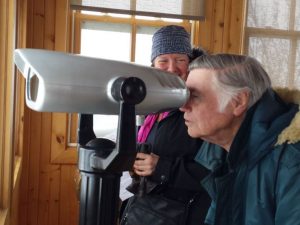 Hi-Spy viewing machines are found in more than 500 locations in countries worldwide, including: Seoul Sky Tower in South Korea, Brooklyn Bridge Park, New York, Stratosphere Tower in Las Vegas, Nevada, Niagara Falls, Canada and many others. At left, a new Vista Viewer is located at the Arthur Child Heritage Museum in Gananoque Ontario.
# # #
As mentioned, some viewing machines have audio capabilities built in. One of my favourite examples (fave, because I was slightly involved in its installation and initial operation) was mounted on the Prince Edward Viaduct in Toronto, aka the Bloor St. viaduct.
Conceived and created by Francis LeBouthillier, a Toronto-based multidisciplinary artist and Professor at OCAD University in the Faculty of Art, Point of View: Voices of the Don Valley featured a modified scenic viewfinder and plenty of onboard electronics and audio gear. The tower-mounted viewer also delivered an audio documentary and recorded reminiscences as one gazed down the Don Valley, over the downtown skyline, off into the hazy distance over the lake.
No coin required; just a push of the button.
-30-