By now, true wireless has become the standard for headphones: the new category has all but swallowed up the earbuds market with people excited as the option to fully cut the cord. According to Statista, the true wireless earbuds market, also known as hearables, was forecast to reach 310 million units worldwide by 2021, a marked increase from 233 million in 2020 and dramatic increase from 2018's 46 million.
Not surprisingly, Apple accounted for more than 40% of the market share in the category as at 2020 with its AirPods, due in large part to the success of the iPhone with which the AirPods work seamlessly. But since then, there have been so many new brands and established companies coming out with their own true wireless earbuds that work with iPhone, Android phones, and other Bluetooth-enabled devices. And these and making waves among customers. From Samsung's Galaxy Buds line and their seamless tie-ins with Galaxy phones to Bose extending its prowess in the noise cancelling space to wireless earbuds, including the SleepBuds II for playing soothing noises while you slumber, the products run the gamut.
There's plenty more, though, including true wireless buds that were announced recently. What's new and notable for 2022? Here's an overview of some of the newest true wireless earbuds to come to market.
Sennheiser Momentum True Wireless 3 Earbuds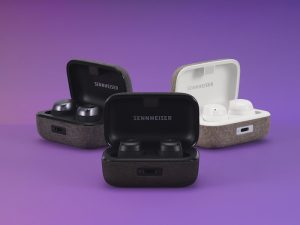 Sennheiser's Momentum line is widely popular among hifi enthusiasts and travelers, and the company has extended the design to the true wireless space with the Momentum True Wireless 3. They include active noise cancellation (ANC) that automatically adjusts to your environment by continuously analyzing the noise around you. There's also a transparency mode if you want to hear a bit of noise around you, such as while running on busy streets or on a train. The earbuds also work with a guided listening test set-up so the sound is perfectly tailored to each individual wearers' ears. They are splash resistant and offer up to seven hours per charge, 28 with the charging case. Grab a pair with the case for $330 in black, white, or graphite.
JVC HA-A3T and HA-A9T True Wireless Earbuds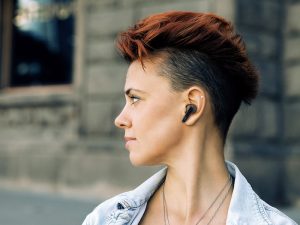 JVC recently launched two new true wireless earbuds, the JVC HA-A3T open design buds and the HA-A9T in-ears. The HA-A3T employ a lightweight and rain-proof design with hands-free mic, and charging case that provides a total of 22 hours of playback per charge. For in-ear, the HA-A9T Riptidz come with small, medium, and large silicone ear tips to ensure both a proper fit and effective noise isolation. They include the same touch sensor controls, microphone, have a sweat- and splash-proof rating, and offer up to 30 hours of playback with the charging case. Both models have auto-on and connect, so they will automatically turn on and connect as soon as they are removed from the case and turn off once placed back inside. The HA-A3Ts are $60 and the HA-A9Ts are $70, making them incredibly affordable options in the category.
Sennheiser Sport True Wireless Earbuds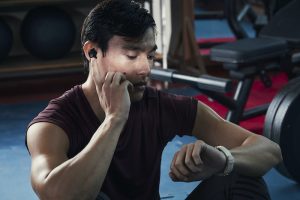 One of the most popular sub-categories for true wireless earbuds is sports, as active individuals look for a simple way to follow workouts at home or listen to tunes while running or at the gym without having annoying wires in the way or a large set of earcups on their head. Sennheiser introduced a second pair of buds this year in the Sport True Wireless earbuds, which feature Adaptive Acoustics so you can use either open or closed ear adapters to tailor the listening experience to the specific sport. With the open ear adapters and Aware EQ setting, you can reduce noises while allowing in some outside sounds for situational awareness. This is ideal for runners, for example, who want fewer distracting noises, like their own footsteps, but still want to hear the beautiful sounds of nature. For those working out in a gym who want to completely block out the noise around them, use the closed ear adapter and Focus EQ setting. There's also customizable presets, touch controls, and even voice assistant compatibility. Of course, they are also dust and splash resistant. These run for up to nine hours per charge plus another 18 with the charging case and sell for $170.
Adidas FWD-02 Sport True Wireless Earbuds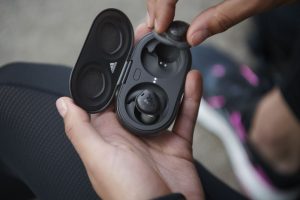 Adidas is, of course, known best for its running shoes and other sports apparel. But the brand is involved in the audio space, too, with the FWD-2 Sport true wireless earbuds that were launched earlier this year. Designed alongside Zound Industries, they have customizable ear wings, force touch interface so it's easy to control playback even when wearing running gloves or with sweaty hands, and breathable mesh fabric so they dry off quickly after a sweaty workout session. There's an Awareness mode when running outdoors, and they run for up to six hours per charge, 19 total with the charging case. Grab a pair for $269.
JBL Live Pro 2 True Wireless Earbuds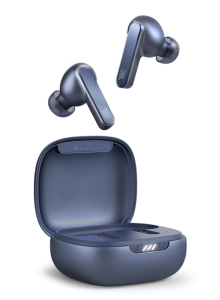 One of three new models JBL introduced this year, the LIVE Pro 2 in-ear true wireless headphones impress thanks to JBL's long history in the audio space. With access to both Alexa and Google Assistant voice assistants and water- and splash-proof rating, they can be worn during almost any activity. The six microphones help isolate noise and wind, making them great for outdoors runs, walks, cycling, and hiking. Plus, you'll get up to 10 hours of playback per charge, up to 40 with the charging case. You can also quick charge them to get an extra four hours after just 15 minutes. Android phone owners will appreciate the Google Fast Pair. These buds sell for $250.
Jabra Elite 4 Active True Wireless Earbuds
Jabra is one of the most popular true wireless earbuds brands when it comes to active individuals, and the new Elite 4 Active, introduced at CES 2022 in January, don't disappoint. Along with being water- and sweatproof and offering a secure fit, they have built-in Alexa control, Spotify Tap playback, and Google Fast Pair. They include ANC, customizable equalizer, and HearThrough as well as four-microphone technology. Get up to seven hours per charge, 28 with the charging case, and enjoy fast charge when they're needed in a pinch. They come in colours like navy, black, or light mint for US$119.
OnePlus Buds Z2 True Wireless Earbuds
Introduced at the end of 2021, the OnePlus Buds Z2 true wireless earbuds boast ANC technology with Transparency Mode, splash-resistant design, six microphones with three on each side, and up to 38 hours of use via the charging case. Use Flash Charge to get five hours after just a 10-minute boost and Google Fast Pair for easy pairing with an Android device. With Dolby Atmos support, Pro Gaming mode, and three distinct sound options – Cinematic Movie, Immersive Music, and Mobile Gaming – they are designed to adapt to whatever activity you're using them during. With support for Find My Buds, you can easily locate them if they are misplaced. If you don't own a OnePlus phone, get additional customization features by downloading the HeyMelody app, like adjusting what a triple tap of the bud does, toggling among noise cancelling modes, and conducting a fitting test. They sell for $149 in pearl white or obsidian black.
Olive Union Olive Max True Wireless Earbuds and Hearing Aids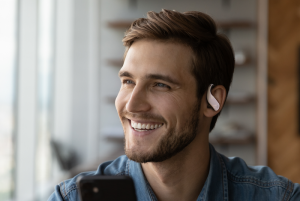 Unique in the category, the Olive Union Olive Max, available exclusively via Indiegogo with shipping set for November, aren't just true wireless earbuds, they are also secretly FDA Class 2 hearing aids, too. Designed to support mild to severe hearing loss, they feature adaptive hearing, which Olive Union says was the most requested feature following the launch of its previous generation flagship product, the Olive Pro. This advanced machine learning technology customizes sound settings to each wearer's unique environment and hearing needs, providing automatic hearing in any environment. Other new features include auto-focus for better voice detection and background noise filtering without distorting a speaker's voice. It has six omni-directional dynamic range microphones and can be set up easily following a five-minute hearing test from an iOS or Android device. They'll run for up to 18 hours using the charging case, or eight hours per single charge of the buds. Shipping in Q4 2022, they will sell for $685 (you can pre-order now for $373).