If you have ever experienced a power outage, you know how much of an inconvenience it can be. Those in Ontario recently experienced a massive passing storm that left some people without power for hours, some for days. Chances are, the first thing you do is scramble for a flashlight, candles, and a book or board game to keep entertained. But after the first few hours, the worry begins to set in. How can I connect once my phone dies? What's happening with the food in the refrigerator? And how will we keep warm (in the winter) or cool (in the summer)?
That is why it's a good idea to have a selection of tech items at home to use in the event of a power outage. Most of these items can come in handy all year 'round for different purposes as well, which makes them worthwhile investments for reasons beyond a power outage.
Emergency Backup Lights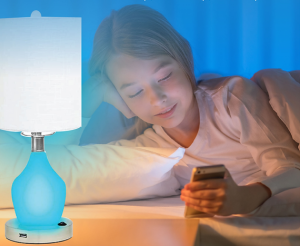 Forgetting burning candles or holding a bright flashlight that can be uncomfortable when it's pointed at someone's eyes. The female-owned company inPOWEREDLIGHTS has a neat solution in its Lamp Angel, which is designed specifically to be used during a power outage. The fun, colour-changing LED base serves as an emergency backup light, automatically turning on in the event of a power outage. It uses Autolight Emergency Technology to detect when there's no electricity. It can even recharge your mobile devices via the built-in USB port on the base. The LED is low-voltage and can last for up to 50,000 hours and provide anywhere from 16-24 hours of continuous backup light. You can even control it from a smartphone app. Grab one for US$80.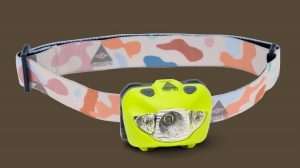 Another great option so you aren't using your smartphone's built-in flashlight (and draining its battery quicker) is a headlamp. Third Eye headlamps are not only useful but also fashionable. They can come in handy during nighttime hikes, camping trips, or even trips up to the attic to grab holiday decorations. In the event of a power outage, they can be lifesavers since you can comfortably keep your hands free while rummaging around for whatever it is you need in the dark. You'll get 168 lumens of brightness with six settings and they run on three AAA batteries or you can upgrade to one with microUSB rechargeable batteries. Each is US$50 and you can grab a headband in a variety of styles for US$12 ea.
eReader
An eReader might sound like an odd option for use during a power outage, but after hours without any access to your technology nor the Internet (oh, the dread!) an eReader can help you pass the time. They typically last for weeks per charge, don't require Internet connectivity, and ones like the Kobo Nia ($130) include an adjustable light so you can read just as comfortably in the dark as you could in daylight. Check up on that novel you stopped reading months ago because you just didn't have time. Use the forced disconnect time to de-stress and enjoy the quiet solitude with an immersive story. With 8GB of storage, you can store up to 6,000 eBooks so there's always something to read.
Battery-Operated Flashlight or Lantern
If you're going to opt for a basic flashlight, get one that is battery operated but also has alternative power sources, like a solar panel and/or even hand crank. Always make sure you have a supply of right-sized batteries on hand in an easily accessible spot so you can grab them in the dark if needed.
But a really cool alternative option is a lantern, and Coleman has a clever multi-panel LED lantern that has four LED panels on each side so you can grab one and go if you need to move around. Everyone in the home can have their own light source, bringing it back to the main unit once they are done. I used one of these lanterns for years for annual car camping trips with friends and it always came in handy. It's powered by a battery that will run for up to 20 hours for the base and up to three hours per panel. It does require a lot: 12 AAA batteries. But to get you through a day or two of a power outage, the convenience will be worth it.
Portable Charging Bank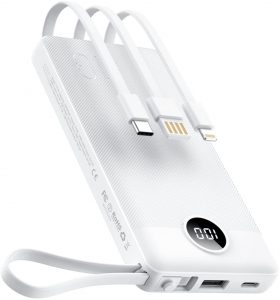 With this recent power outage, I was able to use a portable charging bank I keep powered up to recharge my phone and make sure it didn't die. Having one of these is essential for travel but they can be lifesavers in the event of a power outage, especially if it's a dangerous storm and you want to be able to keep in touch with family and friends to confirm that you're safe. While they are tougher to find these days, especially with Lightning connectors, I prefer portable charging banks with built-in cables like this one, which are especially useful during a power outage so you don't have to go fumbling throughout the home to find your cable. You might pay a bit more for built-in cables but the convenience factor pays off in spades.
Solar Cooler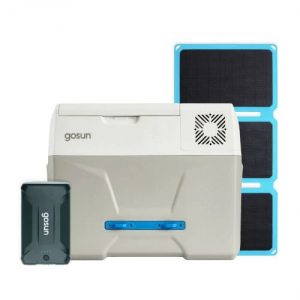 Did you know there are solar-powered coolers? Everyone has a cooler at home for outdoor barbecues, camping trips, and other big events. And these can come in handy in the event of a power outage, too. But if the power is out everywhere, including local grocery stores, where will you find ice? If the power is only out for a few hours, food in the refrigerator should be fine as long as you keep the door closed. But for a full day, you run the risk of rotting and spoiled food and need to take precautions. GoSun makes tons of cool solar-powered gadgets and gizmos, including the Chill + Solar Panel 30 package ($770) that includes a solar cooler that can keep food cold using the included 144Wh power bank and 30-watt solar panel. If you keep the power bank juiced up, you can use that. If not, place the cooler outside with the solar panel and it will stay charged and cool via power from the sun. It's a big investment, but if you find that power outages are common in your area, it might be worth it. And there's the bonus of saving on expensive bags of ice for your next backyard barbecue or camping trip.
Portable Power Station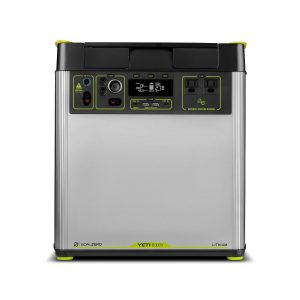 If you encounter power outages often in your area, consider investing in a portable power station to ensure everything keeps running without interruption until the power comes back on. Goal Zero is one of the premiere companies in this space, and while the Goal Zero Yeti 6000X Portable Power Station will run you $8,000, if you find you're using it annually, it will pay for itself in a few years. (Goal Zero does offer step-down less powerful options for less as well). If there's a power outage, use the 6,000-watt hours of lithium power to keep everything from your home appliances to your electronic devices and lights running, both at home and on the go. If the unit is not charged up, gain a charge from the 12V adapter of your car using the Goal Zero Yeti Lithium 12V Car Charger, or even from the sun with the addition of an optional solar panel. If you also own an RV or trailer, you'll be able to use this predominantly for travel but have it on hand in case of emergency at home as well.