Cars aren't like they used to be. The latest vehicles are pretty high-tech. you won't find a tape deck or even a CD tray like you would in the "olden days." But you will find elaborate dash-screens, USB inputs, push-button ignitions, and plenty more.
It seems almost unnecessary to find even more tech to add to your vehicle, but it's possible. More so, there are actually viable reasons you might want to add certain items.
Dashcam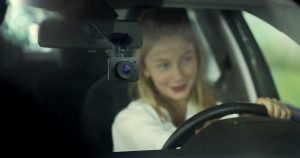 Talk to any body shop owner or car insurance claims advisor and they'll tell you that accidents are on the rise. Dash cams are useful because they can help you capture critical information in the event of a collision or even hit-and-run. They are designed to record video as you drive or with some models, even while you are parked, if there's any impact to or motion around the vehicle. Footage is stored locally on a microSD card, online in the cloud, or viewable live via a smartphone app so you can review to determine what happened and who is at fault. Dashcam footage can be provided to insurance companies and law enforcement as well. This is great not only for accidents but also reporting things like erratic driving or confrontations. They typically sit on the dash or windshield or, with models like the Nexar Beam GPS, can be nicely concealed behind a rear-view mirror.
Car Stereo/Touchscreen Display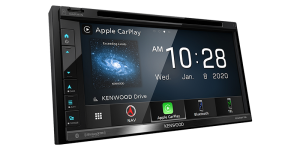 If you buy a premium new vehicle, chances are it will have a screen in the middle with built-in navigation and other features, or the ability to connect with your phone via USB-C cable to use apps like Waze for navigation, Spotify for music, serve as a speakerphone for calls, and more. But what about older cars? If you are still driving an old but reliable car that you don't plan on replacing any time soon, you can upgrade it by having an portable navigation system installed. Many of these receivers, available from brands like Panasonic, Pioneer, and Kenwood, can seamlessly connect with Apple CarPlay and/or Android Auto so you can use the screens as portals to your phones, ideal for long road trips or mobile workers. And they incorporate everything from music playback to navigation, visual message displays, voice control, and more. You'll find tons of head unit options at retailers across Canada, like Crutchfield. Visited a specialized shop in person if you're looking to have installation as well.
LED Strip Lights
Whether you're adding them under the seats so there's a nice glow where your feet are or placing them on the underside of the vehicle, you can get a cool and convenient effect with LED strip lights for the car. You'll want to, of course, make sure that whatever you do isn't distracting to other drivers and adheres to the local laws. But once you have clarified this, LED strip lighting can add a cool look both outside and inside the vehicle. LED strip lighting at the bottom interior of the vehicle, for example, not only looks cool but will also make it easier to see things that might have fallen, like your car keys, phone, or credit card. They are often controlled via Bluetooth and a mobile app and can cycle among a variety of colors. You can go bold or subtle with an option like the Oneuplighting Fiberglow Ambient Lighting Kit that works with a companion iOS or Android app and offers different colours and even lighting modes, including strobe, music mode, and customized presets. Powered by a 12V plug, it's easy to install in just a few minutes and is universal for any vehicle.
Digital Car Keys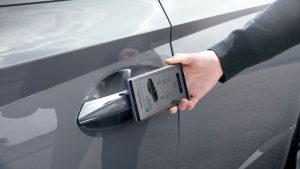 There is a trend now with some of the newest high-end cars whereby you can store a digital key in the Apple, Google, or Samsung Wallet to lock and unlock your vehicle, and even start the engine, right from the mobile device. This is a technology that will likely get more commonplace overtime. For now, it's limited to only a few vehicles and models from companies like BMW, Hyundai, and Kia, and only in some countries.
Back-up Camera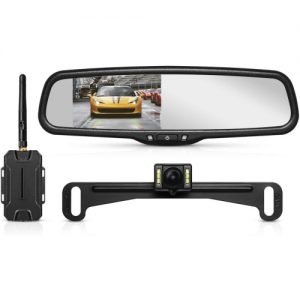 Another feature that is standard in new, premium vehicles is a back-up camera system. But you can still enjoy the benefits of this with an older vehicle or opt for it as an upgrade after you've already purchased a new one that doesn't include it. A back-up camera is ideal for those who tend to have issues with things like parallel parking, who live in busy suburban or city streets where there's often a lot of traffic, pedestrians, and cyclists, or simply someone who wants to be more aware when they are backing out of parking spots or a driveway. You can find a wide selection of back-up cameras at retailers like Best Buy from brands like Garmin, Pyle, Auto-Vox, and others. They typically mount by the license plate with the camera on the rear-view mirror or through a digital screen so you can view the footage in real-time.
Faraday Cage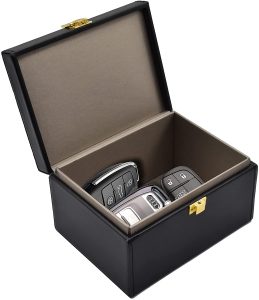 This isn't necessarily a piece of tech to keep in the car, and it's more of a tech-adjacent product. But it is something worth buying that can protect your car from theft. Car thefts are on the rise in Canada, with thieves finding clever ways to take your car – even a locked one – within seconds. One of the easiest ways they do this is with a little device that can access your digital car key if it's close enough to the vehicle, even if from inside your home. With most people throwing their keys on a front door bench, hanging them by the door, or popping them into a dish in the foyer, it makes their jobs easier. Most people won't remember to move their keys away from the door before heading to bed at night. What's more, that's inconvenient. A good solution is a Faraday cage, a small box that you can plop items like keys inside to block the signal. While clever thieves have other ways of breaking into and stealing cars, this at least eliminates one popular method. And there are stylish boxes that won't look out of place on a side table or a shelf in the front closet. They are widely available, with models like this one you can buy on Amazon