Instant messaging apps are available in abundance, but there are just a handful people most often use. This includes Apple's iMessages, Facebook Messenger, and WhatsApp; as well as robust messaging apps used by businesses like Slack and Discord. Another messaging app has been gaining popularity, however, called Signal. Many people have switched to Signal because of the belief that it's more secure. But is it?
What is the Signal Messaging App?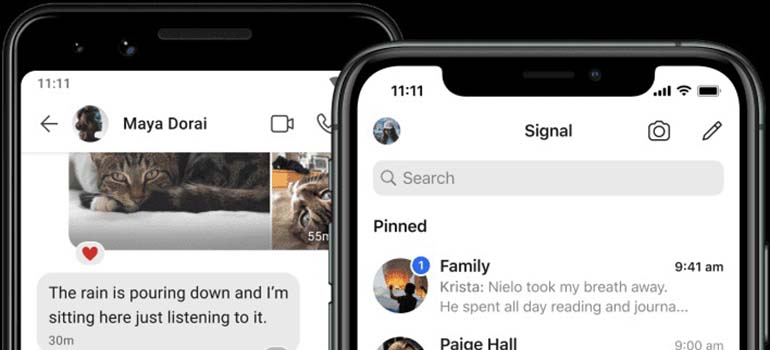 Available for download on both Apple iOS and Google Android devices as well as for desktop computers, the Signal private messaging app promises to allow you to "speak freely." The draw for Signal is that it offers end-to-end encryption, powered by the company's own open-source Signal Protocol. This means all conversations are secure: the company cannot read your messages or listen to calls made over the app, nor can any other nefarious individuals.
Using the app, you can share not only text-based messages but also voice messages, photos, videos, GIFs, and other files. Even emoji stickers you share and create are completely private. Signal uses a data connection like other messaging apps so you will not incur SMS or MMS fees when sending messages over your wireless carrier network (with a data plan) or Wi-Fi connection.
You can chat one-to-one or set up group chats with other users. There are no ads or trackers, and the best part: it's completely free to use since the company is an independent non-profit that isn't tied to any major technology companies. All of Signal's developments are supported by grants and donations.
Signal initially launched in 2013. In 2018, WhatsApp co-founder Brian Acton donated US$50 million to create the Signal Foundation, which is the non-profit that now runs the company. This came the year after he left WhatsApp: Acton currently serves as interim CEO of Signal Messenger LLC.
The big move to Signal for many users came in early 2021 when Facebook-owned WhatsApp changed its privacy policy. From there, Signal began to receive new user downloads in droves. As at earlier this year, Signal has more than 40 million users.
Does Signal Live Up to Its Promises?
I have been using Signal for some time after a friend, who is highly knowledgeable in the tech space as well, asked us to move an ongoing group chat to that site. It works seamlessly, allowing us to have daily conversations, share photos, videos, and more. It's no different than WhatsApp or iMessages in terms of usability. I access it both from the app on my phone as well as a desktop app on my MacBook Air.
Many trusted brands and reviewers have lauded Signal for being much safer to use than other messaging apps. In its tests, Mozilla, which is also a non-profit, applauds Signal. The company notes that the only personal data Signal collects is your phone number (required for sign-up): your name and a photo, should you choose to add one, cannot even be accessed by the company. To date, there have been no data breaches with Signal either, a comforting fact for those considering making the switch or who currently use the app.
TrustedReviews.com spoke with security experts at McAfee, Searchlight Security, F-Secure, Comparitech, and IDC and deduced that "Signal is safer than many messaging apps because it uses end-to-end encryption, which ensures that no one (not even Signal) can intercept and read your messages. Antony Demetriades, Vice President of McAfee, goes on to note that messages are secured even before they are sent, and only decrypted once they arrive to the intended recipient's personal device. "Essentially," he explains, "it encodes your message so that only the intended recipient's device can unlock it."
He also notes that those interested in signing up don't even have to use their primary phone numbers to do so: they can instead use a Google voice number. Apple device users, meanwhile, can turn off "show calls in recents" in settings to prevent the Signal app from syncing a history with the cloud.
Dr. Gareth Owenson, CTO and Co-founder of Searchlight Security, adds that while WhatsApp uses secure encryption as well, the fact that it's owned by Facebook, which is known for monetizing the personal information of its users, is what turns people off. How can users by sure what information in WhatsApp is being shared with Facebook and what isn't?
In a recent article for Mashable, writers Rachel Kraus and Christianna Silva opine that Signal offers the "gold standard of privacy."
Bottom Line
You'd be hard-pressed to find anything negative being said about the Signal messaging app. If you haven't yet downloaded it, it's worth considering. While the user base is not as large as others like WhatsApp, if you can convince enough friends and family members to download it, everyone might appreciate the switch.
Once you sign up, invite others using the pencil icon at the top, right in the app. Search through your contacts to find who might already be using Signal or send a direct invitation to a friend. You can also search by phone number: all you need is someone's phone number to connect with them.
Related:  Messaging apps