The saying "Jack of all trades, master of none" doesn't always ring true. A case in point is a wide selection of tech products that focus on a primary function but also offer a useful secondary one. An interestingly subtle theme at CES 2023, the massive tech trade show that took place in Las Vegas in early January, was innovations that integrate wireless charging as an added bonus to the main purpose for which they were intended, offering convenience and versatility for customers.
These ranged from small appliances to computing peripherals, smart home products, and more. The trend was even evident in some Las Vegas casinos where wireless chargers are built into the surfaces of slot machines, a genius idea to get players to stick around a little bit longer in hopes of winning.
Here's a look at some of the most exciting products introduced (or shown) at CES that integrate wireless charging as a secondary feature.
LG PuriCare Aero Air Purifier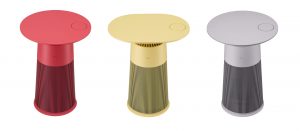 Initially introduced at IFA 2022, which took place last summer, the LG PuriCare Aero furniture turned heads once again at CES. These appliances not only do double duty, but also triple duty as air purifiers, tables, and wireless chargers. The air purifier is the body of the small appliance while the circular top can be used as a side table for placing a cup, photo frame, book, eyeglasses, TV remote, and more. One item you do not have to place atop the table surface, however, is a wireless charging pad. That's because there's one built in. When you plop your phone down in the right spot, it will gain a charge. Available in various finishes, controls for managing airflow are on the underside of the PuriCare Aero furniture for easy access. In addition to air purification, you'll also get mood lighting.
Kensington SD1700P USB-C Dual 4K Portable Dock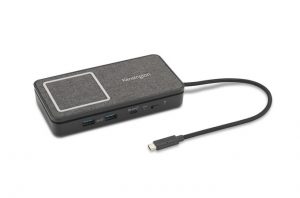 The primary purpose of the Kensington SD1700P USB-C Dual 4K portable dock is for connecting devices to your computer. It boasts up to dual 4K at 60Hz through its two built-in HDMI 2.0 ports. There's also a 1Gbps Ethernet port, a pair of USB-A ports, and a USB-C port that supports up to 100W power for pass-through charging. While it's being used to connect a device like a monitor to your computer, however, it can also work as a wireless mobile device charger. There's a spot on the top of the unit that supports Qi charging, offering a speed of up to 10W to charge everything from mobile phones to true wireless earbuds.
Samsung SmartThings Station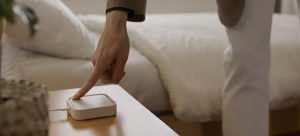 Samsung is focusing on bringing all its products together in a holistic way in 2023, including everything from TVs to appliances (large and small), smart home gear, and more. At the heart of this strategy is the company's SmartThings ecosystem, and one device, in particular, could be a game-changer for 2023. Called the Samsung SmartThings Station, this small, square-shaped device, which made its debut at CES 2023, simply sits on a side table, shelf, or countertop. But it can be used, through a series of short, long, and double presses, to trigger commands for smart home devices, like scenes and routines so you don't have to pull out your phone or even use your voice. It works with both Samsung SmartThings and Matter-enabled devices and is easy to set-up from a Samsung Galaxy smartphone. Why does it fit here? Because a tiny device that would sit on your side table couldn't just sit idly when you aren't using it, could it? The Samsung SmartThings Station actually works as a Qi charging pad as well. When you're not actively setting a routine with it, put your phone down and charge away.
Altec Lansing IMT9100 Sonic Boom 150 Bluetooth Party Speaker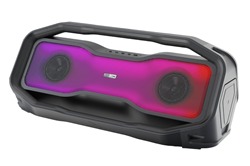 This 150W speaker, introduced at CES 2023, provides both music and multicolor LED light modes to liven up a party. In addition to streaming music from a mobile device, you can also access FM radio. Since it's IP67 rated, you can comfortably take the Sonic Boom 150 speaker outside nearby water, dust, snow, and dirt. Convenient built-in trolley handles make it simple to carry around for place to place. Offering up to 14 hours of battery life, this party speaker also has built-in Qi charging so it can boost your phone's battery while it's streaming music from the device; or stream from another source while keeping your phone powered up.