Being out of touch is one thing, being out of date – especially on a dating app – could be much worse.
No one likes to be catfished online, so having up-to-date profile photos is important in online dating, a point of honesty, authenticity and safety.
Catfishing, the process of luring someone into a relationship by means of a fictional online profile, has no place on the dating scene (hatfishing, the apparent hiding of truth by means of wearing a chapeau in all photos, seems a goofier kind of misrepresentation, perhaps but not necessarily less worrisome), be on- or offline.
Tinder, one of the biggest online dating platforms, has safety and authenticity in mind as it tries to strengthen its Photo Verification toolset by adding a blue checkmark to the profiles of its members who have gone through the new verification process and submitted a video selfie along with a still photo selfie. Members go through a series of prompts to make a 3-D facial map of themselves, which is then compared to submitted still photos. It's not a perfect process in all cases, but a big boost for those concerned with safety and honesty in their online dating activities.
Members will be able to request that other people who want to connect or context them also be verified, and Tinder application setting tools allow members to manage their status. Video selfie in Photo Verification is available now, and the ability to select Photo Verified Members only in Message Settings will roll out in the coming months, the company reports.
Tinder isn't able to provide exact numbers regarding their users, but it does describe its more than 530 million total downloads (to end of last year). In the past ten years, it's grown from one language in one country to 45-plus languages in 190 countries. Overall Monthly Active Users have grown steadily too from nearly 60 million at the time of the company's IPO to approaching 100 million at the end of Q1 2022.
Along the way, the free-to-use app introduced subscription models with added features (Tinder Plus, Boost, SuperBoost). One-off in-app purchases are also offered. Even with a growing stable of competitors, among them eHarmony, Zoosk, Bumble, Badoo, and even Facebook, Tinder continues to be a major player on the online dating landscape.
In its efforts to be so, it has also recently launched a new feature called Relationship Types, introducing a set of labelled relationship choices, including Monogamy, Ethical Non-monogamy, Open Relationship, Polyamory, and Open to Exploring.
Choosing a type and using the label allows Canadian daters on the platform to be more open and transparent about the type of relationship they are looking to get into, the kind of commitments they want to make, the kind of reciprocity they want from a partner, all with the idea that more insight into a potential match and more control over who they match with is a good thing.
"The term 'commitment' is not one-size-fits-all for this new generation. They're exploring a range of possibilities — from monogamy to situationships to friendship – and it's really important for them to be open and transparent about what they're looking for, so we're making it easy for them to do this with features like Relationship Types and Relationship Goals," said Kyle Miller, VP of Product at Tinder, when describing the new feature.
Relationship Goals is becoming the most popular type of profile info based on adoption, he added.
Miller shared Tinder company data and research showing that while 52% of Gen Z daters do prefer monogamous relationships, 41% of them are open to or seeking non-monogamous relationships with open relationships (36%) and hierarchical polyamory (in which one may have more than one partner, but one is considered higher priority or more significant than another, at 26%) being the most popular types of non-monogamous relationship.
An extension to the new Relationship Types feature brings added clarity to potential dating scenarios by adding another description and even a badge for members' profiles that lay out exactly what's being sought after on Tinder: Long-term relationship; Long-term, open to short; Short-term, open to long; Short term; New friends; or Still figuring it out.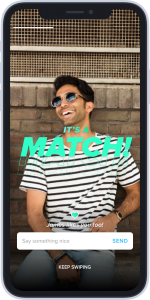 Forty per cent of Tinder members who use the Relationship Goals feature to signal their intent on the app say they are looking for a long-term hook-up.
For the time being, at least, another interesting new feature on the Tinder dating site is not available in Canada.
That's unfortunate, as there is clearly an audience for using specific gender or non-binary pronouns in their dating profiles. Tinder says the LGBTQIA+ community is the fastest growing group on its platform, and according to a survey of young daters aged 18-25, about a third reported their sexuality has become more fluid in recent years.
But for now, only in the U.S., Tinder members can use Pronouns on Profile to describe their authentic identity and choose pronouns to display on their profile from a list of 15+ options, in addition to their sexual orientation and gender.
-30-