Samsung held its annual Samsung Unpacked event where the company introduced four new product series: the Galaxy Z Flip 5 and Galaxy Z Fold 5 foldable phones, the Galaxy 6 smartwatch (and the Galaxy 6 Classic variant), and the Galaxy Tab S9 Series tablets.
These new devices stand out for a few reasons. Here, we'll run down what makes them different from their predecessors.
Samsung Galaxy Z Flip 5 and Galaxy Z Fold 5
Samsung's two new foldable phones share a lot of similarities, though their form factors are actually quite different. What sets them both apart from their predecessors is the Armor Aluminum corners, Corning Gorilla Glass Victus 2, an extra layer under the screen to further protect it, and a built-in screen protector on top as well. The new Flix Hinge serves a dual purpose of making the phone more durable while also, with the Galaxy Flip 5, allowing for new camera capabilities using the FlexCam and Flex Window for taking photos from unique angles.
Galaxy Z Flip 5 Smartphone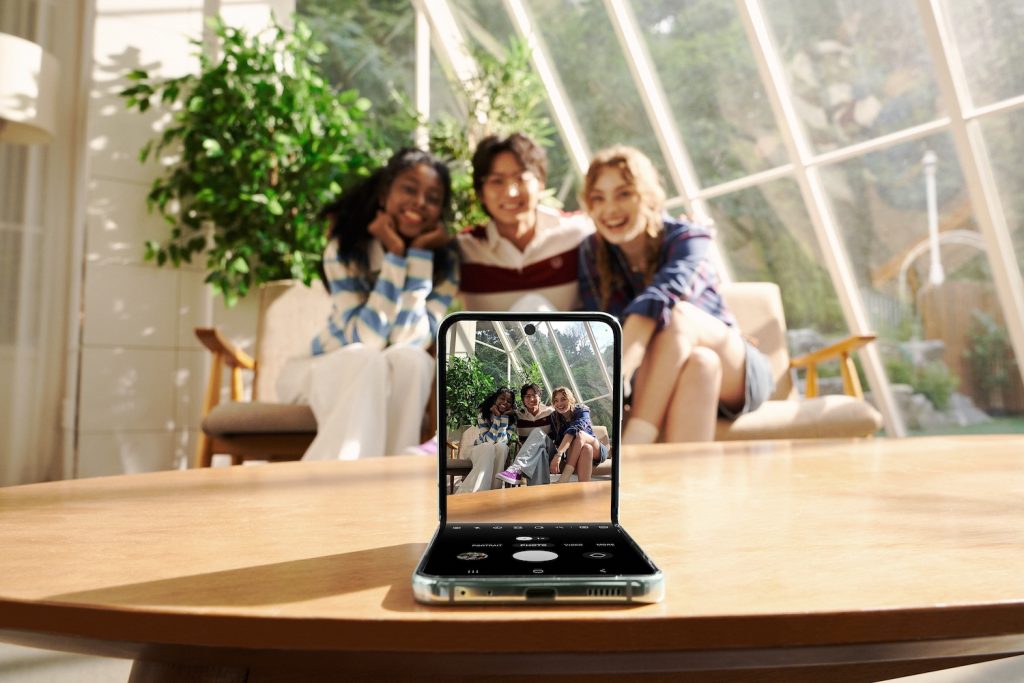 The Flex Window in the Galaxy Z Flip 5 is actually 3.78 times larger than the previous generation model and includes more customization options, from stylish frames to graphical clocks that can match the new Galaxy Watch 6. There's also a new Flipsuit Case for that phone that has a changeable NFC card. Using the Flex Window, meanwhile, you can still see useful information while the phone is folded closed, from weather to music playback details, stock market data, and more, all from compatible widgets. You can also use this screen to see who is calling, reply to texts using a full QWERTY keyboard, and return missed calls. Access Samsung Wallet for contactless payments, boarding passes, and more, and take selfies. The Galaxy Z Flip 5 also includes improvements to the camera, especially for night photography. Pricing starts at $1,300 and it will be available in Canada on August 11, though pre-orders are on now.
Galaxy Z Fold 5 Smartphone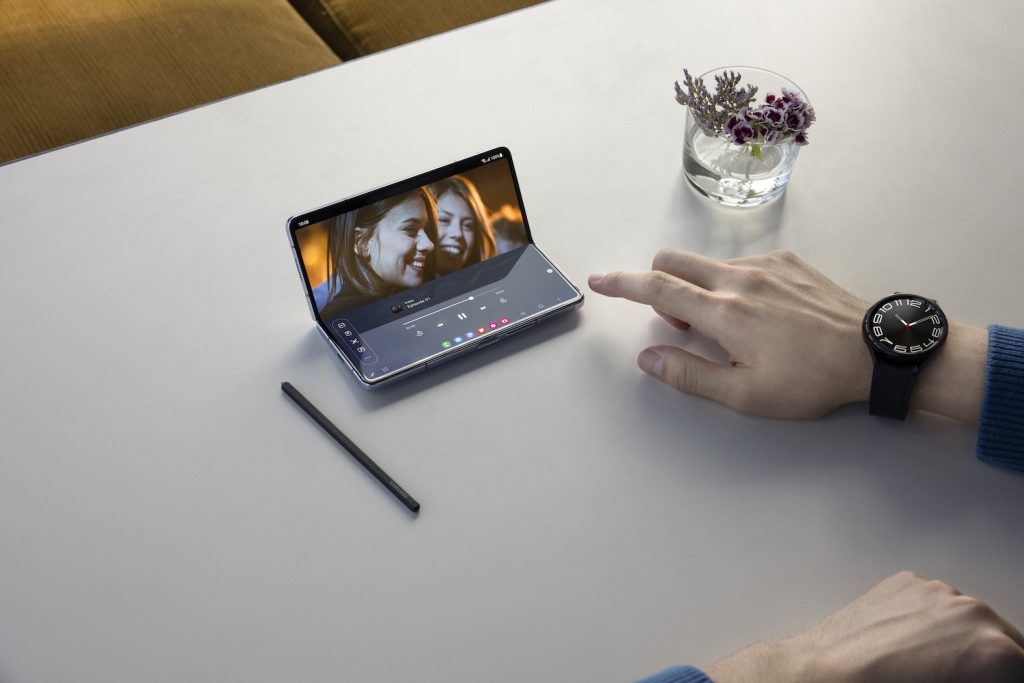 The Galaxy Z Fold 5, meanwhile, has a larger screen, it's thinner and lighter than its predecessor, and has features like multi window, app continuity, taskbar, drag and drop, and third-party app optimization. The S Pen that comes with it has also been modified to be thinner and lighter. Use the improved Taskbar to quickly switch among four frequently used apps. There's a new two-handed drag and drop experience, and hidden pop-up that allows you to watch videos in full screen or chat with friends, for example, while you continue to use another app in the background. The screen has also been improved beyond just the durability: it offers high peak brightness, enhanced graphics, and an advanced cooling system that dissipates heat, something gamers will appreciate. Get it starting August 11 (or pre-order now) for pricing starting at $2,400.
Samsung Galaxy Watch 6 and Watch 6 Classic
The newest Samsung Galaxy smartwatches mark slight upgrades from the previous general models, adding more personalized health guidance and enhanced sleep data. They have slimmer bezels, enhanced processors and memory, larger battery with quick charge options, and larger, more vibrant always-on displays with 2,000 nits peak brightness along with a more interactive user interface. You can select from a wide variety of watch faces to further personalize the look along with new bands. There are personalized, actionable tips offered to users, along with advice and encouragement.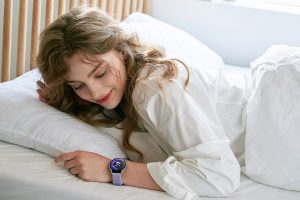 The biggest upgrade comes with sleep tracking, which includes in-depth analysis of Sleep Score Factors, offering physical and mental recovery along with total sleep time and sleep cycle break downs. Samsung also partnered with the National Sleep Foundation to offer individualized Sleep Messages, and detailed feedback about your sleep each morning. A new feature called Sleep Consistency also tells you how consistent your sleep is and, like with Fitbit Premium, designates a Sleep Animal Symbol to which you can liken your typical sleep patterns. There's also enhanced Sleep Coaching with instructions, tips, and reminders to help you get to bed at the right time, ensure you have a good sleep environment, and even adjust settings on other connected devices, like dimming screens or silencing notifications, to help you get a better night's sleep.
There are updates with the fitness features as well, including better personalization, Body Composition, a new Personalized Heart Rate Zone, a new Track Run workout, and a Custom Workout option so you can build your own workout routine. It now also supports Fall Detection as well as Samsung Pay, enhanced gesture control, and personalized shortcuts. This Fall, the Watches will add the Google Calendar and Gmail apps along with Peloton and MyFitnessPal updates, and, coming soon, streaming options with Audible. Finally, there's remote control of the camera on the new Galaxy Z Flip 5 and the ability to view real-time progress while exercising from a compatible Samsung smart TV or the new Galaxy Tab S9 series tablets.
Available starting August 11 and on pre-order now, the Galaxy Watch 6 starts at $410 and the Galaxy Watch 6 Classic, which boasts the same features but with a more premium timepiece design, at $550. Samsung is offering plenty of promotions as well for those who pre-order the watch, including trade-ins, discounts on related products and Samsung Care+, and more.
Samsung Galaxy Tab S9 Series Tablets
The third main new product Samsung introduced at the event is itsseries tablets, which are the first tablets from the brand to boast an IP68 water- and dust-resistant rating. This rating applies not only to the tablet hardware, but also the S Pen that comes with it. There are three models in the line – the Galaxy Tab S9, Galaxy Tab S9+, and Galaxy Tab S9 Ultra. Each comes equipped with a Dynamic AMOLED 2X screen and Qualcomm Snapdragon 8 Gen 2 for Galaxy processor, the same found in Samsung's flagship smartphones. The Galaxy S9 Ultra is the largest model in the line with a 14.6-inch screen, and all three offer dynamic refresh rates from 60Hz to 120Hz, depending on the application you're using, making them ideal for everything from word processing to gaming. There's also Eye Comfort to help reduce eye strain and blue light, while Vision Booster keeps the display bright, no matter the ambient lighting conditions.
Compared to the previous-generation tablets, these models have 20% larger quad speakers tuned by AKG and supporting Dolby Atmos sound, and include a custom sound option for gaming, music, and more. With the optional Smart Book Cover, you can use them in portrait or landscape mode. The CPU is also boosted by 34% and GPU by 41%, while the higher-end two models have double the storage at 256GB. The tablets are also designed for better heat efficiency thanks to a new two-way heat dissipation system.
The S Pen is not only IP68 rated, it also has new bi-directional charging capabilities so you can recharge it when it's facing either direction in the cradle. There's an upgraded S Pen Creator Edition option that adds textured material, a wider tilt angle, and comes with two tips, a hard type one for natural drawing and a soft type one for paper-like writing.
Stand out features include multi window whereby you can show up to three apps at once, a pop-up view to show floating windows along with the home screen, GoodNotes for note-taking and journaling, Google Meet collaboration with screen sharing and co-editing of a live Samsung Notes document, and more.
Add the Galaxy Tab S9 Series' Book Cover Keyboard to create a desktop experience with adjustable angles, a backlit keypad, and use DeX Mode to mirror or extend the PC screen to the tablet.
Available August 11 and on pre-order now, starting price is $1,100. There are various promotions for those who pre-order, including twice the storage, credit on trade-ins, GoodNotes, LumaFusion, Clip Studio Paint, YouTube Premium, and Adobe Lightroom discounts or free trials, Uber vouchers, and discounts on Samsung Care+ for extended warranty support.
Final Thoughts
All these products are on the premium end of the spectrum, which means they all come with a premium price tag. They work seamlessly together affording a nice ecosystem of mobile products to use at home and on the go. But they aren't for the average user: the cost limits accessibility to early adopters and those serious about tech and the benefits things like the foldable design offers. The phones, while similar in price to other high-end smartphones, can be paid off alongside a wireless carrier plan, which makes the cost slightly more palatable. The tablet, meanwhile, is for serious creators and business professionals: this isn't a tablet you'll be getting for a family or grade school student.
For those willing to pay to enjoy these premium features, ultra-rugged designs, and futuristic tech, Samsung's latest are worth getting excited about.
-30-