Taking notes might seem passe, but it's still a common activity with both students and workers. You might be jotting down notes in a meeting or lecture, from a presentation, or even a phone call. Whatever the case, notes can enter the digital realm through digital note taking. This is made possible through both apps and devices, some of which work hand in hand for taking notes you can save in the cloud or locally and reference any time you need. Plus, they save trees since you aren't using paper.
Apps for Note Taking
There are several apps you can use to take notes digitally.
Goodnotes 6
Goodnotes is a popular app for note taking and the company recently added AI technology to make the process even more seamless and intuitive. Available for free download for iOS, iPadOS, and macOS and with up to three notebooks (there's also an unlimited notebooks feature for US$10/mo. or US$30 as a one-time purchase), the new version of the app, dubbed Goodnotes 6, adds pen gestures, scribble and erase functions, customizable templates and folders, an in-app marketplace for digital stationary, and soon, the ability to receive contextual answers for questions in your notes. There's AI-powered Spellcheck for correcting spelling mistakes in your handwritten notes, and even interactive exam prep materials for standardized tests, like the SATs. AI math assistance can help identify errors.
Evernote
With Evernote, you can not only take notes but also create and assign tasks within the notes, add due dates, flags, reminders, and more. You can also scan documents into the app, save web pages with stripped out ads and highlight them, and even connect the app with your Google Calendar so everything works seamlessly, in sync. There's a free tier of the app that allows you to sync up to two devices, upload up to 60 MBs of data (25MB file size maximum each), add three widgets, attach PDFs, receipts, files, photos, images, documents, and more. You can also upgrade for $18/mo. for unlimited devices, 10GB monthly uploads (200 MB max each), enjoy a customized home dashboard, connect to the Google Calendar, add due dates, get offline access, and more. Power users can opt for the professional tier for $22.50/mo. with twice the amount of monthly uploads at 20GB, access to all widgets, personal and workplace Google Calendar syncing, integration with Slack, Salesforce, Microsoft Teams, and more. There's also a Teams option for small businesses that's $30/mo. per user that adds collaboration options.
Microsoft OneNote
The digital notebook app Microsoft OneNote is easily divided into sections and pages so you can easily navigate and search for content in different digital notebooks, like one for business use, one for finances, one for personal family notes, and more. You can type, sketch, highlight, and even annotate documents. Plus, it's easy to access the app across all your compatible devices so you can work from your home office laptop, your remote office desktop, tablet, smartphone, and more. There's also the option to share and collaborate with others; along with attaching files, inserting online videos, and even recording audio notes. With the handy OneNote Web Clipper, you can easily save content from a website as a note. Microsoft OneNote comes with a Microsoft 365 subscription, which starts at $79 per year.
Zoho Notebook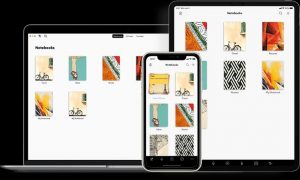 Beautifully designed, the Zoho Notebook app lets you save each note as a different note card, with the theme matching the type of note, from a grocery shopping list to a family vacation packing list, meeting notes from work, presentation brainstorming ideas, or lecture notes. Jot down your notes, sketch, and more, and even use a dedicated Checklist card when you want to satisfyingly mark tasks as done as you complete them. You can also record meetings, lectures, and conversations using an Audio card, save photos, scan documents, and more using a Photo card, add PDFs, word documents, spreadsheets, and more with a File card, sketch visuals with a Sketch card, and more. Once you save content to the notebook, it will be intelligently formatted into note cards that match each type. Notes can be shared with others and remained backed up and synced to the cloud. The best part? You can sign up for free.
Devices for Note Taking
RocketBook Pro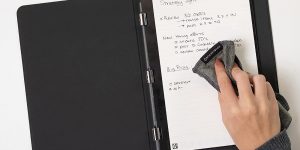 I started using the RocketBook Pro last year, and I haven't looked back. I have a stack of paper notebooks I purchased previously that I haven't touched since. With the RocketBook Pro, you can use the included Pilot FriXion pen (you can easily buy replacements online as well) to jot down notes, sketches, and more. Once done, you can use the RocketBook app to scan the page and upload it to a cloud storage service, e-mail, or other spot for safe-keeping, even organizing them in folders using codes you can write in the bottom portion of the page. There's an option to transcribe the handwritten notes into digital text as well. If or when you no longer need the content, use the included microfibre cloth with some water and wipe the page clean to start over. I have wiped and used the same 10-15 pages countless times and it still works like a charm. The pen lasted about six months of heavy usage before I needed to buy a new one (there are multi-packs on Amazon that aren't too expensive, and any Pilot FriXion pen will work). Get one in letter size for $60 or executive size for $55.
Amazon Kindle Scribe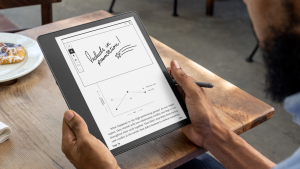 The Amazon Kindle Scribe is, first and foremost, an eReader. But it also works similarly to the RocketBook in that you can use a notebook section to jot down notes. Here, you're using a stylus and writing on a digital screen. It mimics the feel of writing on paper, and the content is stored right in the device, or you can upload it to a cloud storage service or other spot for easy retrieval. If you have a Microsoft 365 subscription, you can also import documents from Microsoft Word to edit on the Kindle Scribe. Create things like sticky notes within your notes to highlight items you want to look further into, for example, or side notes about a presentation. Within eBooks, you can also makes notes and annotations, highlight passages, and more. The Kindle Scribe is $510 but it also comes bundled with a leather cover, power adapter, and premium pen for about $575.
Samsung Tablet with S Pen and Samsung Notes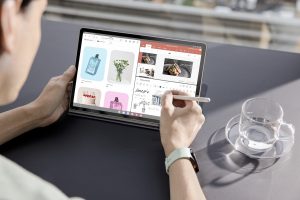 Samsung Notes is the app portion of the equation with a Samsung tablet, and it's best accessed from a premium model like the new Samsung Galaxy Tab S9 Series, or even premium smartphone that supports stylus input. You can create notes in the app, including not only text but also images, add footnotes, voice recordings, and even music. For those who like to sketch, there are different brush types and colour mixers from which to choose. Everything is stored on device or can be uploaded to the cloud or other service. The Samsung Galaxy Tab S9 series models start at $1,100.
Apple iPad with Apple Pencil and Notes App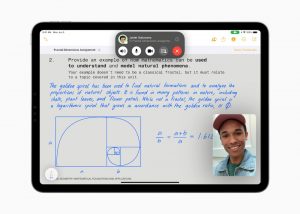 For those who work in the Apple space, the Apple iPad and the Notes app are a match made in heaven. Invest in the Apple Pencil and use Apple Notes on an Apple iPad, like the Apple iPad Pro, which comes free with the device, to jot down notes by hand, make sketches, and more. The drawing function is especially lauded by users, making this s a great app if you want to add things like charts, graphs, or sketches to your text notes. Because of the deep integration within the Apple ecosystem and with iCloud, you can easily start taking notes on the Apple iPad and resume from your Mac computer or even your iPhone. With automatic back-ups to the cloud (if you have this set-up), you'll never misplace your notes or accuse the dog of eating your homework again. The latest iPad Pro starts at $1,099 while the Apple Pencil is $169 and comes with free engraving.