Approximate value of prize bundle $80
Contest Closed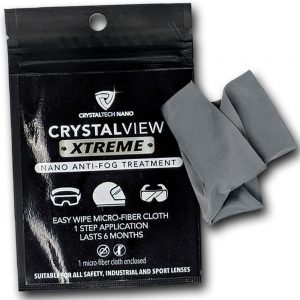 CrystalView Xtreme Nano Anti-Fog Treatment – $24.99
This Nano infused reusable micro-fibre cloth lasts up to 6 months and protects all types of eyewear. The anti-fog treatment is easy to wipe on and there's no greasy smearing. The German Nano formula won't damage glass, plastic or polycarbonate lenses. It  will help people see better through all types of sports and industrial goggles and even your glasses.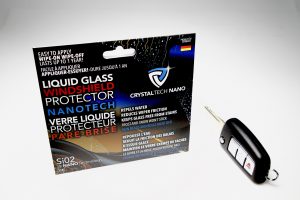 –
Nano Windshield Protector – $29.99
The Nano Windshield Protector repels water, reduces wiper fricti on and keeps your windshield free from stains. The Nano Windshield Protector give you an extra level of protection on your winter drive. Rain will bead and roll right off your glass and it even works in the winter as frost and snow will not stick to your windshield.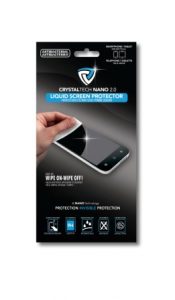 Crystaltech Nano Screen Protector– $24.99
The hardest screen protector for your smartphone or tablet is the CrystalTech Nano 2.0, a liquid nanoglass screen protector designed for all glass screens including Smartphones, Tablets and smartwatches.
Crystaltech Nano goes on invisible and is quick and easy to apply. There is no cutting or sizing needed. You don't need to make sure it goes on perfectly straight without any peeling or bubbles. You just wipe it on and once applied your screen becomes resistant to finger-prints, smudges and it also repels water.
Official Rules & Regulations – Win one of three Nano Screen Protection Bundles!
AGREEMENT: No purchase is necessary to enter the Contest. The act of entering the Contest constitutes acceptance of the Contest Rules and the decisions of the Contest judge.
CONTEST: Log onto WhatsYourTech.ca, complete  a Win one of 3 Nano Screen Protection Bundles online entry form and submit your entry by following the instructions found at the site. The contest starts at 12:01 am Eastern time (ET) on  May 30, 2019 and closes on June 29 2019 at 11:59 pm. All entries must include your full name, e-mail address, mailing address, and ten-digit telephone number. One entry per person.Entries received on-line shall be deemed to be submitted by the authorized account holder of the e-mail address submitted at the time of entry. "Subscriber" is defined as the natural person who has reg istered for products or services with WhatsYourTech.ca. Void where prohibited.
ELIGIBILITY: To enter and to be eligible to win, entrant must be a legal resident of Canada (excluding Quebec residents) and be over the age of majority. Selected entrants must correctly answer a mathematical skill testing question. Employees and their parents, siblings and children, and persons domiciled with an employee of any of the Contest Sponsor, their agents, parent, affiliated or related companies, subsidiaries, divisions, prize Sponsor, and promotional and advertising agencies and administrators, are ineligible to enter.
PRIZES: There will be three (3) winners. Each winner will win a one Nano Screen Protection Bundles! as detailed on contest page.   Approximate prize value $80.  Prize package as described in contest detail.  Dealers may sell for less. Prize must be accepted as awarded. The Prize may not be sold, transferred and is not convertible to cash. Contest Sponsor reserves the right to substitute the Prize in whole or in part in the event that all or any component of the Prize is unavailable. Limit One entry per person.  
GENERAL: On or after June 20 at approximately 4:00 pm. ET, a random draw will take place at WhatsYourTech.ca, Toronto, Ontario from among all eligible entries received during the Contest Period. The odds of winning a Prize will depend upon the total number of eligible entries received during the Contest Period. WhatsYourTech.ca, acting reasonably, will attempt to contact the potential winner by telephone or email within two (2) business days after the draw. In the event the potential winner cannot be contacted within 2 business days after the draw, he or she will be disqualified and an alternate potential winner will be drawn. Proof of identification must be provided upon request.
RELEASE: All entries are subject to verification. Contest Sponsors reserve the right, in their sole and absolute discretion, to require proof of identity and/or eligibility (in a form acceptable to the Contest Sponsors) to participate in the Contest.The signed form must be received by Sponsor within 48 hours of notification or the prize may be forfeited and awarded to an alternate entrant. Failure to provide such proof in a timely manner may result in disqualification
ERRORS: The Sponsors and their suppliers are not liable for lost or stolen entries or inability to process entries, web site downtime, and inability to access the web site, or any virus or other damage incurred by contestant's computer system.
BANNING: The sponsors may, in their sole discretion, prohibit any person from entering any contest whom they believe to be abusing the rules. Such abuse includes entering false information and entering more than once.
CONTEST: Subject to all applicable federal, provincial and municipal laws and regulations. By entering this Contest, each entrant consents to the collection, use and distribution of his/her personal information by the Contest Sponsor for the purposes of implementing, administering and fulfilling this Contest. Contest Sponsor will not sell or transmit this information to third parties except for the purposes of administering this Contest.
PRIVACY: Any inquiry concerning the personal information held by the Contest Sponsor should be sent to WhatsYourTech.ca at info@whatsyourtech.ca. Please reference Win one of three Nano Screen Protection Bundles