From small towns on the wide open prairie to the other-worldly environs of outer space, Canadian women are pioneers in testing the possibilities before them.
Their stories are being shared in a new digital magazine by and about women, and in special content posted to the Status of Women website in Ottawa.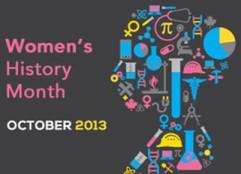 October is Women's History Month in Canada, and Canadian women past and present are being feted as pioneers in many different fields – like online publishing and space exploration.
The Honourable Dr. K. Kellie Leitch, Minister of Labour and Minister of Status of Women, was at Ryerson University in Toronto yesterday to make the designation official (October has been enlisted as Women's History Month in Canada since 1992).
"With Canada's women pioneers as the focus of Women's History Month, I hope young women across the country will be inspired by their stories and set paths for themselves that they can follow to success," said Minister Leitch. "I want young women to capitalize on career opportunities in every field – in the sciences, business, technology and the trades, as well in the natural resources sector."
Some of those stories could appear in a new digital magazine launching this month, founded by a small town Alberta native.
Amy Deagle says Women of Possibility is meant to inspire women in rural areas and small towns to challenge the status quo and think outside their geography.
"Small town doesn't mean small life," says Deagle. "I want women to start imagining what is possible for their life and stop letting location be an excuse for why they are playing small. I love rural and wanted to advocate more women returning to their rural roots but not giving up their careers, businesses or dreams because of those perceived small town limitations."
The inaugural publication will include inspiring contributions from 20 women who have achieved successful, vibrant lives in small towns or rural areas.
That fits with the theme for Women's History Month 2013, Canadian Women Pioneers: Inspiring Change Through Ongoing Leadership, as Minister Leitch announced back in Toronto.
Women's participation and leadership in various fields, including science and technology, engineering and trades, business and entrepreneurs, natural resources, medicine and medical research, will be acknowledged and celebrated throughout October, Minister Leitch explained, and the public is invited to e-mail their reflections on women pioneers in their communities, workplaces, or schools.
Among those joining in the official ceremonies was Dr. Roberta Bondar, Canada's first female astronaut.
"I never really set out to be a pioneer for women in my chosen fields of study or my various career paths, but being the first woman to try something new can put you at the forefront of change without even realizing it," said Dr. Bondar.
As a Space Shuttle crew member, Dr. Bondar was also the first neurologist in space. Among many other skills and callings back on Earth, she's also a professional photographer, and so she spends a lot of time at the unique intersection of art and science.
That space has motivated her to stage The Bondar Challenge, which equips young school students across the country with a digital camera and some basic training in using it well, then sets them loose in the great outdoors to capture an image that speaks about nature, and how and how well we fit into the environment.
To win the Challenge, the students must not only take a great photo (Dr. Bondar has support from, among others, camera manufacturers like Nikon who help ensure everyone has a good digital camera to work with) but write a thoughtful essay about the image and its intended meaning.
(A note of 'conflict of interest" here: as a video producer and documentarian, I was honoured to be able to work with Dr. Bondar and her team on one of the first Challenges: I count myself among the many young students – parents, teachers and school administrators, too – who were inspired by the photos, stories and ideas she shared as part of the entire program.)
Her real target is clear, though, and Dr. Bondar re-affirmed that goal at the dedication event in Toronto: "I do hope that my experiences will inspire many young women and girls to know they have an equal chance at success no matter the life path or career they choose," she said.
Women's History Month is celebrated each year throughout October and includes the commemoration of the "persons case" when on October 18, 1929, women were first legally recognized as "persons" under Canadian law.
During the month, the second International Day of the Girl will also be recognized, on October 11th.
Global activities are held to promote equal treatment and opportunities for girls around the world in areas such as law, nutrition, health care, education, training, and freedom from violence and abuse.
-30-
submitted by Lee Rickwood