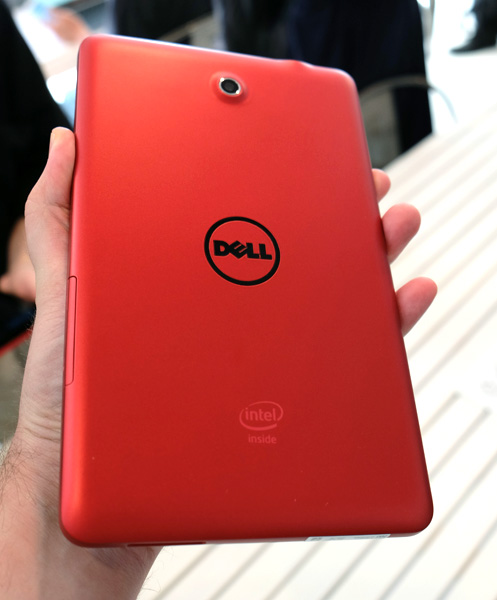 NEW YORK – Having been on the outside looking in at the growing tablet battle between rivals, Dell has entered the fray with a pair of Android and another pair of Windows tablets to take on the competition. But without a killer model that pushes the envelope, it will be interesting to see how much of an impact they can make.
Venue. That's the name of Dell's tablet line, and it will transcend both Android and Windows, in case you're wondering. There are four tablets in total, two for each operating system, with the Android models aimed more towards a budget consumer. The Venue 7 and Venue 8 run on Intel's Atom Z2760 Clover Trail processors, Android 4.2.2 Jelly Bean (they will be upgradeable all the way to 4.4, Dell reps said) and feature 720p LCD IPS displays. Storage is limited to 16GB, but both have microSD cards for further expansion. A 32GB version of the 8-inch model is potentially coming to Canada, but no word on when and at what price.
Nicely designed, the tablets feel good to hold and are much less slippery than some of the others on the market. Another unique — and welcome — feature is not even a feature at all. Dell opted to leave Android alone, for the most part, choosing not to use its own skin or preload a litany of apps on it like competitors tend to do. In that sense, it's one of the purest Android experiences you'll be able to find outside of Google's Nexus tablets.
They're also going to be affordable with the 7-inch going for $150 and the 8-inch going for $180 when they launch on October 18.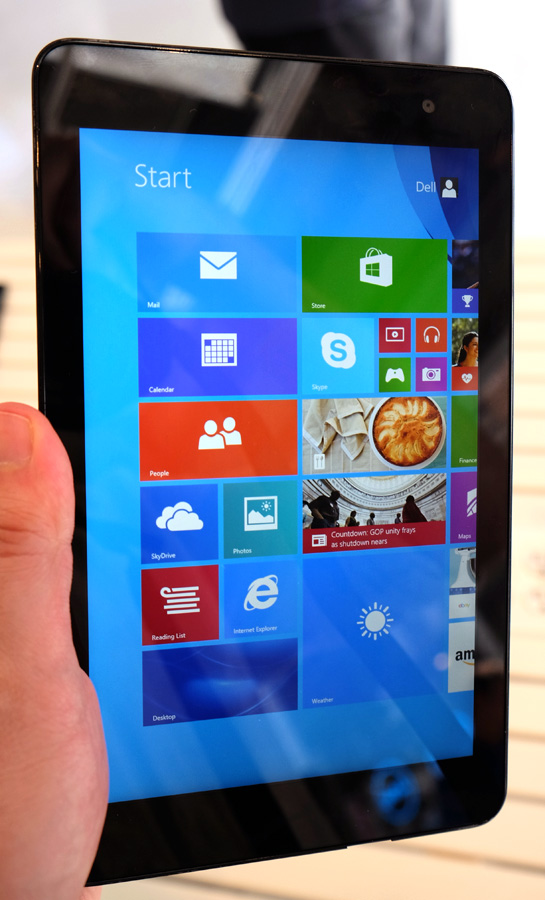 On the Windows side, there are the Venue 8 Pro and Venue 11 Pro. Both run on Intel Atom quad-core processors, Windows 8.1 and not Windows RT, which Dell has all but abandoned without explicitly saying so. Running a full version of the operating system means you can install applications and games like you would on a normal PC, except you will have to keep the specs in mind before doing so. Dell will smartly include Office 2013 Home and Student edition on the Venue 8 Pro, along with some other apps, including its PocketCloud service.
Coming in 32GB and 64GB models, what Dell glossed over was the fact Windows takes up 20GB of that by itself, all but ensuring that you have to invest in a big microSD card to expand it. What's not clear is whether or not you can install and store apps on a card rather than on the tablet's storage, a feature only recently added to Android.
The Venue 11 Pro has all the same bells and whistles, along with a removable battery and the ability to attach different peripherals to it, thus changing the device's purpose. A flat keyboard, much like the one with the Microsoft Surface, is one of them, plus a hard battery-powered keyboard that extends the tablet's battery life and turns it into an ultrabook.
There will be some variants on specs, depending on the retailer or if you buy directly from Dell.ca, but prices are $300 to start for the Venue 8 Pro and $550 for the Venue 11 Pro.
The XPS 11 is not part of the Venue line, but is being positioned as a tablet more than a PC, despite its obvious laptop form factor. With an 11.6-inch Quad HD display (2560 x 1440) and a flat tactile-less keyboard, the XPS 11 has a 360-degree hinge that lets you move it all the way around to turn it into a tablet. The thinking is that the flat keys make it easier to hold. Much lighter and thinner than the previous XPS 12 and its rotating screen, the XPS 11 takes a concept Lenovo had come up with in its Yoga ultrabook, albeit with a keyboard that is a cross between a touchscreen and the Surface keyboard. Because the keys don't move, feedback is only given to you by an audio click, though Dell reps did say that vibrating tactile feedback was in the cards in a future update.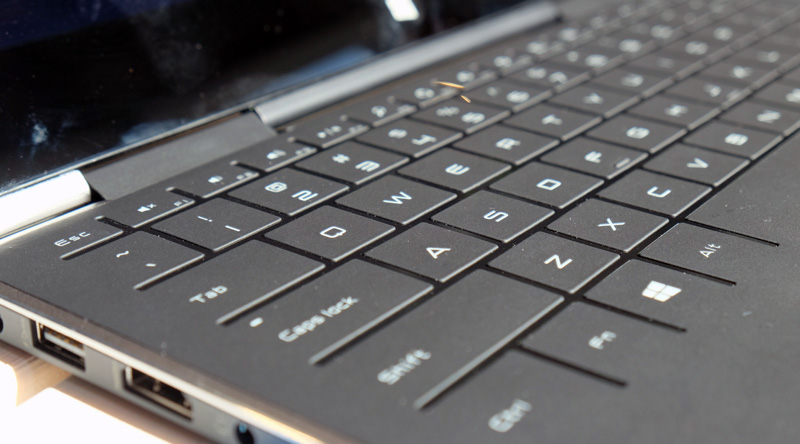 This hybrid of sorts will cost $1,000 out of the gate when it launches sometime in the first half of November.
All of this comes on the heels of a deal struck between Dell shareholders and a group led by founder and CEO, Michael Dell, for a leveraged buyout that would take the company private. Nothing was mentioned about the deal at the event, though once finalized, there may be talk about how it will make the company more flexible in bringing products to market.