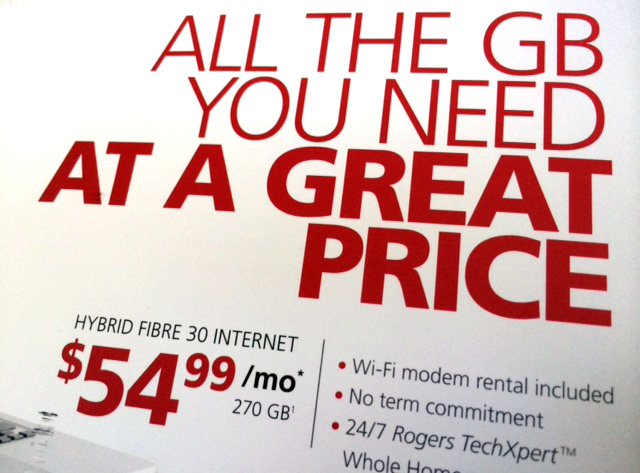 Every so often, you might receive a flyer in the mail from one of the major Internet Service Providers (ISPs), offering what seems to be a sweet deal in bold letters, but turns out not to be a little more expensive in the fine print.
Residents across the country, especially in larger urban areas, probably receive what appears to be an enticing unsolicited offer every couple of months from major ISPs, like Rogers, Bell, Telus, Shaw and Videotron in Quebec. The catch is that these are usually sent to customers who have either never signed up with them or are past customers who have moved on to a competitor.
That's an important detail because current customers are usually left out. Even if you have Internet from another provider, but are a Rogers cable subscriber, you could still be eligible for the special Rogers Internet offer. In fact, the fine print lays it out quite succinctly:
"…(a)new Rogers Hi-Speed Internet customers; and existing Rogers or Fido wireless customers adding or more new Rogers cable services. TV subscribers must be on a Digital Basic TV tier to qualify. Offer available only to the customer identified above, is not transferable and subject to change without notice."
Not to pick on Rogers exclusively here, but continuing on with the deal in question, the flyer was offering the Hybrid Fibre 30 plan for $55/month. That amounts to 270GB of monthly bandwidth, no contract terms and the Wi-Fi modem rental included. The download speed is up to 30Mbps with uploads topping up at 5Mbps. The price and speed are pretty competitive on the face of it, and it sounds good.
Except the fine print belies a few key pricing details. There's a one-time installation fee of $50 and a one-time activation fee of $15, plus taxes. A DOCSIS 3.0 modem or higher is required to tap into the advertised speeds, even though it's only the standard modem that comes with the package. To get that 3.0 modem costs an extra $4/month, thereby striking out the included rental advertised on the flyer.
Update: it turns out Rogers erred on that flyer, contacting us at WhatsYourTech to clear the air. The gist is that both the standard and advanced modems can hit the top speeds, so the difference is in their range, as this Rogers statement attests:
The Hybrid Fibre 30 package requires a regular Wi-Fi modem and not necessarily an advanced Wi-Fi modem. Both are DOCSIS 3.0 modems – the difference is in the wireless reach. Customers don't need to upgrade to another modem for this package.
It should be noted that the Hybrid 30 plan is currently $62/month on the company website and offers only 70GB of bandwidth. To get 270GB, it would cost an extra $15/month. It's also not clear if the standard or advanced modem is the one that comes included.
No doubt, the flyer offers a better deal, but it doesn't necessarily offer the best one. TekSavvy's 30Mbps plan is eerily similar. The download/upload speeds are the same, though bandwidth is slightly higher at 300GB. An added incentive is that any bandwidth used between 2AM-8AM doesn't count towards the limit. The plan costs $55/month plus taxes, but can go lower to $45/month for 150GB of bandwidth or up to $75/month for unlimited bandwidth. Overage charges are $0.50 per extra gigabyte compared to $2.00 per extra gig with Rogers.
Rather than renting the modem, you can buy it outright for $110 (shipping included), or bring your own (TekSavvy has a list of "approved" ones). A "rent-to-own" option calls for a $30 down payment and the $90 balance to be paid off over six months. The activation fee is $65, with a $20 discount applied if you buy the modem from them.
The other major ISPs aren't above doing the same things — offering unsolicited exclusive deals to past or potential customers with fine print so tightly packed, it looks like a clause in a lengthy contract.
In Bell's case, much of the fine print centres on its other services, plugging incentives and savings by subscribing to the company's other services, like Fibe TV, home phone and wireless. Rental fees and other limitations not obvious to the naked eye also factor in, like where it says, "available to new Bell TV subscribers with continued subscription to three eligible Bell services." In other words, you would have to go all in and pay more than the advertised price to get the advertised price (if that makes any sense).
We haven't seen flyers from Telus, Shaw or Videotron, so we can't give them a proper comparison here, but we imagine they don't deviate much in the fine print themselves. The common thread is that the advertised deals are directly competitive to smaller providers like TekSavvy, Comwave and Acanac, among others.
In fact, there are far more ISPs operating throughout the country than you might realize. They, too, aren't above throwing in some fine print, but they tend to be more transparent about all associated costs. Customer service seems to be a mixed bag, however, and the majors never hesitate to point that out as a deterrent to jump ship.
Have you received any unsolicited flyers from the major ISPs touting special offers? If so, comment on your experience and thoughts below.