The idea of using a laptop that can double as a tablet isn't new, but the variations in design have kept the concept relatively fresh, with no one design having emerged above all others. Some consistency is forming, however, and for students heading back to school, this group of convertible Windows PCs can rotate backwards 360-degrees.
Lenovo pioneered this form factor with its Yoga lineup in 2012, and has since been duplicated by competitors, lending some legitimacy to the design and growing choice for consumers. The basic premise is simple — prop it upright like normal, and it's a laptop; twist it backwards a full 360-degrees and it becomes a tablet.
With reasonable prices, these are laptops in the ballpark for affordable back to school machines, and their increased usability is meant to add value to their performance. Here are six convertible models that are available before you head back to class.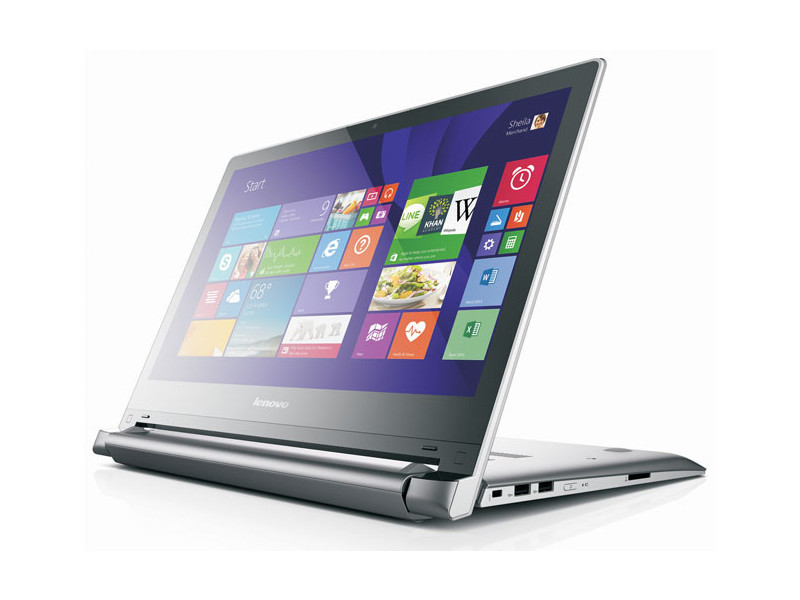 Lenovo Flex 2
It may not bear the Yoga name, but there is no questioning the flexibility of this machine. Coming in 14-inch and 15.6-inch models with the same specs, the Flex 2 isn't flashy or vibrant in any discernible way, but it gets the job done. The base 14-inch model doesn't come with a 1080p HD display, but you can pay a bit extra and get that if you don't want to settle for 720p (1080p is standard for the 15-inch).
You get all the pertinent connections and outputs, and passable battery life at under six hours. There is a 500GB hard drive, but the 8GB of flash storage is there to jumpstart Windows bootup time to get you up and running much faster. The drive and battery don't appear to be removable, so this isn't a machine to tinker with that way, either. All told, this is a laptop you go for if you want solid performance and a good screen at a respectable price that starts at $659.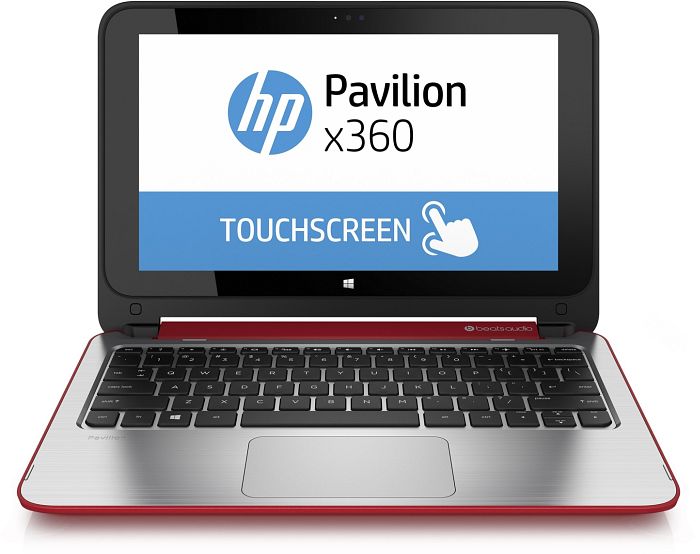 HP Pavilion 11 x360
This is a convertible that won't necessarily turn heads because of its fairly basic design principles, but looks and feels like it could be a workhorse with a touch of utility. The hinge that flips back is among the sturdiest out there, sometimes requiring just a tad more effort to open it up. The 11.6-inch 720p display is decent, but again, more about function than any kind of vibrancy. The inclusion of Beats Audio does seem to have prodded HP to pack in slightly better speakers than you would expect in a laptop at a $500 price point, though we would caution that they're probably not going to blow you away.
The point of this machine is to get things done for students. Word processing, surfing, assignments and other tasks should be no problem. Streaming Netflix or YouTube while in tablet mode is easy to manage, even if Windows 8.1 doesn't always seem to like being touched. HDMI and USB ports, along with a memory card slot ensure the key connectivity ports are always close by, too. Battery life isn't exceptionally good, to be honest, going about four hours on one charge; less if you're streaming high-quality video.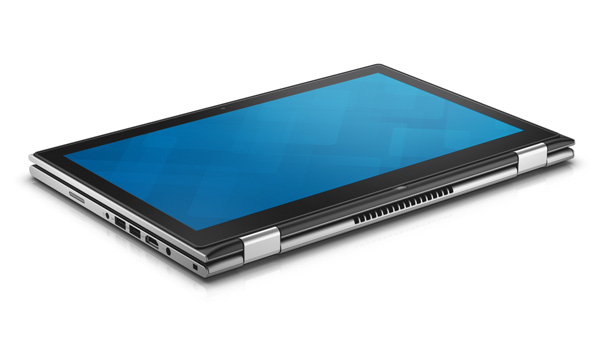 Dell Inspiron 11 3000
While uninspiring in its overall look, the Inspiron 11 3000 doesn't feel like it should be put down often. Smaller in stature and sacrificing certain things, the idea here is to have something portable, convertible and serviceable at a good, affordable price. Those sacrifices usually translate into a dip in performance expectations, passable speakers and a bit of RAM.
Tinkerers can actually open up the bottom and upgrade things like the hard drive and RAM, which can't be done with some of the others in this roundup. Where things are good are in the 720p IPS screen, which offers better viewing angles, along with the sizeable palm rest and battery life. Indeed, battery life is superb, easily hitting seven hours on one charge, and even stretching out to eight if the processor isn't pushed too much (which unfortunately doesn't seem to take much). At $450 to start, the Inspiron 11 3000 isn't a bad deal, even more so if you plan to open things up below.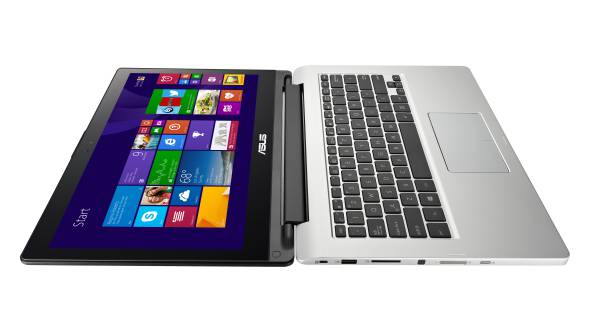 Asus Transformer Flip TP300LA
While there is a 15-inch version of this laptop, the 13-inch Flip does offer better portability and battery life, so we chose that one for this list. It also happens to be more expensive at north of $700. What you get for that extra cash is a faster Intel Core i5 processor, solid 1080p screen and about five or six hours of battery life.
Naturally, this fully flips backward just like the others here, and there aren't any real bells and whistles to note, so the Flip's real differentiator is in its performance. The processors in some of the other machines listed can't keep up with the i5 in this one, meaning that it's more ideally suited to students who will need to do more intensive tasks. The 8GB of RAM is perfect for multitasking and 500GB hard drive doesn't hurt for storing media files on the go.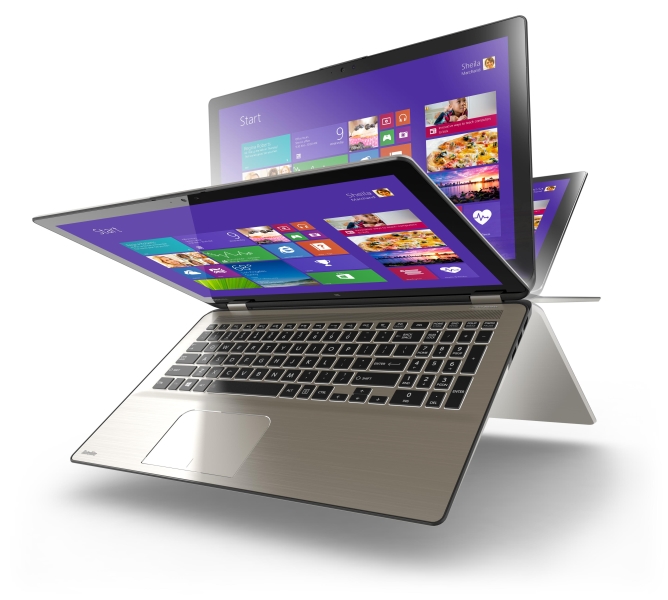 Toshiba Satellite P50W
The priciest of the group, the Satellite P50W is a 15-inch convertible that starts at $1,150, so it is clearly in premium, not affordable, territory, but it flips the same way the others do, packing in whatever it can into its larger frame. The Intel Core i5 processor is complemented by 8GB RAM, 15.6-inch 1080p IPS display, 1TB of storage and fairly good speakers. Performance is generally good, though surprisingly sluggish at times.
The P50W's hinge design is such that Toshiba came up with five modes for it: laptop, tablet, tabletop, presentation and audience. The first two are obvious, but the rest all depend on the angle of the display. It's not altogether difficult to replicate a similar experience with any of the others, but there is a more focused effect here. It is a bit awkward to hold such a sizeable machine as a tablet, but if you like having a larger screen so close to you, it would be hard not to like this one.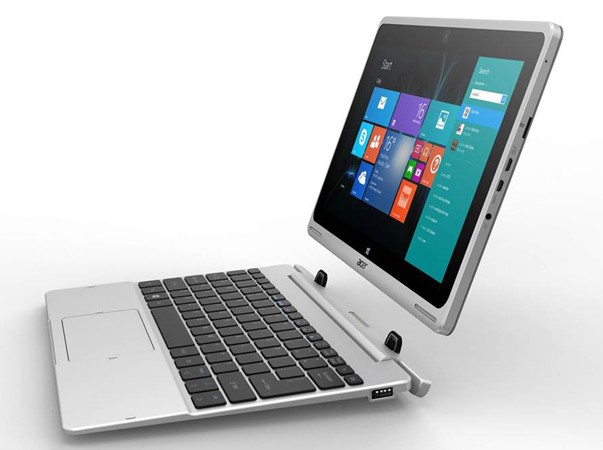 Acer Aspire Switch 10
The $400 price point is undoubtedly attractive with this one, but its unique positioning means you will have to use it in certain ways to make the most of it. The Aspire Switch can flip backwards, but not a full 360-degrees. The reason why is because the screen itself is detachable, but the odd design quirk forces you to remove the screen first, flip over the hinge, and then re-attach it. Even then, the furthest it can go is about 270-degrees or so. Good enough to sit on a table, but not enough to go flat in front of you. Not that it matters, since you can just detach the screen and use it as a tablet anyway.
The 10-inch screen is the smallest of the bunch here, and with 2GB RAM, 32GB SSD storage and an Intel Atom processor, it's not going to outperform anything else listed. The idea is to use this as a laptop for basic tasks or as a backup device from a desktop you might have at home. The limited storage means you may have to rely on cloud-based storage to stretch out where you can store or access files. The good thing is that battery life is good enough at about seven hours of moderate usage.