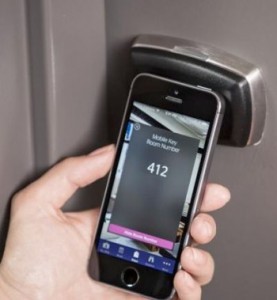 By Gadjo Cardenas Sevilla
The Starwood Hotel chain is betting on technology to revolutionize access control in its hotels and resorts. We may soon just need our phones to check-in to our rooms.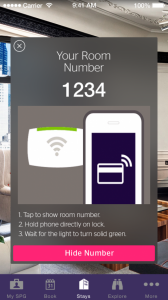 One of the biggest pet peeves of travellers is the high failure rate of magnetic-stripe based key cards which sometimes don't work at all. For busy vacationers and business travellers coming from a long flight, the last thing they want to contend with is having to trudge all the way down to the concierge to get a new card or reprogram their faulty cards.
Things were simpler when hotels and resorts used actual keys but then there was a safety issue. Keys could be easily copied and having to constantly change the locks on hundreds or thousands of rooms is not at all cost efficient.
Thankfully, we're now seeing technologies that can enable secure room access with simply by using an app.  Guests who download the Starwood Preferred Guest app will be able to check-in and use their smartphone as a room key.
This means that as long as they have their phones with them, hotel guest need not worry about faulty or lost key cards to get in and out of their room and other hotel and resort facilities. Using a secure app tied to their Starwood member account, guests can go to their designated rooms, whip out their smartphone, turn on the app and hold the phone to the lock to unlock the door.
The service uses Bluetooth instead of the more expected NFC (Near Field Communication) connectivity, mostly because Bluetooth is more ubiquitous and has been a feature on older phones. Will the rest of the hospitality industry follow-suit? Perhaps in time and when Starwood's approach has proven to be successful to the point where customers look for this convenience and choose which hotels they stay in based on this convenient access control feature.
"Innovation and personalization are at the forefront of everything we do at Starwood and SPG Keyless represents the perfect intersection of these two pillars," said Frits van Paasschen, Chief Executive Officer of Starwood Hotels & Resorts Worldwide. "We are excited to be the first in our industry to debut this new technology allowing us to further deliver on the wants and needs of our early adopter, hyper-mobile guests who use their smartphones for just about every aspect of their lives."
SPG Keyless is live now at three Starwood brands: Aloft, Element and W, which were a natural fit to pilot and begin rollout because of their commitment to tech-forward, design-savvy, and eco-friendly initiatives.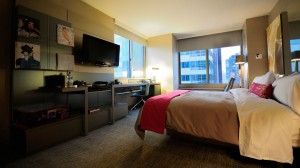 Starwood says they will rapidly expand rollout in the first half of 2015 and, by the end of next year SPG Keyless will be in 30,000 doors in 150 hotels across the globe. SPG Keyless will be available to Starwood Preferred Guest members who book a hotel room through one of Starwood's channels (hotel websites, SPG.com, the SPG app or call centers).