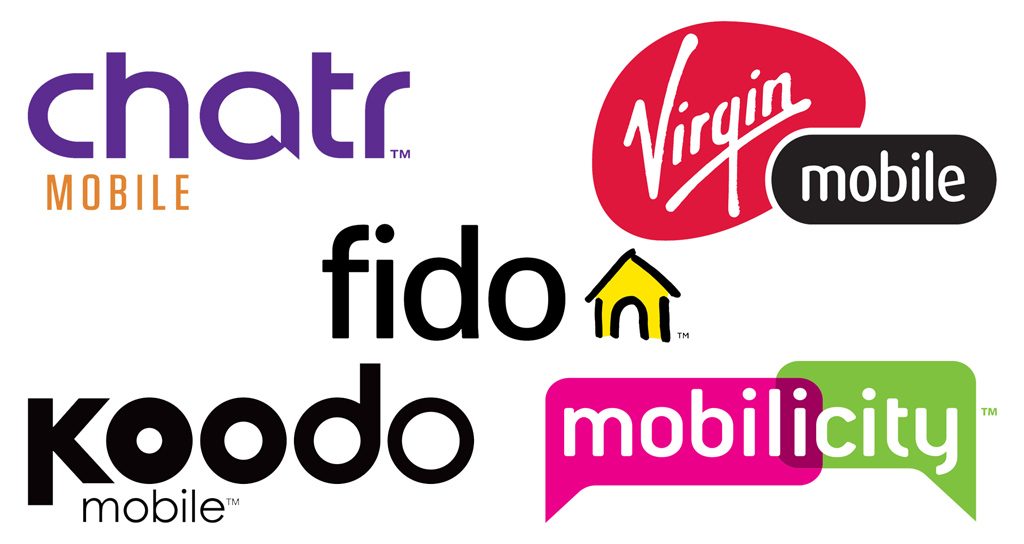 The Big 3 — Rogers, Bell and Telus — rule the telecom land in Canada, and that reach is further extended by their respective sub-brands — Fido, Chatr, Virgin Mobile and Koodo. The differences between them aren't very stark, raising questions over what the latter group of brands truly offer the market today.
The last 15 years has seen a higher level of consolidation in the wireless space, where the little guys have been swallowed up by the bigger fish. The recent news that Bell was acquiring MTS in Manitoba only adds to that, assuming the deal is given the green light by regulatory bodies.
Clearly, the Canadian wireless market is an unusual landscape. Bell and Telus, while ostensibly competitors, are effectively partners using the same network infrastructure. Rogers has not one, but two sub-brands. Rogers CEO Guy Laurence has publicly stated that each brand provides choice for consumers, meaning there's something for everyone between them.
That well may be true, except upon even a little scrutiny, it's not always clear what that "something" really is. Does Fido compete with Rogers on anything? Would Chatr even continue operating if Wind Mobile went belly up?
Take, for instance, Chatr's recent launch of $40/month unlimited talk (local and nationwide), text (including international countries) and data plans for Edmonton, Calgary and the Greater Toronto Area. The word "unlimited" doesn't really apply to the data. There is 1GB of data at 3G speeds, yet only at a maximum of 3Mbps bandwidth (Rogers' HSPA+ can go higher than that, but isn't used here for unknown reasons). Beyond the 1GB, speed is reduced to 2G, an archaic bitrate by today's standards, yet compliant under the Data Fair Use Policy. If you want more 3G (which in itself is also slow), you need to pay $5 for another 2GB or $10 for 4GB. Voicemail, call display, call waiting, call forwarding and group calling are all thrown in, too.
This plan bears an eerie resemblance to what Wind currently offers in the same three cities (and other "zones," like Vancouver, Ottawa and other parts of southern Ontario). Only in Wind's case, there is now an extra 2GB of data on top for a total of 5GB.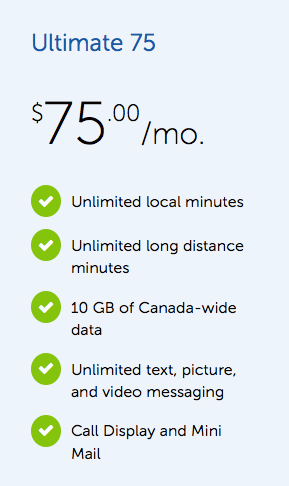 In Manitoba and Saskatchewan, where respective provincial carriers MTS and SaskTel's prices are, on average, between 30-40 percent lower. Indeed, Bell currently offers Manitoban customers 6GB of data for only $20/month. In Ontario, that amount is only good for 500MB. The reason why is because aggressive pricing from the incumbent provincials force prices down to a point where $90/month plans, like those in most of the country, would be outright ignored by consumers. The graphic on the right shows what you can get with SaskTel for $75/month.
What's notable about these particular examples is that there is no real comparable situation between the Big 3. While they have shown a willingness to compete with established provincial rivals or newcomers, the arena isn't quite as hotly contested between them otherwise. Perhaps, then, it's not overly surprising that a black market has grown where plans from those three provinces are being sold to residents living in the others.
Seeing all three each raise prices $5/month in January due to the dollar's exchange rate adds to the optics that "competition" is nothing more than a buzzword. With the loonie making a slight comeback since then, will prices go back down if that trend holds? Time will tell.
Not surprisingly, the price increase didn't apply to Saskatchewan, Manitoba or Quebec, where, again, each province's carriers were already competing by offering consumers more for less. This paradigm is equally apparent with the sub-brands as well.

When Rogers' Roam Like Home was expanded to Europe last year, I asked both Laurence and Fido's "top dog" Raj Doshi, why the same service couldn't be expanded to Fido customers at the same time. After all, it is the same network and same infrastructure. At the time, I was told that Fido customers "had different wants" like Spotify and other add-ons that perhaps, at least in my estimation, some Fido subscribers actually didn't want. Who wouldn't want a decent roaming package that didn't require switching SIM cards or phone numbers?
Something changed because Fido Roam launches this month — a carbon copy of Rogers' service. The catch? It's only available to subscribers with a Fido Pulse plan. Those with grandfathered plans, or any other non-Pulse plan, will be left out in the cold to roam like everyone else or switch.
The FidoDollars program that goes back many years, which was innovative and a nice customer service perk for longtime customers, is also being phased out, having ended in April for non-term monthly plans. Whatever balance is available must be used by July 6, 2016 or else they're gone for good. Those on contract will continue collecting them until the end of the current term, with permanent expiry on July 6, 2018.
Fido used to have some differentiation with better and less expensive plans, but the company's rebranding in 2015 did away with all that, raising prices more in line with Rogers.
The same has been true of Virgin, where rate plans are quite similar to Bell's. A "Gold Plan" with unlimited Canada-wide minutes, plus 5GB of data starts at $105/month with Virgin. A Share Plan with Bell that only offers have the data starts at $100/month with a premium smartphone. Bringing your own phone only drops it $15/month in either case.
While Virgin does offer a membership with different perks, it's not evident what benefit, especially financially, most consumers would derive from going with Bell's sub-brand over Bell itself.
With Telus and Koodo, the differences at least appear further apart. Koodo has more in common with Chatr that way, in that it doesn't offer the top phones and sticks to more basic plans that are still fairly expensive when broken down. Unlike Chatr, however, data is 4G LTE. And at the higher end of the rate plan scale, what's offered is not that different from Telus. For customers looking to have basic talk and text, Koodo is fine, though competition doesn't appear to be fierce against Chatr, Fido or Virgin. Talk, text, data and pricing are very much in the same ballpark, mirroring the same picture of the parent companies.
While there may be plenty of nuance to all this, depending on one's point of view, the numbers for the sub-brands don't deviate far enough from those of their overlords. An erosion in distinct offerings, incentives and pricing makes some of these brands feel tacked on, further eroding the very premise they were originally launched to serve.
If true competition were tighter between them, especially with mid-range smartphones showing more growth, maybe the landscape might not seem so dry.