By Gadjo Cardenas Sevilla
It's time for Apple's yearly iPhone launch event and faced with declining profits as well as surging competition in the premium smartphone space. Here's how Tim Cook & Co. responded with today's announcements.
iPhone 7

Apple announced a new iPhone , but you wouldn't know this just by looking at it since it looks very similar to the iPhone 6 and iPhone 6S of the past two years save for some minute details.
This time around, they've added some more colour options plus streamlined the design to hide the antennas and showcase some of their new manufacturing processes.  The new iPhone 7 boasts improved performance, stereo speakers, a vastly improved 12 megapixel camera (with a wide f/1.8 aperture). The larger iPhone 7 Plus is an even better shooter with dual 12 megapixel cameras that simulate 2x optical zoom.

The new iPhone 7 has two new features that were pretty much expected. The first is dust and water resistance with an Ip67 rating and the second is the omission of a headphone jack in favour of using the Lightning charging port. Apple says it is time to say goodbye to the headphone jack and to placate users who love their wired headphones, have included a dongle that allows them to connect to the new iPhone. The problem here is if you want to listen to music, you can't charge your iPhone, unless you buy the company's $160 wireless AirPods or use alternative Bluetooth headphones.

Apple says that the iPhone 7 and iPhone 7 Plus will be available in silver, gold, rose gold and the new black finish in 32GB, 128GB and 256GB models starting at $899 (CAD), and the new jet black finish will be offered exclusively on the 128GB and 256GB models from Apple.ca, Apple Stores and select carriers.
With the iPhone 7, Apple has once more responded emphatically the rising tide of competition by outfitting their phones with features and capabilities that will be hard for Android makers to match. Water resistance has been a long awaited feature for iPhone users and the new camera and improved performance are big enough features for many users to upgrade an even for switchers from other platforms to jump right in.
Apple has wisely retired the 16GB variant of the iPhone which was not enough for all the apps and documents most people carry. Customers will be able to order iPhone 7 and iPhone 7 Plus beginning Friday, September 9, with availability beginning Friday, September 16.
Apple Watch Series 2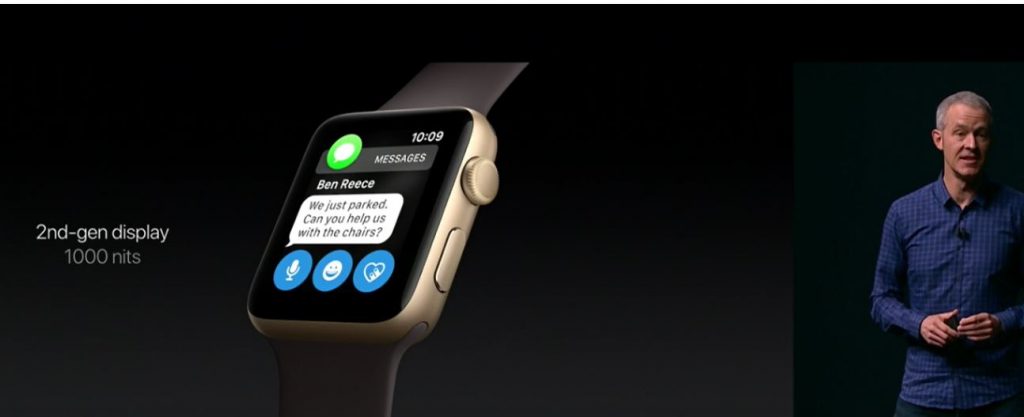 Apple unveiled an update to their Apple Watch wearable as well as a variety of new accessory straps. The Apple Watch is significant as the first product category launched under Tim Cook's regime, it is also the one product for which Apple refuses to release sales figures.
The latest Apple Watch features faster processors and GPU for more responsive performance, it also has a brighter display and is water resistant  up to 50 meters or to the point that one can swim with then wearable which can also track activity in the water.  Apple also unveiled some Hermes co-branded Apple Watch variants and a specific Nike Plus model which it co-branded with  the sports attire giant and wearable pioneer.
Apple Watch Series 2 is available with all the new fitness and health capabilities in lightweight aluminum or stainless steel cases  for $489 (CAD)
Apple Watch Series 1 comes with a new powerful dual-core processor and GPU with all the incredible features of the original Apple Watch, making it up to 50 percent faster and available to even more customers and costs $359 (CAD). 
The new ceramic Apple Watch Edition, which replaced the gold and rose gold variants from last year start at $1649 (CAD). This is ceramic that is stronger than stainless steel but it is also lighter and more scratchproof.
There was no mention of iPads or Macs at the keynote which proves that Apple is really doubling down on the iPhone 7 and, to a lesser extent, the Apple Watch as the key products getting into the fall.
Conclusion

At an hour and fifty minutes, Apple's keynote was quite long considering they really just discussed two products in the iPhone 7 and the Apple Watch Series 2. The company had to focus on various aspects of their business such as Apple Music (17 million subscribers after one year), their push into education, their IoT ( Internet of Things) play with Home and HomeKit, plus announcing that the Apple Watch would be able to support Pokemon Go and that Super Mario would be coming to iOS as an app.