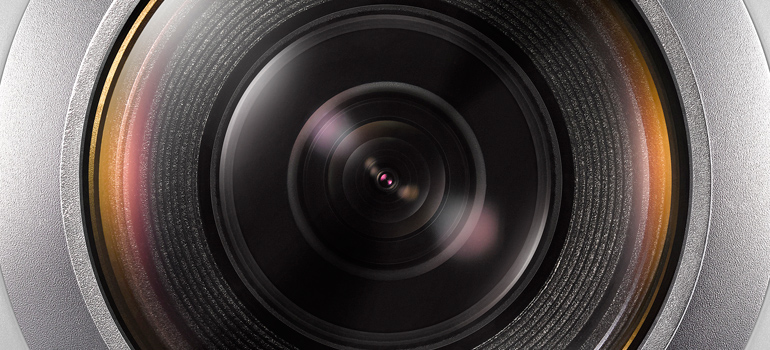 Shooting panoramic photos used to be one way to capture a scene from a wider perspective, but 360-degree cameras have burst onto the scene this year to pull in everything that's left. As options grow, so does the sophistication behind them.
Getting into this type of imaging and photography doesn't require a big rig or extensive know-how because they are really point-and-shoot devices. The advent of VR (virtual reality) makes the content come alive in a very real way, too. The price tags attached to them does make this an early adopter product category, so if you count yourself among those interested, here are some of the latest models.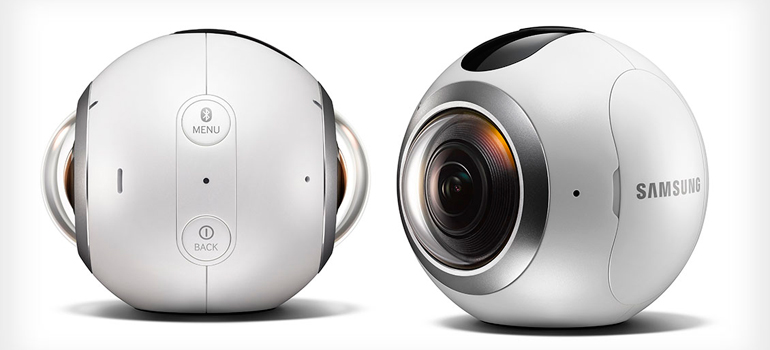 Samsung Gear 360
Samsung's first attempt at a 360-degree camera launched in August and is a solid effort for those who have the compatibility in hand. The Gear 360 works with the Samsung Galaxy S6, S6 Edge, S6 Edge+, S7, S7 Edge and Note 7.
The camera, similarly shaped like a billiard ball, has two identical 15 megapixel sensors with fisheye lenses (with f/2.0 aperture) on either side. Combined, they can shoot up to 4K 3840 x 1920 pixels at 30fps, and 30-megapixel still images in 360-degrees. Shots with one lens are 195-degrees, with video at 2,560 x 1,440 pixels at either 30fps or 60fps, while photos are 5-megapixels. That rises to 30-megapixels (3,072 x 1,728) spherically when both lenses are shooting.
The two images are then stitched together, either through the compatible phone or desktop software (PC and Mac) to create a spherical image. From there, they can be shared on social media platforms that can handle the content.
It stores footage on a microSD (separately sold), and the maximum is 128GB. Battery life is okay, but not great, though it depends on usage. Pricing is also expensive at $500, though cheaper options have since emerged that may be closer to $400.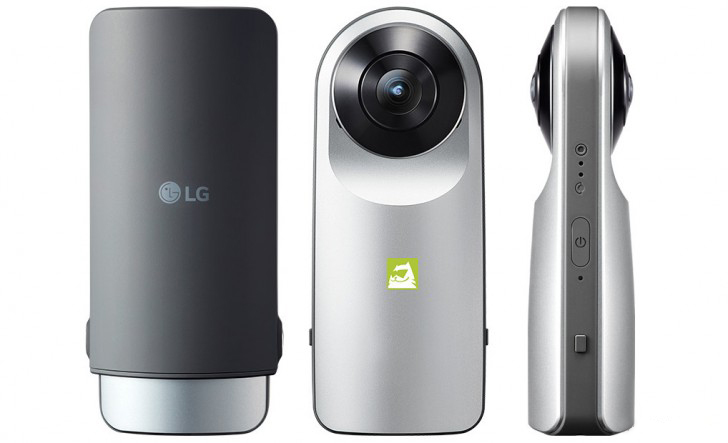 LG 360 Cam
Highly pocketable and more flexible than Samsung's model, the LG 360 Cam not only works with any Android device, but also the iPhone, too. The premise is the same here — two sensors and two lenses on either side that can capture 360-degree video or photos, albeit in 2K (2560 x 1440), and not in 4K.
Each sensor is 16-megapixels, which combines for a large spherical image when stitched together. The cap that protects the lenses and body can be turned upside down to act as a makeshift holder to create some separation from the lenses (otherwise hands appear prominently in the images.
Easy to carry because of its small size, the 360 Cam is simple to pull out and shoot with on a trip anywhere. Battery life is decent, though continuous shooting will sap it at a faster clip than quick starts and stops.
Quality isn't on par with Samsung's camera, and fast movement is a bigger problem here, where images aren't always stitched together properly. For entry-level 360-degree camera users, the 360 Cam is a decent place to start considering its $250 price tag.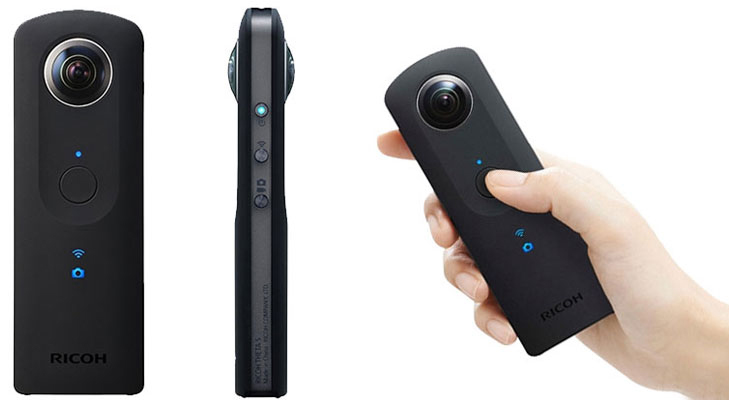 Ricoh Theta S
Also highly pocketable and worth a look is the Ricoh Theta S. It can be argued LG borrowed some of the same design principles from Ricoh for its camera, but here, the Theta S is not quite as deep in resolution. Maxing out at 1080p HD (1920 x 1080) for video, the camera uses its two f/2.0 lenses to capture a 14-megapixel image total.
There's only 8GB of internal storage in the unit, amounting to 65 minutes of 1080p footage, and no memory card slot to expand it. That means unloading footage has to happen often to keep the internal drive free to store more. The Theta + Video iOS app does offer some editing abilities, while the Theta S app can act as a live view and remote for the camera.
A good camera for those curious about shooting in all directions, the Theta S is pricey at $450.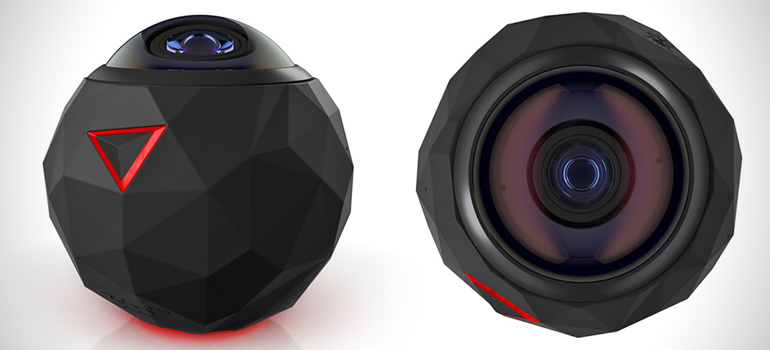 360fly 4K
Easily the most durable of the group here, the 360fly 4K is also unique amongst them in sporting a single-lens that can shoot in 360-degrees with a 16-megapixel sensor. Resolution is 2880 x 2880 at 30fps on a 360-degree horizontal angle. The f/2.5 aperture isn't as wide, so low-light and night shooting may suffer, as a result.
The 64GB of internal storage is more than enough to shoot a lot of content, and the app works with iOS devices. The body itself is durable, with water, dust and shock resistance, meaning a few bumps and splashes won't slow it down. 360fly added a motion sensor that can instantly record based on motion or sound, making it something of a home security device.
Selling for $650, the 360fly is expensive, but it's probably the better option for adventure seekers and travellers who don't want to worry about contact with the elements.
An alternative coming to market soon is the Nikon KeyMission 360, the company's first foray into this type of imaging.