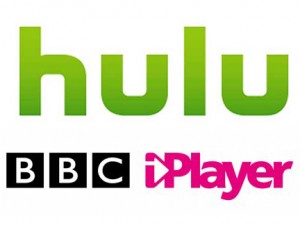 Geo-blocking isn't fun for anyone, but it's the reality we face here in Canada, since copyright and licensing issues preclude us from enjoying all the content that's on tap with popular online TV show repositories like Hulu in the U.S. and BBC iPlayer in the U.K. Thankfully, there are ways to get around this.
If you've already tried going to Hulu or BBC iPlayer, you no doubt encountered a message indicating that you're cut off because each service offers its content to Americans and Brits, respectively. They may be a bit cryptic about it, but the reason why this happens is because there are distribution deals in place with Canadian broadcasters that give them first dibs on American and British programming, which means that the licensing has to be reworked in order to allow Hulu and BBC iPlayer to start operating unimpeded here.
There is a free app called Hotspot Shield, which worked seamlessly in tunneling under the restrictions by using a virtual private network (VPN) to provide you with a U.S. IP address. This is all it took to gain access to sites with U.S.-only content like, Hulu, Fancast, Joost and even music sites like Pandora and Slacker.
But Hulu caught on, and it's now very difficult, if not impossible, to access the site in Canada using Hotspot Shield.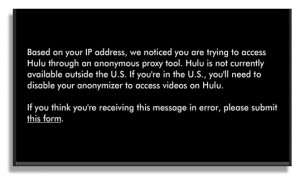 Despite the setback, there are plenty of shows that you can watch through Canadian networks' sites. CTV's Video Page offers up full episodes of American shows like, Mad Men, Fringe and Gossip Girl, as well as all the homegrown shows it airs. But there's also access to Comedy Central's lineup, which includes the popular The Daily Show with Jon Stewart and The Colbert Report. And CTV has added "mini-episodes" of retro shows like, Starsky and Hutch and The Partridge Family.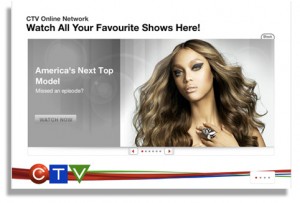 Global's video page also offers full episodes of shows like, Family Guy, 24 and The Good Wife. The only problem is that there's a lack of organization with some of the shows in that you're not sure what order they come in. Others, like 90210, only have a couple of episodes available. Classics like, Who's the Boss?, Good Times and Dawson's Creek are also up for grabs, but episode lists seem a bit random.
The same is true of CityTV's video lineup, which offers a bunch of different shows, but with no real set order or number of episodes.
CBC's video site also offers a list of shows that include The Tudors, The Border and Coronation Street.
But these sites may not be enough to satisfy your on-demand needs for your favourite shows, especially when certain shows are only available at certain times or in certain quantities. That means that you would need to find a way to circumvent the geo-blocking restrictions imposed on you. Unfortunately, I couldn't find an option for the Mac that was both free and consistently effective, but I did find one option that works well with minimal fuss, despite the fact that you have to pay for the service. There are also a couple others that I'll point out as well.
The first I tried out was WiTopia, a VPN service that aims to simplify the process by automating it as much as possible. WiTopia was founded by former corporate IT security professionals who figured that it would be easier to use the Internet to anonymize users and encrypt the data they send along to keep packet sniffers at bay. So, while their VPN services are not entirely meant for accessing geo-blocked content, I found it to be very effective in providing unfettered access to both Hulu and BBC iPlayer.
The company's services are broken down into a few different options centred around their core service called personalVPN. They do offer one that uses point-to-point tunneling protocol (PPTP), which is the most basic, given that there's no real security or encryption involved. This one is a non-starter in Canada though because local ISPs have been blocking or throttling the bandwidth. The other issue is that the only server available is one in Washington, D.C., so those in Canada who live further away from there may find some connectivity issues.
The one I tested was the personalVPN with secure socket layer (SSL), which encrypts all the data coming from end-to-end. There are also more gateways available from New York, Virginia, Newark, NJ, San Francisco and Los Angeles in the U.S., as well as London and Manchester in the U.K.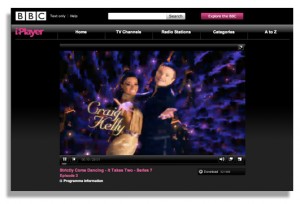 You could also opt for a personalVPN combination of the two (PPTP and SSL), but given the potential issues with the PPTP connection, I won't really go further with it.
The personalVPN SSL service costs US$59.99 for a year, which may seem pricey, but only represents a fraction of what you would pay to your cable or satellite provider. Not to mention that you can utilize personalVPN SSL at any time to maintain security, especially when travelling.

After going through the purchase and downloading the application, it's a pretty simple install. A Tunnelblick icon is then placed on the top right of the menu bar. Click it and go to Details. Check "Set Nameserver" so that you use WiTopia's DNS servers, and not your ISP's, which they say also helps maintain a greater level of privacy. Ideally, you would need a download rate of at least 1.2MB per second to watch Hulu and BBC iPlayer without any constant buffering issues. To find out what kind of speed you're working with, connect to personalVPN and go to Speedtest.net to test out the connection.
By default, personalVPN will connect to the server that's geographically closest to you. This would explain why you would connect to a U.K.-based server when in Europe or Africa. But you can switch between servers in a couple of different ways. The first is outlined in a WiTopia Wiki page but the company is also offering a new beta that will allow you to switch by simply selecting a server from a pulldown menu. This should make it quick and easy for you to go from watching an episode on Hulu using a U.S.-based server, and then catching up on a favourite show on BBC iPlayer.
Once in a while, Hulu (not as much with iPlayer) will recognize that you're using a proxy IP to gain access, but switching gateways tends to fix that. WiTopia also updates its servers, so if you're locked out with one server, you likely won't be later on with the same one.
There's also Toronto-based Blacklogic, which costs $100 per year, but I did have to get help from tech support, as it wouldn't recognize the password given to my test account. The process to get up and running is nicely detailed for whether you're running OS X Tiger 10.4 or earlier or 10.5 Leopard or higher.
I've tried to find the best few options for gaining access to Hulu and BBC iPlayer, but we'd love to hear about any other Mac-compatible VPN options for accessing those two content sites.