Users who bought new PCs over the holidays are probably discovering Windows 7 for the first time and we're betting they are pleasantly surprised. Charged with the unenviable task of erasing Vista's stigma and restoring Windows' credibility as a reliable operating system, Windows 7 has acquitted itself extremely well.
 After using it extensively for the past three months, we are betting that Windows 7 could well be the OS that moves legions of Windows XP loyalists over to the promised land of a sexier, more modern and more stable Windows operating system.
Microsoft's latest OS has proven to be rock solid.  The user experience is as seamless and enjoyable, yes enjoyable, on a low-powered netbook as it is on a towering Quad Core-powered 64-Bit workstation. While there are still some driver related niggles, which is common for new-ish software, we're happy to report that despite heavy use, Windows 7 has been generally stable.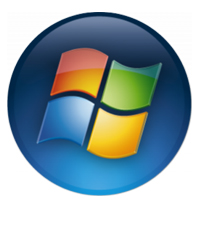 Most of the improvements in Win7 are under the hood increasing performance, stability and better memory management. This is also the most visually elegant, easily customizable and user-centric version of Windows 7. Some users will say that it is the most Mac-like version of Windows and we agree. Unlike Windows Vista, Win7 just feels like a finished product and its evident that they put monumental focus on the user this time around.
 A Jump Lists feature gives two-click access to recently used applications and files. There's also a new Taskbar that organizes applications much like the dock on Mac OS X. Windows 7 also comes with Internet Explorer 8, a faster and more compliant version of Microsoft's browser although we've moved to Google Chrome on all our computer and are glad to report that it works superbly in Windows 7.
 Streamlined Windows
 Windows 7 has been put on a diet. There's less bloatware out of the box, so you don't have to worry about programs you will never use taking up valuable space. You do get the option of installing Windows Live Essentials; a one-stop download for supplemental apps like Mail, Photo, Blogging, Messenger, Movie Maker and more. Microsoft has made the conscious effort of not forcing these apps down user's throats.
 Another optional download, Microsoft Security Essentials, ably replaces all your antivirus and antispyware programs. We were skeptical at first, but after months of regular updates and the fact that it runs seamlessly within Windows has won us over. Besides, Microsoft Security Essentials is completely free, for now.
 If you have a two-year-old or newer PC, the good news is that Windows 7 shares the same system requirements as the three-year-old pariah that was Windows Vista, which gives us hope that it will make older PCs perform better, provided that updated device drivers are available.
 To see if your PC is ready for Windows 7, Microsoft has released an upgrade advisor that can assess if your system's fit to run the new OS.
 Upgrading from Windows Vista to Windows 7
A lot of the muscle of Windows 7 is already flexing in recent PCs running the most recent Windows Vista Service Pack 2.   2009's Windows Vista is a different beast from the half-baked and buggy Vista of 2006  thanks to numerous patches and updates.
 That being said, moving up from Vista to Windows 7 yields an incremental increase in overall performance, better battery power management for notebooks and also improved Internet connectivity.
 Nothing earth-shaking here, just more shine and polish and snappiness all around which is nice to have but not a critical upgrade.
 Upgrading from Vista Home Basic to Windows 7 Home Premium took us roughly 2 hours on a Sony netbook with a modest 1.33GHz Atom Processor and 2GB of RAM. Most of the drivers worked fine and those that were outdated were replaced by Windows 7 which works in the background to make sure everything is up to date.
 Previously, the performance of Vista on this netbook was sluggish and labored, with Windows 7 We noticed less hanging and better performance specially when playing back full screen YouTube videos, which Vista couldn't do. The big difference is in the startup, shutdown and wake-from-sleep operations which are notably faster.
 Migrating from Windows XP to Windows 7
Now the bad news, there is no direct upgrade path from Windows XP to Windows 7 which means users will need to backup their files and applications, erase their hard drives and do a clean install of Windows 7 and then reinstall all their applications with no guarantee that any of it will gel well with the new OS. Nuking a system for a reinstall will  always be painful and time consuming.
For a clean install of Windows 7 Ultimate, we chose a recent 2.16GHz Quad Core AMD Phenom desktop with 4GB of memory. On this system, OS installation took us all of 35 minutes. What took much longer was installing old applications, downloading patches and transferring files that we had backed up.
 The lack of device drivers, especially for the 64-Bit version is an issue that will be need to be resolved in time but owners of non-branded PCs with no tech-support will need to take extra care to ensure that all their devices and programs are compatible and working with Windows 7.
 Users who have older machines and are happy with Windows XP might want to hold off taking the upgrade plunge until many of the driver issues are resolved or until the time to buy a new PC preloaded with Windows 7 comes along.
 The inability to do a straight upgrade from Windows XP to Windows 7 is a big consideration that even experienced PC users may shy away from. Jumping from Windows Vista to Windows 7 makes way more sense. 
Rating: 4.5 out of 5